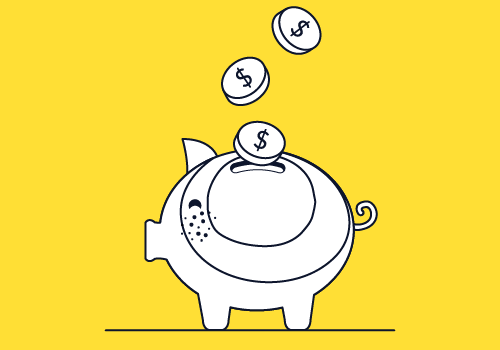 Your 2023 Money Saving Plan: How to Save Money During Inflation with Mobile Apps
Here's how to offset the inflation impact and develop a viable money saving plan with the help of money-saving mobile apps like IPSIPay
Table of contents:
In 2021, the annual U.S. inflation rate surged from 1.24% to 4.7%. In European Union, the post-pandemic inflation rate increased by 5% resulting in 5.3% by December 2021. 
But even with surging inflation, you can still mitigate its impact on your finances.
Today, we'll share some tried-and-true, easy-to-follow tips on how to save money during inflation. Start practicing them right away to ensure yourself a better tomorrow.
Inflation Impact in the US and in the World
Inflation causes consumer prices to rise, reducing your money's purchasing power. It affects every economic sector, including the consumer credit system.
The thing is that central banks raise interest rates to slow the economy and restrain inflation growth. Consequently, future borrowers will face a lot higher annual percentage rate (APR). So you risk damaging your credit score without a well-laid money saving plan and optimized debt management.  
How Much Did Consumer Prices Rise in 2022?
The U.S. The Bureau of Labor Statistics reported a 6.7-percent increase in the Consumer Price Index (CPI) for all items. The greatest contributors to the average American's cost of living were:
Utility gas (19.3% increase over the year)

Electricity (14.3% up)

Food at home (11.8% up)

Food away from home (8.3% up)

Shelter (7.5% up)
Most E.U. citizens also faced an unprecedented increase in the cost of living. Expensive fuel, energy, and food are the main reasons to save money in 2023. So many wage workers already practice cost-consciousness and budget tracking.
How Long Might the Current Inflation Last?
The U.S. economists predict that inflation will drop to 3,2% by the end of 2023. That would mean a steady decline in food and non-food goods costs (electronics, tools, used cars, etc.) for consumers. 
However, price changes in the service sector will lag behind the goods sector. So, rent and housing expenses would go down much slower. So focus on decreasing your utility expenses and bills. Develop a mutually beneficial money saving plan with your partner or roommate and share the expenses proportionally to your monthly income. 
<
How Should Anti-Crisis Budgeting Work?
To minimize inflation's impact, you'll need to start saving and tighten your expenses. However, following the money saving plan doesn't imply that you should give up long-term financial goals. After all, buying a home or opening a retirement savings account are still worthy reasons to save money.
Focus on four compounds of money-saving strategy:
Settle debts monthly.

Reassess actual expenses.

Stay goal oriented.

Invest and diversify assets.
Now, let's see what saving tips would help you most.
How to Save Money During Inflation: 8 Ways of Easy and Effective Budgeting with Mobile Apps
Here are the tried and tested suggestions for your money saving plan.
1. Calculate Your Expenses vs. Income
Put your expenses and income together and see how they correlate. It's the simplest way to detect the most costly items and reveal non-essentials you can do without. So if you have reasons to save money, do this:
Outline the list of essential costs (groceries, utilities, transportation, etc.).

Ask yourself if you can skip any costly items in favor of cheaper ones once or twice.

Add up the non-essentials you can give up right away to save money monthly.
Сontinue to monitor the spending/income ratio regularly, and you'll easily build cash reserves.
2. Manage Monthly Debts
The rule of thumb says you should pay down a high-interest credit card debt first. This is the best start to getting rid of your debts. On top of that, try the following:
Look for 0% balance transfers.

If the annual percentage rate of your existing credit card is already a challenge, you can order a balance transfer to a 0% APR card.  

Do not cash out or send money from a credit card

. Such transactions lead to high cash advance fees that cost up to 3%-5 % of the total amount.

Automate bill payments

. Schedule every recurring monthly payment in your online banking account or similar personal finance app.
Once your debts stop piling up, you'll have enough room for efficient budgeting.
3. Refinance Mortgage
Mortgage payments account for the biggest portion of each household budget. That's why you can save a lot by refinancing a mortgage.
Follow the next steps to choose a proper refinancing option:
Make sure your credit score is above 620

. You can verify it by requesting a report from AnnualCreditReport.com.

Find out what rate you can qualify for with your current credit score

. Shop for affordable alternatives on the internet or consult with your mortgage broker.

Pay attention to closing costs as well.

Some lenders might offer a higher interest rate but lower closing costs. Remember that you can often negotiate charges included in closing costs.
4. Negotiate the Rent
Negotiating rent payments is worth every effort. For instance, you can arrange an extended lease term. In such a case, the landlord might lock in the monthly rate.
On top of that, you should highlight your strengths as a tenant. For instance, you can prove your payability and prepay a few months of rent in advance.
5. Look for Cheaper International Payments
The currency exchange fee adds each time you order goods from abroad or send money internationally. Our tips on shopping for the best exchange rate will help you with the most cost-effective multi-currency payments.
6. Diversify Your Assets with Multi-Currency Wallet
Open a multi-currency wallet if you'd like to convert USD to a different currency for savings or planned international purchases or transfers. Despite worldwide inflation trends, economists still consider some currencies less volatile than others. Such is the Canadian dollar that is likely to recover against the USD in 2023.
We also recommend online multi-currency wallets for their affordability. Most vendors waive maintenance fees. Conversely, U.S. banks charge $100 and above for multi-currency checking account servicing.
7. Build a Financial Cushion
Building a sizable emergency fund is a great way to protect your family from financial emergencies, like medical treatments, unplanned trips, or car repairs.
Such a financial cushion shouldn't be a one-time experiment, but rather a part of your money saving plan.
Plan for your financial cushion to cover your expenses for at least 3 months – without any additional income.

Try putting aside at least 5% of your monthly earnings until you achieve the goal.

Depositing cash in a savings account will bring additional interest and stop you from dipping into savings.
8. Choose a Sound Investment Option
Consider purchasing series I bonds. These low-risk assets work best as a short-term investment thanks to high interest. An annual interest rate for I bonds issued from November 2022 until April 2023 is set at 6.89%. Moreover, the interest on I bonds grows as inflation rises.
Alternatively, you could invest in stable and reliable assets like precious metals.
Try IPSIPay for Personal Money Management and Cost-Effective Transfers
Use the IPSIPay app to track online payments and send money worldwide at low rates. This mobile application provides you with 24/7 access to a variety of financial services year-round and cost-free:
Access the IPSIPay app today to pay online and remit money for less. Download IPSIPay from AppStore or Google Play and create your free account!