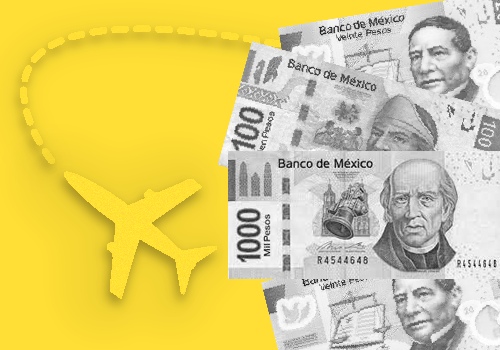 5 Rules and Safety Tips For Sending Money to Mexico From the US
Even the safest way to send money to Mexico might have flaws. That's why we suggest you look into common issues and risky things about sending money to Mexico and learn how to avoid them.
Table of contents:
If you are reading our blog post, you probably need a way to send money from the US abroad. It was a real challenge several years ago since very few reliable financial services were available. Today's prospects of US-to-Mexico outgoing remittances seem more promising thanks to mobile apps.
Although people mostly prefer mobile payment apps for convenience and low transaction fees, security also matters. Providers constantly update apps to eliminate security breaches and annoying bugs. Mobile apps' data protection and fail-proof benefits make users prefer them over alternative options.
Yet, even the safest way to send money to Mexico might have flaws. That's why we suggest you look into common issues and risky things about sending money to Mexico and learn how to avoid them.
Follow our tips for more secure international payments.
The Common Mishaps in US-to-Mexico Remittances
Even though modern financial services are swift and reliable, mistakes can still happen, especially with international transfers. Let's consider four common complaints to see what usually goes wrong when somebody remits funds.
Unexpected charges on sent/received amount

. It's a typical situation remitters and recipients might encounter when moving money abroad. It comes from

hidden fees

caused by the exchange rate and intermediary/correspondent bank markups. You will complete the transaction but may be surprised to learn its cost.

Funds arrive late

. Usually, international remittance takes up to 5 business days. However, delays may happen if you wire money through a teller due to a cut-off of banking operations. In-time money arrival also depends on how coherently and time-efficiently sending, intermediary, and recipient banks engage. So if you need to send money by a specific date, you'd better keep in mind the possibility of delays.

Money receiving failure.

There are various reasons for transactions to fail. Sometimes the recipient is unaware of the completion because of incorrect contact details and mistakenly assumes that the transfer failed. In other cases, transactions could be canceled if you've designated the closed or frozen account. 

Slow refund processing

. Remittance providers like MoneyGram and Western Union resolve refund requests in 3-10 business days. If you've claimed a refund through Remitly or a similar mobile app, it will take 3 to 5 business days to get money to your balance. However, you have to wait up to 10 days to get money back to your bank account, credit, or debit card.
You'll likely evade these nuisances and have a secure money transfer if you verify the receiver's bank details and personal information before payment deposit. Also, feel free to ask the remittance service support team how they fix issues like that and how you can claim them. All top financial providers have support teams that should help you with any payment issues.
5 Tips on How to Run a Secure Money Transfer
Follow these simple precautions to minimize the risk of financial fraud and send funds securely.
1. Stay Alert to Security Notifications
It doesn't matter if you've got a push notification in the mobile wallet app, spotted online banking SMS, or received a receipt via email on a suspicious transaction. On all occasions, you should inform correspondent financial institutions of fraudulent actions as soon as possible.
Mind that third persons can access your account even in the most secure money transfer app. It can happen because you've logged into the browser version from a public PC. So take your privacy seriously: avoid accessing payment and online banking platforms through public-use PCs. Set two-factor authentication to block unauthorized access for sure.  
2. Don't Open Suspicious Messages
It's rather hard to hack payment gateways or sensitive data storage of secure money transfer services. But phishers choose another tactic. They send spoof emails which are hard to distinguish from banking mailing. In such a way, they expect to deceive users and get their personal or bank account details. The typical excuses for fraudulent emails are some exclusive offers or requests for banking credentials verification.
Be careful and precautious with such messages. It should be the first alarm if you've got one of these unexpectedly. The best thing would be to contact the financial institution that supposedly sent the email and describe the matter.
3. Contact The Person Before Sending Them Money
Someone calls you, claiming they are your close friend or family member who got into trouble? Yeah, and of course, they want you to send money to settle it. It is easy to uncover such deception and understand that it's not safe to send the money according to their request. Just reach the person the scammers claim to be to clarify the state of affairs.
4. Set a Strong Password and Regularly Update It
Most digital payment and remittance service providers recommend changing passwords every 90 days to diminish the risks of login credentials theft. Just remember to create strong and unique ones. Don't duplicate an existing Google account password or some commonly known information about you, e.g., first or second name, phone number, or birth date. 
5. Don't Make Hasty Decisions and Wait for Payment Updates
You need to be patient and trust your payment provider. There's nothing wrong when a tracking status is complete, but money hasn't arrived yet. It only means that the sending bank released funds, but the recipient's bank still processes the transaction. So you should wait for the notification that confirms transfer arrival before reaching out to the support team.
IPSIPay App – Your Secure, Swift, and Low-Cost Remittance Solution
Do you wish to carry out outgoing remittances to Mexico from the US instantly and safely? Try the IPSIpay app to conveniently manage digital finances from any region and move money at no cost. It implements up-to-date safety standards to deliver the most secure money transfer experience 24/7.
IPSIPay deploys multiple security layers:
PCI DSS and TSL protocols to ensure sensitive data protection during digital payments.

PIN validation for requesting/sending micro-transactions and changing personal details.

Visa Secure authentication for safe online purchases with a physical debit card.
IPSIPay mobile wallet app is available both for Android and iOS. Download it now to advance your payment features!