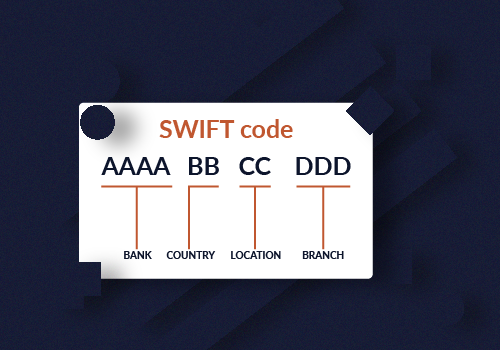 Bank SWIFT Codes and Payments: Everything You Need to Know
This article explains how and where to get the SWIFT code for your transfers, how it works in money transfers within the United States and beyond, and how to simplify your wire transfers.
Table of contents:
Today, people can pay invoices or send money internationally at no time. Society for Worldwide Interbank Financial Telecommunications (SWIFT) is a common way to send funds abroad. The SWIFT system establishes clear and generally accepted instructions for banks worldwide, helping them to send and receive funds.
Whether you transfer money via p2p apps or bank tellers or plan to receive the transfer from abroad, you might need the unique SWIFT code of a recipient's bank. This article explains how and where to get the SWIFT code for your transfers, how it works in money transfers within the United States and beyond, and how to simplify your wire transfers.
What Is a SWIFT code?
Bank SWIFT code is an eight or eleven-digit code designated for a specific bank. Such identifiers are unique for financial institutions. Combined with the client's bank account number, the SWIFT code helps the beneficiary's bank to clear the payment and deposit funds on the client's balance.
How to read SWIFT code?
Here's an example of what the SWIFT code looks like:
AAAA BB CC 123
Each group of characters means:
AAAA – the name of an institution, typically similar to its abbreviated name

BB – country code

CC – a location code of a head office (city)

123 – a branch code (optional).
Some organizations use the Business Identifier Code (BIC) instead of SWIFT. There's no difference between them. BIC can also be mentioned as an ISO 9362 code in some documents.
SWIFT code vs. ABA routing number vs. IBAN
As you can see, a SWIFT ID is nothing like a bank routing number. It is used to repay people overseas, whereas an ABA routing number is for domestic interbank transactions only.
An IBAN complements the bank SWIFT code when customers transfer funds abroad. However, these two codes differ. IBAN determines an individual bank account in the Eurozone. Customers must indicate it for domestic and international transactions. A SWIFT code only specifies the recipient's bank and is more widely used worldwide.
What Is a SWIFT Banking System?
First, it's essential to understand that the SWIFT banking system is a secure communication channel that allows banks to exchange data. A SWIFT number determines the direction of a transfer and informs the recipient's bank about the sum to receive.
The global SWIFT banking system appeared in 1973 in Belgium. Initially, it encompassed 239 banks across 15 countries so they could transmit accurate payment data and speed up payment processing. But the system has continued to expand, and now it includes 11,000 member institutions around the globe.
For the time being, SWIFT is supervised by the G10 organization. However, they only provide general administration and compliance monitoring. G10 central banks don't profit from the SWIFT system.
Who Uses SWIFT Payments?
Initially, the SWIFT system transmitted data related to national treasury operations. But now, such coded messages are used for many payment services. SWIFT money transfers are common whether you make a personal remittance, deposit money to checking/savings accounts, or settle a bill from a foreign vendor.
Besides individual use, the SWIFT banking system is suitable for almost every existing financial institution and business:
National treasury depositories

Corporate business establishments

Private and public banks

Clearing houses

Hedge funds

Stock exchanges

Foreign exchange brokers.
How to Run a SWIFT Money Transfer?
You can use whichever method you like to transfer money within the SWIFT banking system. If you're already a bank client but new to SWIFT payments, you can complete transactions via an online banking platform. They typically offer clear guidelines and customer support in case you experience any troubles.
You can opt for any familiar app if you prefer to make digital payments in virtual wallet apps. Most users consider mobile wallet apps more advantageous as they provide multiple ways to fund international transfers. Check our comparison of popular money transfer services to find out more.
To run a SWIFT money transfer, you must provide the following details:
Personal information about your recipient (full name, address)

Recipient's IBAN

Recipient's bank SWIFT code

The actual address of a destination bank branch

Amount and currency of a transfer.
How Quickly Does SWIFT Transfer Arrive?
Note that SWIFT payments work like any other wire transfer. It means money won't arrive instantly, even in the best-case scenario. Standard payments take at least two business days. 
Of course, you can opt for paid acceleration to reduce processing time and let your recipient get funds the same day. But it will double your expenses. We recommend direct transactions between debit cards or mobile wallet accounts as a faster alternative.
How Much are Fees for SWIFT Payments?
Typically, the total transfer cost varies from $10 to $50. As with any international bank wire, such transactions may involve correspondent banks moving funds from sender to beneficiary. The more intermediary institutions participate in payment processing, the higher the service fees are.
You should also pay attention to bank markups for currency conversion. Providers will charge about a 3% – 5% currency exchange fee. We advise you to compare the available services if you're looking to transfer money abroad at the best exchange rate before you make a decision.
How to Find a Bank SWIFT Code?
For sending SWIFT wire transfers
Finding a SWIFT number through online lookup tools is the most convenient and hassle-free method. However, you can also:
Contact the beneficiary's bank client support to ensure you've found the correct SWIFT/BIC code.

Visit the bank website and check its FAQ section related to international payments.

Ask your recipient about the details.
The person you send money to can verify the actual SWIFT code by checking with the printed or digital bank statements they have.
For receiving SWIFT wire transfers
If you need to provide a SWIFT wire transfer to somebody in order to receive money from abroad, it's best to request your bank for your bank account details that will include far more information that just the SWIFT code. Especially for the first transfer, you might need to also provide your bank's address, official name, the correspondent bank's details (that must also include the SWIFT code, correspondent's bank name, address, and the account number in the correspondent's bank), and so on. 
Make sure there are no typos in the data that you provide, otherwise you won't be able to claim the money even if the bank has received the transfer.
How to Save a Template for Recurring SWIFT Money Transfer?
You can save a payment template in an online banking account or mobile payment app. It will allow you to quickly find a specific transaction in your payment history and repeat it when necessary.
How to Use IPSIPay for SWIFT Payments
With the IPSIPay app, you can send one-time or regular SWIFT transfers at no time. Send money to 200+ destination countries:
free of charge wallet to wallet transfers

flat-rate fee of $10 for wallet to bank account via SWIFT wire transfers (compare this flat rate with a fee of up to $50 per transaction if sent from a bank division).
Follow our guide and complete your transfer in a couple of simple steps. Sign up for free – download the IPSIPay app to your Android or iOS device today!