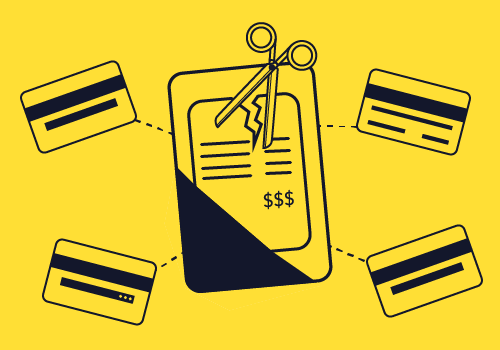 Bill Splitting Apps: What Are They and Why Do You Need One?
Before mobile fintech products became widespread, splitting group expenses for restaurant meals, travel tours, and hotel booking was quite a headache. Fortunately, thanks to bill-splitting apps, you can conveniently divide common expenses these days.
Table of contents:
Before mobile fintech products became widespread, splitting group expenses for restaurant meals, travel tours, and hotel booking was quite a headache. Moreover, it could become even more confusing if there were multiple shared expenses. You always had to remember how much someone owed you since the last meeting.
Fortunately, thanks to bill-splitting apps, you can conveniently divide common expenses these days. Such apps immensely simplify recurrent shared payments by providing:
Individual balance tracking.

Separate billing after a hotel stay or a dinner together.

Instant microtransactions (by debit /credit card or

p2p payment system

account).
So let's delve into the specifics of different types of these apps and their most valuable features.
How to Split Bills in Different Cases
Bill splitting apps are suitable both for everyday use and pursuing your long-term goals. Such applications allow you to link a bank account and set scheduled transactions to deposit funds. For instance, you can use them to handle large amounts of money for:
Planning a foreign trip or an expensive purchase.

Saving money for a college loan.

Depositing part of your income to a joint checking account. 
On the other hand, you may need a bill-splitting platform to cover your recurring expenses. If it's your case, an app to share bills must allow you to create groups, set individual shares, and bill your mates electronically.
Let's discuss best practices and approaches to help you split expenses wisely. 
Rent Payments
First, evaluating the payment capacity for you and your roommates is essential. A conventional 50/50 rent split may be a burden if one of the partners or roomies earns less. You may try to share the monthly rental fee by contributing the same percentage of your income, 25-30%, for example.
Household Expenses & Utilities
It's reasonable to share spending on supplies of essentials like home care products or provisions since everyone in the household uses them. You should also share utility bill payments and mortgages. 
Yet be sure to keep the balance: discuss your common goals and identify each other's individual goals. There's no such thing as a one-size-fits-all formula for how to split bills with roommates. If one of you has current debts, the other can decide to take on more considerable expenses so the roomie could settle the loan quicker.
Restaurant or Bar Bills
A banquet or casual social drinking with a large group of people becomes much more pleasant if you agree on how to deal with the bill beforehand. If it's impossible to get a split bill at a restaurant, you can suggest breaking down the total between your group members with an app to share bills. That would be the best option, especially when everyone's okay with paying for their orders.
Also, don't forget to ask your friends which way they would like to pay. For instance, it could be more convenient for you to pay the total cost of the meal, while others will hand you cash for their portion plus tips. If you trust your friends unconditionally, you can also choose to pay now and be repaid later. With a bill-splitting app, tracking who owes who is easy.
Hotel Bookings, Taxis, or Other Travel Expenses
Travel expense scenarios are the most complicated ones. You'll need to choose a preferred payment method and account for the best exchange rates. You may decide to convert currency domestically or at the destination and split the expenses. And that's not to mention tracking of individual spending balance.
Naturally, it's better to use an app to share bills and manage expenses if you're about to have group trips. For instance, you can add expenses separately but have multiple settling-up options. Most apps for shared travel expenses allow members of a group to pay back for more than one person, split bills evenly, or pay off the whole receipt.
Other Ongoing Group or Team Expenses
It's easy to forget about some ongoing expenses during co-housing. That's why you should have an app for shared expenses to keep track of your finances. It may also help you understand how to spend more wisely and effectively save money for greater financial goals, like a mortgage. So look for a mobile product that will let you check how much you spend together on daily stuff like grocery shopping, takeaway food, online shopping, etc.
Types of Bill Splitting Apps You Can Choose
The crucial thing to consider when choosing an app is whether you need digital payments. Most of them can send payment links to your friend's email, social media account, or virtual wallet. Although, you can use such apps even without payment integrations.
This type is mainly designed for shared budget management. Such software lets you track personal debts, calculate the percentage of individual shares for certain expenses, and export the tables with total balances in PDF or CSV.
Apps for Tracking Group Expenses
These apps provide various features that simplify finance management when planning group trips or splitting bills at a restaurant. They include:
Creating a multi-person group with split balances for each person and total balance.

Providing shared access to the group for your besties.

Automatic calculation of individual shares for various scenarios. They can be determined as a percentage of the total, divided into equal parts, or designated as a particular sum.

Digital payment integrations. Send a bill to your group participants so they can directly repay you the amount they owe. Alternatively, clear the remaining debt manually if some of your mates settle up by cash payment.

Ability to track recurring expenses. It's convenient for logging in monthly rent payments and household expenses of a group.
Free versions of apps for tracking group expenses also support the export of CSV tables and back up your records in the cloud. Unfortunately, you'll need to upgrade to the pro version to access real-time currency exchange rates. Mind it if you plan to spend time abroad.
Apps to Settle Bill by Photos of Receipts
They bring additional convenience to settling hotel receipts, delivery, and restaurant bills. Once you scan the receipt with your smartphone camera, the app recognizes the cost of each item, and you only need to enter who has to pay for what. Total taxes and tips can be split among the members automatically, or you may set the proportion manually.
Like group expense tracking apps, these apps support in-app bill settlement and push notifications about pending payments to group members. However, not all of them are supported beyond the US since software might not process different receipt formats.
Solutions for Recurring Payments
So-called roommate bill-splitting apps allow you to set monthly bill payment plans and schedule transactions. You can adjust recurring payments like in the above-mentioned groups: add members to a spending plan and indicate which share each person pays.
There could also be some specific features for cohabitants like:
Tracking grocery shopping with easy management of items and personal tags.

Creating an incremental payment to get a refund for a big purchase.

Adding long-term financial goals.
IPSIPay for Instant P2P Payments and Quick Scheduled Bill Payments
With the IPSIPay bill-splitting app, you can always control your global expenses and get them repaid when needed. It covers 200+ countries and allows you to send and request money from other users worldwide. If you share everyday expenses with your friends, with the IPSIPay app you'll get:
Instant p2p transfers with zero fees.

Direct transactions between debit/credit cards (including virtual debit cards).

Bank wire transfers from savings or checking accounts.
Additionally, you can schedule and organize monthly utility bill payments within the app and get timely notifications.
Use the IPSIPay app for a broad range of other mobile money operations. Get started by downloading it from the App Store and Google Play.