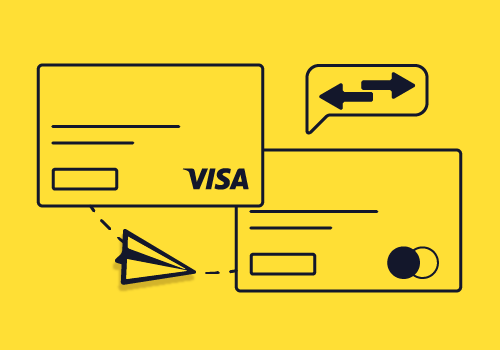 Guide on How to Run a Card-to-Card Money Transfer Online
Get informed about the quickest and most affordable options for car-to-card transfers. Check our overview article for payment steps and rates.
Table of contents:
Online card-to-card payments typically go well. Whether you lend money to your friend, recharge a credit card, or move money cross-border, there should be no problem.
Still, each payment method has its specifics. You must consider service fees, currency exchange rates (if applied), and other factors. Continue reading to learn how to make a quick and inexpensive card-to-card transfer.
How Do Transactions Between Bank Cards Work?
A cardholder can move money from one debit card to another straight from their personal online banking account. You can also use online banking to transfer funds from credit cards. 
Thanks to modern P2P payment apps and online services, people make a card-to-card money transfer online with a couple of taps on the go. This sort of money transfer outdoes bank wires as you don't depend on bank operating hours. Additionally, it doesn't require many recipient details. You can type down the payee details one time and then send money from card to card repeatedly.
The Popularity of Transfers Between Bank Cards
Many bank clients prefer card-to-card payments for domestic and international remittances as an affordable and quick method. Both banks and non-banking organizations universally support such transfers.
Card-to-card transactions remain popular mainly because Americans continue to use debit and credit cards for daily offline and online spending. A recent survey has shown that about 57% of payments in 2020 were made with payment cards. Moreover, rechargeable prepaid cards are in high demand among unbanked groups like immigrants and disadvantaged people. Thanks to low-cost and fast money transfers, they get financial support from their loved ones in time.
Pros and Cons of Card-to-Card Transfers
Suppose you want to send money from card to card regularly. In that case, you should be aware of typical pros and cons you may encounter.
Pros:
Speedy payment processing

. On average, it takes less than half an hour for a transfer to arrive on the recipient's card. Typically, a bank card network makes transactions within a couple of minutes.

Competitive transfer fees

. Online remittance companies and P2P payment apps typically charge no more than 0.5% – 2% for transfers from a debit card. Remitting money with a credit card will cost you an additional 2.5% – 2.9% (a cash advance fee) + a fixed rate from a service provider. Check our previous post to learn

how to send money from a credit to a debit card

at a lower rate. 

Advantageous exchange rates

. The vendor typically deducts 1% to 1.5% of the total amount when you send money from card to card with direct currency conversion. It's reasonably cheaper than moving money between bank accounts as bank margins may be as high as 5% – 7%.
Cons:
Overdraft fees

. A customer might accidentally overdraw their account during a card-to-card transfer. To avoid that, we recommend you use expense tracker apps that update you about planned transactions and remind you what payment amount will be charged. Another way out could be using a

prepaid virtual debit card

which is free from overdraft fees.
Inconsistent payment limits. The maximum amount per single transaction/per day/month varies significantly from provider to provider. Typically, a single transfer limit for online services and digital payment apps is $2,000 – $3,000. The daily/monthly limit is usually $9,000 – $10,000.
How to Make a Card-to-Card Transfer?
There are two possible scenarios for sending money from card to card. The list of necessary payment details will differ depending on which one you choose. 
When Sending Money Card-to-Card Directly
Direct card-to-card transfer consists of four steps: 
Enter the recipient's card number and expiration date. Mobile apps and online remittances always request a person's mobile number to notify them of the transfer.

Enter your card number, CVV security code, and the amount to transfer.

Check payment details. Pay attention to service fees and the recipient's name. If you move funds within the same banking system, the recipient's name will be displayed.

Сonfirm the payment and save the receipt. 
NOTE!
You'll have to type down an OTP password or a PIN code if you send money via an online banking app. However, if you use an international remittance service, you must only confirm the transaction by a CVV code.
When Sending Funds to a Linked Bank Account
Since debit cards are tied to a particular checking account, you can top up the account balance. Such a remittance method is more complex. So you'll have to provide additional payment details about the recipient.
Enter the recipient's full name, mobile number, and billing address.

Provide a SWIFT code/IBAN if you send money globally or

an ABA routing number

if you make a domestic card-to-card money transfer online. 

Double-check the recipient's banking information, file your card details, and confirm the payment.
We invite you to check an easy-to-follow tutorial on how to send money by SWIFT via IPSIPayⓇ. The app allows you to run payments at a flat rate of $10 and schedule them should you need recurrent transfers.
FAQs About Receiving Card-to-card Transfer
To clarify some points about transfer delivery and withdrawal, read the following Q&As. They provide answers to the most common questions related to card-to-card transfers.
What Fees Does a Card-to-Card Transfer Include?
Such a transfer type requires complex clearing and payment processing. Especially when you send money cross-border. So you should check the fees for the following:
Transaction itself

Currency conversion

Cash advance fee (in case you fund payment from a credit card)
How Soon Can You Receive the Money?
After you've confirmed the card-to-card money transfer online, your recipient may get it within several minutes. However, sending money from card to card to another country may take 24 hours before the recipient receives it. The reason is that correspondent banks must spend additional time clearing the sender's and recipient's details.
How to Withdraw the Received Money?
As a recipient, you can withdraw cash at any ATM available nearby. On average, US banks charge a $2.50 – $3.00 fee for domestic withdrawals and up to $5 for international ones. Alternatively, you may cash out transfers through bank tellers, but service charges will be higher in such a case.
Where Can You Spend the Received Money?
You can spend the received amount however you like. With a sufficient amount on a debit card, you can order goods online, book tickets, settle utility bills, pay debts, etc.
IPSIPayⓇ to Move Money Card-to-Card At Lowest Rates
Which card-to-card payment method would work best for you? Try the IPSIPay app that allows you to withdraw cash to branded Visa debit cards worldwide. For a one-time fee of $2.50, you can get a Visa card for personal use and another one to give to your relatives abroad.
Extra benefits for you:
Instant wallet-to-Visa card transfers for $0

No monthly maintenance fee for branded IPSI debit cards

An extended maximum balance of $20,000 for verified cardholders (SSN/ITIN check)

Ability to add any existing Visa, MasterCard, or American Express bank card
Go to the 'Get Visa' and 'Global Money Transfer' sections to see all terms and rates for IPSI's prepaid card use. The app is now available at Google Play and AppStore for free!