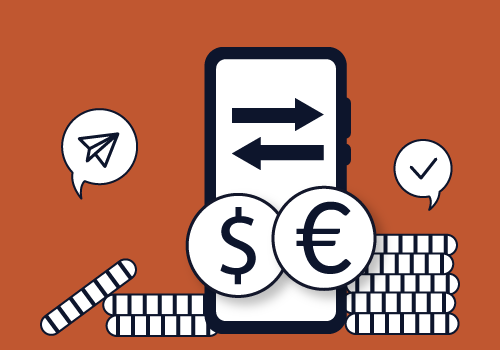 How to Convert Money with an App to Send Money Internationally
Check out our guide to fast, affordable, and 24/7 accessible international money transfers and learn how to check currency conversion rates in your money transfer app before sending money. Don't miss the five international remittance factors you need to consider
Table of contents:
For the last decade, mobile fintech apps have revolutionized the world of financial services. The number of p2p payment accounts reached 92,5 million in the USA alone.
Besides convenient money transfer services, these products offer payments abroad. However, not every app to send money internationally will meet your demands. In some apps, exchange charges are too high.
That's why we want to share how to convert money cost-effectively with an app. Use our article for tips and guidelines.
5 Things to Consider When Choosing a Money Transfer App
Digital remittance isn't only about converting money at the best rate. Make the most of in-app international money transfers with the following additional offers – here's a checklist of what you should look for.
1. Global coverage
Not all digital payment apps and wallets are globally available. So if you're an immigrant employed abroad, you must choose a service that supports the necessary destination.
You should also consider that some destinations are underserved by major money transfer providers. Such are some Latin American countries from our overview of TOP remittance destinations. If that's the case, try non-mainstream apps with more locations supported.
2. Ways to Transfer Funds
Besides default mobile money transactions, most international remittance apps provide an alternative way to fund and receive transfers, such as:
Wiring money between bank accounts

. You can pay an individual or creditor overseas using their SWIFT code/IBAN/BIC.

Card-to-card transfers

. Debit, virtual, and credit card holders can make direct payments between cards. 

Sending money to a cash pickup location

. Some financial apps cooperate with partner banks that provide cash pickups at their branches overseas.
The more diverse the payment options are, the more you can do using the same app. For instance, you can use card-to-card payments to receive a salary. Once you get it, you can deposit part of your earnings to a relative's personal savings account.
3. Transparent Charges
Existing US money transfer regulations make service providers disclose all details before payment, so you can learn the exchange rate, taxes, and service fees applied to your transaction beforehand. Additional charges from foreign financial institutions (for bank wires) should be mentioned in a disclaimer.
We also recommend you examine the provider's FAQ section. It typically details how fees change depending on the amount.
4. Quick Customer Support
Customer support specialists can save you in case of any issues. You can easily check the feedback on a particular money-sending app on Google Play or AppStore. So make sure to check out the recent comments. If other users complain about slow support, choose a more responsive app provider.
5. Convenience for Recipient
Analyzing available app options, mind your potential recipients. They would want to receive the money within the shortest time online or at least close to their homes.
Here are two typical troubles when using the app to send money internationally:
A problem with a cash withdrawal.

Cashing out might be troubling in some cases. That's why some mobile products support withdrawal at cardless ATMs or offer personal debit cards.

A long wait for the money to arrive

. At best, cross-border wire transfer processing takes one business day. But for many reasons, the payment may stay in processing for three days or more. Try sending the money to a mobile wallet account or to the recipient's debit card instead. That would take less than half an hour.
3 Tips on Cheap International Remittances
Since you already know what features of remittance apps to look for, it is worth considering your next steps. Use these additional tips to choose wisely.
1) Shortlist Several Options
If that's your first time remitting money abroad, compare rates from at least 3-5 vendors. Check new services even if you're already bank-served and know online banking capabilities. Don't be biased, and do a bit of research.
The international currency markets are constantly changing. Therefore, conversion rates may vary slightly among apps. The research will help you discover how to convert money at a better rate.
Another reason to look for several alternatives is that a newer remittance app may come out or become available in your country. They may offer you a discount or a fee waiver if you join them. 
2) Consider Account Verification & Upgrade Requirements
The limits for unverified accounts are typically lower than for verified ones. But you can increase the maximum transfer limit by proving your identity. You will need to provide the following:
Your legal name

Mobile phone number and email

The actual billing address

The scan or photo of a government-issued ID (foreign or US driver's license, foreign passport, consular ID card)

An SSN or ITIN number.
For US immigrants, ITIN is much easier to qualify for. Therefore, if you need a money transfer right now, opt for money transfer apps that accept ITIN for KYC checks. For instance, IPSIPay users can verify their identity with SSN, ITIN, or TIN. It will allow them to maintain and send up to $20,000 worldwide from their mobile balance or associated Visa card.
3) Find Out Exchange Rates
Shopping for the highest foreign exchange rate is essential, and here is why. When the money transfer service processes a multi-currency transfer, it sells you foreign coins. For instance, dealers have an abundance of MXN but lack USD. Because of that, they set a higher bid than competitors. Therefore, you can convert 1 USD into more MXN during the multi-currency transaction.
On average, shopping for a better quote online might save you around 0.5% to 1%. It may seem a slight advantage, but the difference is considerable if you send thousands of dollars.
How to Convert Money at Beneficial Rates
Searching for an acceptable currency exchange rate shouldn't be time-consuming. At IPSIPayⓇ, we care about your convenience and budget. That's why we offer you several top choices.
Here's our guide on how to have the best conversion rate using IPSIPay's international wire transfer feature.
Download the app from

Google Play

or

AppStore

.

Link your existing payment sources like bank accounts, debit/credit cards.

Upload funds to your mobile wallet balance by clicking the Load Money button.

Check the offers from several payment networks to choose the most affordable exchange rate.

Click Move Money Globally.

Fill out the transfer details.

Verify the total charges and the recipient's information.

Put the tick in a checkbox below and tap 'Confirm and Send Money.'
Congratulations! You've just sent money at the lowest rate!
IPSIPayⓇ for Fast, Affordable, and 24/7 Accessible Money Transfers
The IPSIPay money transfer app allows you to send money to over 200 locations instantly. In addition to low-cost remittance options, you can benefit from virtual and physical Visa debit cards. 
The physical Visa card costs only $2.50 and lets you cash-out mobile money at ATMs worldwide. This Virtual Visa from IPSIPay is available for free. It works best for secure online shopping online and paycheck receiving. You can also transfer mobile money to one of your cards without charges.
On top of that, there are more helpful features for everyday use. So don't waste time and sign up for IPSIPayⓇ right away. The app is available at Google Play and AppStore.