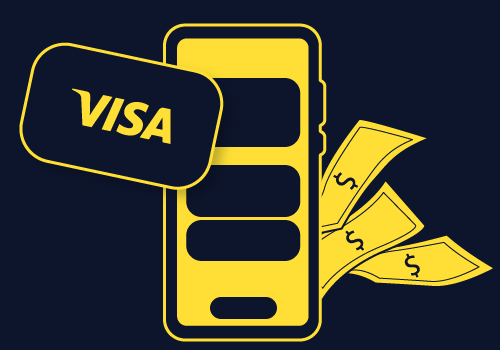 How to Get Money Off a Virtual Visa Card: Inexpensive Methods
Discover how to spend less when cashing out your Visa virtual account balance and debit/credit cards to your bank account. See how the IPSIPay app can help you with it.
Table of contents:
Unbanked people and immigrants often cannot get all services from US domestic banks. Conversely, virtual visa card issuers offer a simple way to order a debit card without customer and credit score checks. A virtual prepaid card saves you tons of time and effort. 
But before ordering a card, we advise you to find out how to cash out your Visa virtual account balance inexpensively and quickly. Read this guide to get a better understanding of money withdrawal methods.
What is a Virtual Visa Card and Why You Should Have One
In short, virtual debit cards are a full-digital equivalent of plastic ones. The key difference is that their balance isn't linked to a bank checking account. However, users can add them to a digital payment app to run money transfers, recharge or withdraw funds anytime.
Virtual Cards Become More Popular
Virtual debit cards are in high demand worldwide. Besides North America, this market is booming in South-East Asia and Latin America. Global transactions made by users throughout 2021 reached $13.79 billion. International experts forecast that with the current annual growth rate, transaction volume can grow to $15.25 billion in 2022.
Benefits of Use
Previously we've discussed the key advantages of reloadable virtual debit cards. They are equally beneficial for bank clients and underbanked people. Customers generally prefer such cards for the following benefits:
Top-notch privacy protection

. Unlike physical Visa debit cards connected directly to the user's checking accounts, virtual ones are independent. Even if criminals obtain your card numbers and CVV code, your sensitive data like full name, billing address, and bank account number will remain intact.

Single- and multi-time-use.

Based on your needs, you can choose reloadable or single-use cards. The first type is great for freelance workers. For instance, you can mail order or purchase online several cards in different currencies to receive payroll from international clients. On the other hand, you can present your loved one with a gift card for a one-time purchase they long dreamed of.

Convenient online and contactless payments.

You can pay for online orders, streaming services, and other paid subscriptions from your Visa virtual account balance. Just add a Visa card to Apple Pay or GooglePay for contactless payments and online shopping.

Easy money withdrawal

. You won't have to wonder how to get money off a virtual Visa card as you can cash out personal funds. However, note that Visa gift cards cannot be used for

personal remittances

or cash access at bank branches or ATMs.
How to Get a Reloadable Virtual Card?
Digital finance services usually offer a ready-to-use card for a small one-time fee. The cost includes an issuing fee plus a prepaid amount you load. In contrast to bank-issued cards, there is no monthly maintenance fee. Moreover, virtual card owners don't have to pay overdraft fees or meet minimum sufficient balance requirements. It gives you more control over your Visa virtual account balance.
In particular, IPSIPay® allows you to open a virtual Visa account for free. You only need to undergo a simple sign-up process and confirm the SSN/ITIN number when applying for a virtual debit card. Go to our tutorial article, where we describe how to do it.
How to Get Money Off a Virtual Visa Card?
In case you want to withdraw funds from a virtual debit card, you can move funds to:
Another debit card (virtual or material)

Credit card

Your own or someone else's bank account
Cardholders can choose any virtual account cashing option they like. The speed of transactions and rates are the main things to note. Additionally, you should mind transaction and maximum balance limits. 
Balance limits mainly depend on terms and conditions set by the card issuer. A standard limit equals the prepaid amount and ranges from $20 to $5,000. Regarding the cash withdrawal limit, users can adjust it to their taste. Typically, it is $5,000 per transaction/per day maximum.
How Do I Transfer Money From My Virtual Card to My Bank Account?
The IPSIPay app allows you to move funds from your Visa virtual account balance to US domestic and international bank accounts. Follow these steps:
Top up the mobile balance with funds available at your virtual card account. IPSIPay charges only a $1 fee for loading money from debit cards.

Choose 'Move Money Globally' from the dashboard on the main screen.

Tap 'Send Money'.

Choose 'US Bank Account' or 'Move Money Globally' whether you want to send a sum domestically or cross-border.

Fill out the payment form. Designate the

ABA routing number

, SWIFT code, or IBAN depending on the destination country (USA or other).

Double-check the details of the receipt before confirming the transaction.
On average, money will arrive to your personal or recipient's bank account within 2-3 business days. IPSIPay charges a $1 fee for US domestic bank wires and a flat rate fee of $10 for international SWIFT wire transfers.
How to Move Virtual Card Funds to Debit/Credit Cards
Sending money between a virtual Visa card and a physical debit/credit card is a great alternative to bank transfers. You have the following options:
Remit funds through a money transfer company

. Money order services are convenient as to how to get money off a virtual Visa card to your regular debit card. However, you should know the amount limits and currency conversion fees while sending money abroad. We've highlighted some of the downsides of

international money transfer services

before for US-to-Mexico payments.

Online platforms for direct card-to-card transfers.

They are strongly recommended as an alternative to online banking. Such services charge about a 1%–1.5% transfer fee, which makes them relatively cost-effective.

Withdraw money to IPSIPay

®

physical Visa card

. For affordable funds withdrawal, we suggest you order a physical Visa debit card along with a virtual one. You'll be able to transfer digital currency to your wallet account and then withdraw the sum instantly to a plastic card. IPSIPay® charges zero fees for withdrawals and you can use the branded card for check-out in stores and cash withdrawals at ATMs worldwide.
What are Withdrawal Rates for Virtual Visa Cards?
On average, the cashing out virtual card balance costs 1% to 3% of the transferred amount. We always recommend consulting with a money transfer provider's customer service or checking the FAQ section on their website to find out the charges.
IPSIPay's Virtual Visa Card for Online Payments and ATM Withdrawal
The IPSIPay app is a multi-purpose fintech product with rich functionality. It saves you from slow payment processing and unreasonably high withdrawal/transfer rates. Download IPSIPay® to enjoy:
Convenient access to multiple online payment methods (p2p, virtual/physical debit cards, savings/checking accounts).

Cheap ATM withdrawals. The fees are 1.95 for US withdrawals and 3.00 for international ones.

Instant withdrawals to personal and companion debit cards. Order a companion card for your friends or family abroad and top it up at no time with a $0 fee.
Check the complete list of IPSIPay's impressive financial products here and join us. Download the application to your iOS or Android device right now!