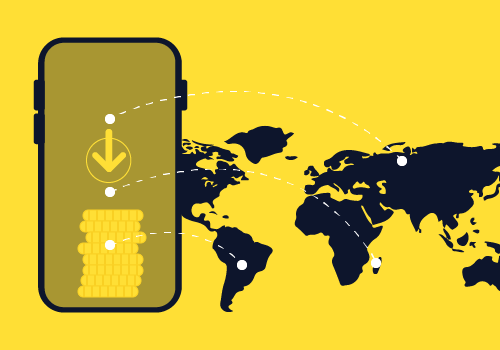 How to Choose an International Money Transfer Service?
Immigrants that send money to their loved ones regularly use international transfers and greatly depend on them. That's why accessibility, low transfer fees, and convenient money order delivery are life-critical for these money transfer users.
Table of contents:

International money transfer services are much more important than we think. When immigrants send money home, they support their local economies. Mexico, with its 54 billion dollars incoming remittance total, is the second of the top-five recipient countries. Apart from the significance of international money transfer services for local economies, they are a vital source of income for the families of immigrants.
Immigrants that send money to their loved ones regularly use international transfers and greatly depend on them. That's why accessibility, low transfer fees, and convenient money order delivery are life-critical for these money transfer users.
If you doubt whether your current remittance service is good enough or you need an alternative, look through our guide. It should help you find the best international money transfer service.
When Do Immigrants Need International Money Transfer Services?
Digital wallet peer-to-peer transactions, bank wire transfers, and money orders are already a part of everyday lives. They bridge the gap in thousand miles between people you care about so you can support them financially at any time. But if you think of it, there are several peak periods throughout the year when people use international money transfer services more frequently. Those are related to particular celebrations and peak seasons in industries:
Christmas

, Mother's Day, and Spring Break

May through September (a peak period in construction and development)

July, August, and September (a peak period in the agricultural industry and farming).
Apart from that, some specific circumstances can make people use international money transfer services systematically. These could be such payments as medical treatment bills, utility bills, delivery invoices, lease/rent payments, etc. 
The amounts, urgency, and receiving options would differ from one case to another. So quite naturally, senders want to have the best international money transfer service that covers all cases.
People usually prefer online international money transfer services accessible 24/7 and available via mobile apps and web versions. However, we also advise you to look into the service fees and exchange rates to find out whether they are acceptable for you. 
4 Proven Ways to Send Money to Mexico Internationally
The immigrant workers have many types of remittance methods to choose from. These include direct deposits to a bank account, wiring funds at banks and credit union branches, and online international money transfer services provided by non-banking institutions (both via their web applications and mobile apps). The unbanked individuals in Mexico still account for about one-third of the working-age population, and nearly 50% of people here prefer to spend in cash. Therefore, over-the-counter (OTC) transactions–when cash is handed to recipients–are still popular among locals.
Interbank Wire Transfers
Probably, the least affordable and convenient international money transfer service you might try. Although, some people prefer it as it's the oldest and best known among the population. Additionally, banks may guarantee their clients reimbursement if they fall victim to fraudulent actions.
Pros:
Larger limits. You can send a large sum compared to online international money transfer services. Most online remittance providers set $10,000 as a maximum amount per transaction/day/person. At the same time, a couple of US banking institutions allow clients to send up to $100,000 per day.
Cons:
Slow processing.

The interbank wire method involves third-party intermediary banks, and multiple compliance checks take extra time. On average, funds arrive within 1 – 4 banking days.

It's pricey.

Every bank participating in this scheme charges its service markups. Eventually, it might cost you between $45-70 dollars to wire money to Mexico.

Lots of details to fill in.

Interbank SWIFT transactions would require you to provide the recipient's full name, IBAN/Routing number, BIC/SWIFT code, and even foreign bank address. Sure, it would be easier to file the transfer form if you plan to wire funds through online banking. Although, you still need to verify account details thoroughly.
Money Order Services
Those remitters who apply to international money transfer services typically choose them for a broad representation through offline agent locations. Fair enough, it would be convenient for the recipient to retrieve cash at the nearest mall, post office, or bank. However, it's hard to pick the best international money transfer service among these providers because the way they charge for different amounts is inconsistent at times.
Pros:
Accessibility.

The transaction can be done through online agents, from a desktop site, or on a mobile app.

Plenty of payment deposit options

. Senders can choose between funding transactions from a bank account, debit/credit card, or paying in cash. Several providers also accept funds from wallet apps.

Extra features

. Some money order companies provide a

convenient bill settlement

for utilities, ISP, and mobile services. Others offer discounts and bonuses to appreciate loyal customers.
Cons:
Hidden exchange markups.

Although most online international money transfer services have a fee estimator on their websites, they may not indicate the currency exchange margin. To get the best cost for your outgoing US-to-Mexico remittance, you better check out the current USD-MXN exchange rates.

The inconsistent maximum amount for sending/receiving in cash.

The limits vary depending on the agent's location and country. Typically it is $900 – $990 per transaction from the US to Mexico or less.
Limit of $10,000 for international remittances. This limitation is for single transactions and the overall volume of monthly transfers.
Over-the-counter (OTC) Remittance
We've already detailed this money order service in the comparison article about the IPSIPay app vs. Walmart features. In short, the OTC method is far from the best international money transfer service because it lacks payment options. It also requires the sender and recipient to prove their identity each time they engage with agents. 
While there are many OTC operators in Mexico, their limitations are also considerable. Recipients can only withdraw transfers in cash or receive them to a bank account. In both cases, they won't be able to immediately spend money on the online purchase or make a contactless payment.
Sending Money Internationally via Digital Wallets
Because of the limitations of OTC remittances, more and more Mexicans opt for mobile wallet apps as an online international money transfer service. You can learn how digital wallets work in our past article. Here are the main benefits in short:
Instant peer-to-peer transactions

. It takes no longer than a minute to send funds between users.

Lowest fees possible

. Typically the system deducts less than 2% of the total amount. Several services like

IPSIPay offer zero-cost

for wallet-to-wallet transactions.

Users can manage their physical and virtual cards

. Debit and e-gift cards are available in most e-wallets. Users may use them to move funds, choose them for checkout in POS payments, or pay off pending bills and invoices.

Branded physical card available upon request.

For now, few digital wallets allow cashing out at cardless ATMs. So to facilitate cash withdrawal,

ordering a plastic card

from an online

international money transfer service

would be reasonable

.
Is Your Primary Bank Always the Best Solution for Global Remittances?
Banks have long held the monopoly on outgoing money transfers. Yet it isn't the best international money transfer service if you wish to have a broader range of payment/delivery options. It is also the least affordable way to send an amount less than $500-$1,000 because of relatively large fees.
That said, some banks can waive senders' fees if they have a high-interest savings account. But usually, it works only for US domestic operations. 
Besides, many banks have outdated mobile banking systems and are inconvenient to use on the go. Modern apps are much handier.
What to Take Into Account When Choosing a Service?
Now that you know more about international remittance providers, we'd like to share a checklist. Consider these characteristics before choosing an international money transfer service. A service that meets these requirements is more likely to satisfy your needs.
Accessibility

. If you need to send money globally 24/7, your choice should be online and mobile methods. 

Worldwide distribution.

First, there may be no agent locations and bank branches in your area. Second, some mobile remittance solutions have limited coverage. That's not to mention the products that run exclusively on Android (Google Wallet) and iOS (Apple Wallet). So don't forget to

check the availability

before choosing an international money transfer service.

Size of service fees.

Remember that you should evaluate not only the internal markup of an offline/online international money transfer service

but also the currency exchange rate. Besides, clarify how remittance providers charge the particular type of remittance and consider whether its charges are suitable for the amounts you typically send.

Processing speed

. Even though money order services typically complete transactions between agent locations within a few minutes, transaction to a bank account is much slower. Depending on the destination country and bank, it might take up to 5 days. P2P mobile transactions are the fastest way to remit funds by far.
Finally, we would like to emphasize that however secure money transfer platforms are, hacking and identity theft may still happen. In our prior post, we gave some helpful tips on how to strengthen payment security and reduce the risks of unauthorized transactions. Use these tips to send money to your family members and manage funds securely.
Why the IPSIPay App for International Money Transfer Services?
Mobile remittances are the simplest way to send money to someone across the border. Mainly because sending and receiving money via mobile apps saves time, finance, and effort. But IPSIPay goes beyond that, providing you with low-cost cashout charges and the ability to invest in valuable assets to grow your savings.
Once signed up, you get access to:
Instant zero-cost P2P transactions

. Direct wallet-to-wallet transfers are available worldwide and cost you nothing. Just enter the recipient's email or phone number, set the amount, and send the money right away.

Prepaid Visa debit card with no monthly maintenance fee

. Get your debit card by mail for a one-time activation fee of $2.5. Also, order an additional companion card for your family across the border.

No fees for withdrawing funds to a physical Visa card

. Let your relatives and friends receive payment right on the companion card issued by IPSIPay. They might use it to shop and withdraw cash wherever Visa cards are accepted.

Low-cost transactions at ATMs.

US domestic cashouts cost $1 only. If you withdraw cash abroad, it will cost you $2.5 per transaction.

$500 limit without identity check

. The $500 limit is initially available for your mobile and debit Visa accounts. Quick identity verification will let you maintain up to $20,000.

Multiple ways to load/offload money.

You may move funds to any US checking/savings account for a 1$ fee. The top-up from the US credit card will cost you 3% only. Additionally, you might top up a mobile wallet from your PayPal/Venmo account.
Download the IPSIPay app from the AppStore or Google Play, follow the simple step-by-step sign-in tutorial, and enjoy affordable and lightning-fast remittance service wherever you are!