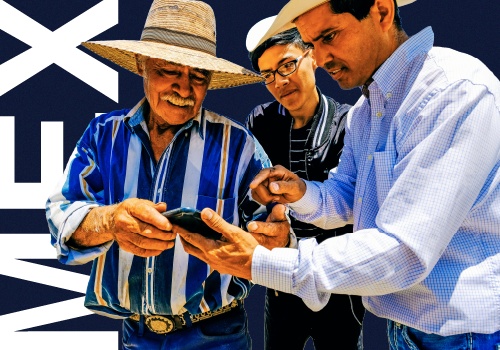 How to Transfer Money to Mexico Online?
To wire funds offline, the sender must get to bank branches or remittance companies' agent locations during working hours. So naturally, lots of people prefer online fintech solutions for international remittance to tackle these issues.
Table of contents:
There's no wonder that more and more Mexican breadwinners working in the United States forgo conventional remittance options like bank wire transfers in favor of online money order services and mobile apps.
To wire funds offline, the sender must get to bank branches or remittance companies' agent locations during working hours. That's not to mention higher service fees and exchange rate markups.
So naturally, lots of people prefer online fintech solutions for international remittance to tackle these issues. 
What Are the Online Money Transfer Options to Select From?
There are three online money transfer options for the user's discretion.
Online banking
A rather simple way to send money abroad via the bank's original mobile app or website. But to do so, you're required to have a savings/debit account, credit line, or deposit in this exact institution. The client can fund transactions either from a debit/credit card or pay from the bank account.
Online money order services
These are typically represented both as browser versions and mobile applications. The distinct feature of this method is that the remitter may optionally send payment to an offline cash pickup location or order home delivery.
Digital wallet apps
These services stand out for their instant payment processing and most frugal transaction fees. Moreover, unlike online banking, e-wallet apps save users a lot of effort and time as they don't need to fill out banking details like SWIFT codes, IBAN, and debit account numbers. Also, the recipients aren't required to prove their identity as they do when receiving funds at agent locations of money order companies.
All in all, it should be your primary selection among the available online remittance methods.
Why IPSIPay to Transfer Money Online to Mexico?
IPSIPay app is an all-in-one fintech platform with rich functionality. It allows users to deposit savings on their mobile wallet account and maintain personal earnings securely, thanks to PCI-DSS standards compliance. Moreover, the app can help you diversify and grow your savings: gold, silver, and other high-value assets can be purchased through an Investment Portfolio.
That said, the prompt and affordable international non-banking remittances are the key feature of the IPSIPay app. It is designed to let you transfer money online to Mexico conveniently, whether you make frequent micro-transactions or send large amounts. For now, the app supports a variety of fund delivery and payment deposit options.
Along with it, users benefit from:
Zero-fee instant wallet-to-wallet and wallet-to-Visa card transactions

. Our peer-to-peer payments and withdrawals to prepaid branded Visa cards are available worldwide.

$20,000 limit for mobile wallet balance, Visa debit card account, and single transaction

. You can increase a balance limit through quick one-time identity verification. Even without it, you still can maintain up to $500 on wallet and debit card accounts to transfer money online to Mexico.

Multiple top-up options for the mobile wallet.

You can recharge the balance through other

digital wallet apps

, wire transfers from a bank account, or debit/credit cards.
Finally, IPSIPay offers one of the simplest ways to transfer money to Mexico for immigrant workers in the US and their relatives back home.
Verified IPSIPay users can get a prepaid Visa card and a supplementary companion card to move funds directly between them with no fees. Both cards are issued for a one-time activation cost of $2.50 and don't require users to have a credit line or be bank account holders. To transfer money to Mexico directly to an IPSIPay branded card, you only need to prove your identity via the app by giving your address, full name, SSN, or ITIN number. We don't request from a companion card holder any personal information.
Step-by-Step Guide: How to Transfer Money Online to Mexico via IPSIPay
Signing up
Download the IPSIPay app from

AppStore

or

Google Play

.

Choose "Register" after launching the app.


Fill in primary account information.


You'll be requested to enter an OTP code to verify your mobile number. Type it down and continue with "Validate."


Fill in the Account Address. It will be used to mail you a debit card later.


Enter the Account Security data (Make sure you follow our instructions to create a strong password). Proceed with the PIN code, security question, and birth date.


Confirm the Mobile Wallet Number (same as your cellular number) and set the type of currency.


Note that if you need a balance greater than $500 and expect to top up a mobile wallet from an existing checking/savings account, you should tick the checkbox and enter SSN/ITIN/TIN below.
The next screen lets you load the initial sum to the mobile balance. Fill in the debit/credit card details or skip to continue to "Add Optional Debit Card."


Here you can order virtual and physical Visa debit cards. A virtual card is suitable for secure online payments, while the physical one lets you checkout at retail outlets and withdraw funds at ATMs.


Finalize the registration by signing in and proceed to the "Log In" screen.


Now let's discuss how to transfer money to Mexico by P2P method and SWIFT system.
How to Transfer Money to Mexico Between IPSIPay Wallet Accounts
Open the dashboard.


Choose "Wallet" from the bottom slider menu. Select "Send money" from the tile menu on the next screen.

Alternatively, you can press the sandwich menu button in the top right of the dashboard screen and select "Send Money."


You'll be redirected to transfer method selection. Choose "To Another Wallet" from the offered currency transfer types.


You can transfer money online to Mexico by entering the recipient's in-app nickname or phone number. Specify the addresser, transfer amount, description, and security PIN. Tap "Send Money" to confirm your transaction. The funds are instantly delivered, and the addresser will get a push notification once the money arrives.
How to Transfer Money to Mexico by SWIFT
Select "Move Money Globally" from Quick Links.


Specify the recipient's country and transfer amount in USD.


Verify the total cost of money transfer including SWIFT payment fee before submitting the transaction. Then tick the checkbox named "SELECT" and press "Proceed with Transfer".

Fill out the SWIFT wire transfer confirmation form. You must type down the recipient's full name, international SWIFT code, and bank account number. Also assign your beneficiary's city, full address and ZIP-code.


IMPORTANT: If you wish to transfer funds between the US banks you should additionally assign Transit Number/Sort Code of recipient's bank branch.                     

Verify the payment confirmation form carefully and then tap "Send Money".



You can currently transfer money to Mexico to the recipient's bank account by SWIFT, among other options. IPSIPay ensures fast SWIFT transaction processing through a partnership with major interbank networks. It allows recipients to receive a sum in their bank account in no more than 2 – 3 business days.
How Can You Transfer Money to Mexico
With Lower Fees?
If you regularly transfer money to Mexico, banking fees may take a large part of the transferred amounts. It's very upsetting, given how hard earning money is for most people, especially immigrants. Hence, you should always research conversion rates and other possible charges before choosing a payment option.
The bank you're served in here, in the States, may have a partner institution across the border, and the exchange rates are rather advantageous. If not, you should probably opt for another way to transfer money online to Mexico, for instance, run a transaction to your companion Visa card.
As a rule, the service fee for SWIFT payment is $5. Besides, intermediary banks can deduct an additional currency conversion margin. At IPSIPay, we've managed to level down the exchange margin to make it no less competitive than other online remittance services. If you choose IPSIPay's wallet-to-card transactions, there will be no fees.
Make Instant Payments With the IPSIPay App in Just a Couple of Taps
As you see, there's no big deal in sending and requesting funds right from your smartphone with IPSIPay. For those who haven't tried to transfer money to Mexico via mobile app before, adjusting to it won't cause any trouble.
So don't hesitate to download the IPSIPay app from AppStore and Google Play! Sign up today and enjoy fast remittance processing and convenient payment methods globally.