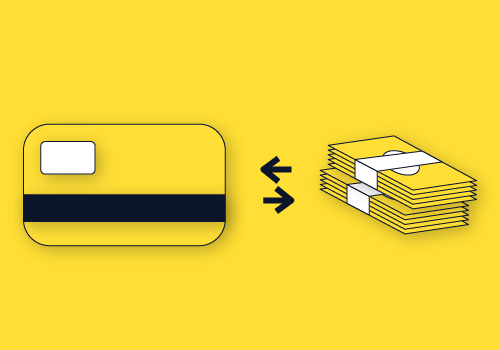 IPSIPay vs. Walmart: Which Is Better to Send Money to Mexico?
You better check service and exchange rates if you expect to run US-to-Mexico transfers frequently. Learning these details will save you from unexpected fees.
Table of contents:
As we've already outlined in our overview of 5 top-tier money transfer companies, you need to recognize the advantages and disadvantages of each service before you send money to Mexico. It should be a well-thought-out and informed decision.
You better check service and exchange rates if you expect to run US-to-Mexico transfers frequently. Learning these details will save you from unexpected fees. Another aspect you need to note is payment deposit options and delivery methods. Some providers may not support methods you consider convenient for your circumstances.
Today's overview will introduce you to the distinctions between Walmart's over-the-counter (OTC) money transfer service and the IPSIPay app, a multipurpose mobile platform for digital finance management. These relatively new brands are currently going big in the niche of US-to-Mexico non-banking remittances. Although both methods are popular for quick transfers, they cover different use cases. So let's contrast them and specify what they might offer to you.
Is It Easy and Cheap to Send Money Through Walmart?
Walmart first attempted to launch a money order service in early 2014. Back then, it was entirely oriented to the US and had numerous drawbacks, such as low transaction limits and high service fees. Ria, a Euronet subdivision, backed up the operations.
It was October 2016 when the retail giant launched an over-the-counter money transfer program in Mexico. International remittances direction became available thanks to Walmart's partnership with MoneyGram. However, the initial service conditions weren't competitive enough and appealing to customers. The single transaction was limited to 800 USD, and charges stood at $6,5.
Eventually, Walmart's head administration took a pause to reconsider and optimize costs. They focused on investments in infrastructure and payments processing technologies to improve their money ordering service. As a result of the changes, today, sending money to Mexico using Walmart2Walmart is way more convenient than several years ago.
4 Benefits You May Derive from Sending Sums at Walmart Locations
1. Convenience
Agent locations are represented throughout the USA and Mexico and are usually accessible by foot in urban areas. There are more than 4,500 of them running in the States. In total, there are 2,764 locations in Mexico where consumers can cash out incoming transfers or send money. Apart from Walmart Mexico, the network includes convenience stores such as Superama and Bodega Aurrera also provide OTC transfers.
2. Integration with MoneyGram Network
It's possible to send money online from MoneyGram's website to the pre-selected Walmart store or vice versa. The same is true for running transactions through the MoneyGram app. The core difference is that senders can deposit funds from a debit/credit card or checking/savings bank account when they remit sums online. At the same time, Walmart checkout registers accept payment deposits only in cash or by debit/credit card.
3. Walmart2World Transfer Program
This program allows customers to send money from retail outlets to Western Union, MoneyGram, and Ria cash pickup locations in over 200 countries. It makes pickup options diverse, and receivers get additional freedom to choose which agent would be more convenient for them. However, delivering funds through different operators means additional transaction fees and USD to MXN conversion rates.
4. Relatively Low Fees
Each transaction costs around 1% to 2.5%, which is much less than the average cost of a US bank transfer. However, it is still quite a high markup compared to digital wallet apps. Yet, you should note that Walmart charges are lower for large amounts.
Two obvious shortcomings of Walmart money orders
Restricted Payment Options
Unfortunately, the cashier can only accept cash or debit/credit card payments. It doesn't sound very encouraging, considering how many people now forego cash and physical cards in favor of cashless payments.
Compulsory Identity Checks
That's the most frustrating part of dealing with Walmart OTC transfers. You need to provide a store associate with an American or Mexican government-issued ID such as:
Driver license
International passport
Green Card
Mexican consular ID, etc.
The rules are the same for receiving payment on the other side of the border. Recipients should prove their identity at the customer service desk before they get the money.
So now, when the limitations of Walmart's OTC money transfers are clear, let's figure out how to avoid them. Time to look at the IPSIPay app's features that compensate for the shortcomings of offline financial services and Walmart in particular.
How Exactly IPSIPay Outperforms Walmart's Money Transfer Service
IPSIPay app is best characterized as a multipurpose payment app. It helps to conduct payments and micro-transactions globally for reasonable service fees. Besides fast performance in mobile financial operations, this app supports physical debit cards.
Prepaid Visa cards (personal and companion) are the key features of the IPSI payment system as they allow you and your recipient to cash out transferred funds. Cardholders may withdraw cash from any ATM with Visa or use it for online/offline shopping.
That's the main contrast between Walmart's and IPSIPay's approaches. In the first case, the beneficiary needs to actually retrieve the remitted funds to own them and be able to spend. Whereas in the second, the funds would be already at hand.
Which Service Has Lower Fees?
Walmart2World transactions may have different charges depending on the remittance vendor. You can send dollars to Western Union, MoneyGram, or Ria agent locations.We've already estimated WU and MG rates previously.
Walmart
IPSIPay app
Walmart2World transactions may have different charges depending on the remittance vendor. You can send dollars to Western Union, MoneyGram, or Ria agent locations.
We've already estimated WU and MG rates previously.
There are no fees for moving funds wallet-to-wallet and wallet-to-Visa card. Users can order a prepaid debit card for $2.50 and a companion card they can give away to their relatives in Mexico. Both cards are free of monthly maintenance charges.
It will cost you $5 per transaction if sending money internationally.
Domestic withdrawals and cash uploads from US bank accounts cost only $1.
Which Service Offers Better Exchange Rates?
Walmart
IPSIPay app
When a user transfers funds by Walmart2World or sends money online, the exchange rate is set by MoneyGram.
As of June 2022, it was 20.01 MXN per 1 USD. The exchange margin stood at 2.92%.
IPSIPay app unties sender and recipient from a definite exchange rate.
Once a beneficiary receives funds on a Visa card, they can convert dollars to pesos using an online money exchange service or cash out at most preferred local ATMs.
Which Method is Faster?
Walmart
IPSIPay app
On average, funds are available at a cash pickup location within 10 minutes.
If the sender uses a bank wire transfer, a transaction may take 1 to 5 business days.
Wallet-to-wallet transactions are processed instantly.
Sending money to a prepaid Visa card may take several minutes.
With IPSIPay, you can also speed up transactions from a digital wallet and physical card to foreign bank accounts. In this case, the funds will arrive in 2-3 business days.
Which Service Has More Payment/Receiving Options?
Walmart
IPSIPay app
Sending
A consumer can fund Walmart2Walmart transactions by cash, debit/credit card.
If somebody chooses Walmart2World online transfer, they can pay straight from a bank account.
Sending
IPSIPay app accepts payments from a mobile balance and prepaid Visa card.
Receiving
You can retrieve Walmart2Walmart transfers only in cash at local stores.
Walmart2World remittance arrives at a bank deposit or the cash pickup locations. Sadly, the home delivery option is unavailable in Mexico.
Receiving
Apart from the recipient's wallet or companion Visa card, you can directly deposit into a savings/checking bank account.
Which Option Is Easier and More Accessible?
Walmart
IPSIPay app
Walmart2World service is generally easy to access online to fund remittances and pick out the nearest agent location.
However, the recipient must visit a pickup spot to receive cash personally. So eventually, the only hassle-free alternative would be to send money to Mexico to a bank account.
However, it could be challenging because nearly a third of the Mexican population is unbanked or underbanked. The percentage of bank institution clients in rural areas is especially low.
Mobile finance management with IPSIPay is equally accessible in Mexico and the States. Whenever you're connected to a cellular network of Wi-Fi spots, you can remit funds or get instantly notified on payment arrival.
The app doesn't require you to type down numerous details. It would be enough to indicate the addresser with their nickname, phone number or account number.
Which Method is More Secure?
Both remittance services are safe and use up-to-date data protection technologies. They are PCI DSS compliant, meaning merchants and banks receive payment details in an encrypted form. IPSIPay has an additional security level for payment initiation: the application requests to enter a security PIN before transaction approval.
Which Brand Has More Favorable Transfer Limits?
Walmart
IPSIPay app
Walmart2World maximum transfer can't exceed $ 9,999 per day/per month. Please, note that there could be additional identity verification requirements depending on the amount you're about to send/receive.
IPSIPay app provides you with a mobile balance and debit card limit of $500 from the start. Once your identity is verified, your max balance will increase to $20,000.
User can send the same amount of $20,000 in a single transfer or during 30 days.
What Else IPSIPay Has to Offer for Daily Digital Finance Management
IPSIPay wasn't designed for international remittance purposes only. Application is empowered with hi-end functionality to simplify access to numerous operations straight from your mobile phone at no time.
Multiple ways to recharge a mobile wallet. You can top up the balance with funds available in your Apple Pay, Amazon Pay, PayPal, or Venmo wallets.
Scheduled transactions. You may add either one-time or recurring payments to settle bills on due. Those could be monthly utility and rental payments or pending invoices.
Extremely low fees for cash withdrawal at ATMs. You'll be charged only $1.95 for cashing out a Visa card at an ATM domestically and $2.50 for doing it in Mexico or elsewhere abroad.
Contactless payments and online purchases. Buy affordably and spend prudently with 24/7 access to online shopping and POS payments.
Cheap international calls. IPSIPay provides favorable rates to make phone calls abroad. You may reach your family and friends in Mexico without an international cell phone plan.
Invest in valuable assets to diversify your portfolio. You can purchase or sell precious metals and other high-value assets to create a robust finance cushion.
With many useful features at your fingertips, you can lay back and enjoy simple ways to run day-to-day transactions and regular expenses. To have 24/7 access to the IPSIPay multipurpose digital wallet app, download it from AppStore or Google Play now!