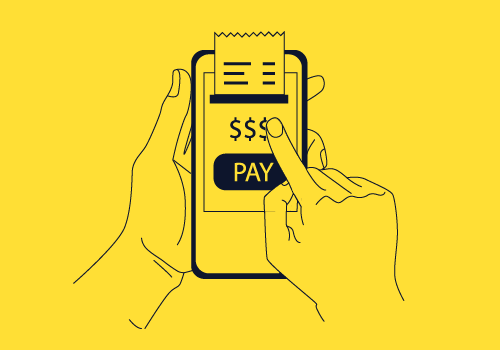 Online Payment Solutions: How to Find the Best Way to Pay Bills Abroad
Since digital financial services can send money internationally, they are pretty popular among Mexican and other immigrants. This way, US immigrants use online payment solutions to support their families and pay bills remotely.
Table of contents:
For the past decade, there has been a steep increase in online payments. More and more customers switch from cash and debit cards to fully digital online banking and mobile platforms. Online payment services are in high demand due to their accessibility, faster transaction processing, and lower service fees.
As of 2020, nearly 80% of the population in the US used online payment services. Most frequently, people made in-app online purchases, international money transfers, and automated bills settlement.
Since digital financial services can send money internationally, they are pretty popular among Mexican and other immigrants. This way, US immigrants use online payment solutions to support their families and pay bills remotely.
Would you like to learn more about the most convenient options to pay bills abroad? Let's compare the available online payment solutions to see which may benefit you most.
What Are Online Payments? 
Online payments allow consumers to remotely acquire goods and services from a provider/merchant. Instead of paying by a physical card or at the bank, an individual sends money online.
Electronic transactions happen with the help of an online payment platform that processes payers' details to transfer funds to the recipient. Since such a method is online, it means that users can confirm the payment using a variety of electronic devices. They can complete transactions through tablets, smartphones, desktop computers, or laptops.
Although most people associate online payments with the use of debit/credit cards for checking out at online stores, they are suitable for various digital transactions, including:
Online/mobile services subscription purchases

. Users may pay for third-party services they subscribe to and even schedule payments to renew subscriptions in time.

Utility bills settlement

. Residents can pay off their

debts for utility consumption

from any part of the world. For example, you can pay bills in Mexico while staying in the US.

Paying invoices

. It might include online payments for shipping goods, medical services, tuition fees, etc.

Paying fines

. If you get fined, it can prevent you from certain administration services. Paying off fines online will help to cope with such situations in a couple of minutes.
How to Run Online Payments with IPSIPay
Let's consider the IPSIPay app, a universal digital payment and remittances app, as an example of how to use online payment services on your mobile device.
First, sign in to your IPSIPay account with your user credentials. If you're not registered yet, check our step-by-step tutorial on signing up for an app. Once you're logged in, access the Pending Payments screen from the Quick Links block of the main dashboard. It contains recent bills and invoices.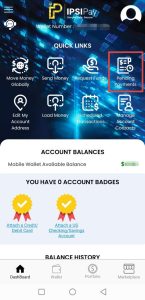 To settle online payments:
Select the invoice from the list.

Verify the recipient's details: legal name, address, bank routing number (RTN) or a SWIFT code, and the requested amount. If you pay utility bills, you should also double-check your service number.

Proceed to the payment option selection if the information from the pending payment form is correct. You may fund the transaction from the mobile wallet balance,

virtual debit card

, or physical debit Visa card.

Then confirm the online payment by entering the OTP security code. The payment receipt will appear in your Transaction History tab.
As you see, using the IPSIPay app as an online payment platform is very easy. For more information on how to transfer money abroad with this online payment solution, check our step-by-step guide on IPSIPay international remittance features.
5 Must-Have Features of an Online Payment Solution for Paying Bills in Mexico 
Managing household utility bills, pending invoices for various consumer services, and other recurring payments simultaneously is hard. Besides, only a few online payment services partner with foreign utility providers to enable you to pay bills easily.
We've already compared the options you can use to pay bills in Mexico from the United States. You can also manage recurring payments by adding the financial credentials of utility service companies to an online banking dashboard.
Yet, to have access to bill settlement via online banking, users must be bank-served and have an active checking account. Since many immigrants are underbanked, such an online payment option may become a problem. Fortunately, if you're not eligible to open the US or foreign bank account, paying bills via the mobile app could be an easy way out.
Finding a one-size-fits-all method to pay bills and invoices without restrictions can be tricky. That's why you need to know what features are must-haves.
Here are the features of an online and mobile payment solution to look for:
Convenient Recurring Payments
Once you add the recipient's bank details and run a one-time transaction, you can save the template to pay for the same service or subscription many times.
Batch Payments
The users should be free to round up their invoices and pay off the entire debt at once. It is a great way to spend less time handling your monthly charges.
Low Service Fees
You must always ensure the fees of the payment solution you pick are affordable. Generally, online payment solutions, e.g., mobile apps, charge much less for outgoing remittances than bank wires and non-banking services. On average, you'll be charged $2.95 – $3.0 per settlement if you pay Mexican bills online with your debit card at a money transfer company. At the same time, the fee is less than $1.5 – $2 if you pay an invoice or service bill via a digital wallet.
Multiple Payment Options
Online payment platforms like IPSIPay allow you to add and use several types of payment sources. You may pay bills from your digital wallet balance, US savings/checking bank account, debit, or credit card. However, be aware that the credit card issuer sets additional fees for international transactions (typically 1.5% – 5% of the transfer amount).
24/7 Access to Your Account 
Finally, it is worth mentioning that online payment solutions for bills should provide 24/7 control of your spending. You need to be able to track the statuses of transactions at no time and revise your past bill settlements at any given moment. And for that, you don't need to store the print bills and receipts that are all too easy to lose.
IPSIPay as Your No.1 Online Payments Platform to Settle Bills from Abroad
You can effortlessly provide your family a comfortable life by paying for rent, utilities, tuition, and medical service even from abroad. Just install the IPSIPay app and add pending invoices or utility bills you wish to pay. There are multiple payment options for your convenience:
Add the recipient's bank account details to pay within the app. You can send money from a linked US bank account, your mobile wallet, or a virtual card.

Use the physical or

virtual IPSIPay Visa card

to fill in payment details at utility providers' websites.
On top of the versatility in transaction methods, you can benefit from IPSIPay's low-cost operational rates:
Users can move money wallet-to-wallet and wallet-to-Visa cards globally at no cost.

There's a small fee of $1 for loading money to a wallet account from the US checking/saving accounts.

Users can order a companion Visa debit card for a one-time activation fee and hand it to their relatives living outside the United States. Just like the original debit card, it is free of monthly and transfer fees. The cash withdrawals from companion cards cost $3.
IPSIPay is available for download at Google Play and AppStore. Get your free account right away to access fast and convenient online payment services.