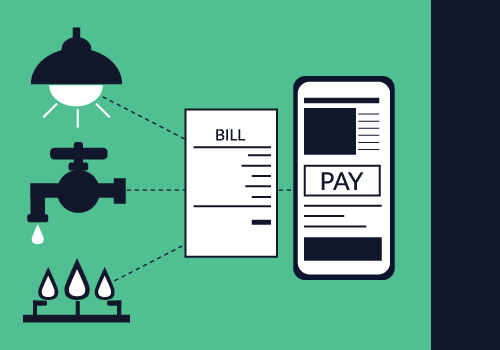 How to Use Apps and Web Services Online to Pay Bills and Reduce Utility Fees
Discover top ways for utility bill payment online and how to save money on utility bills in our post.
Table of contents:
Everyone should pay for gas, water, and electricity consumption in time. It saves you from overdue fees, but more importantly, it allows you to avoid disconnection and have more effective budgeting.
With that in mind, here's a quick guide to organizing an automated settlement online to pay bills. It's the best way to keep up with utility payments, manage them remotely, and avoid high service fees.
Discover top ways for utility bill payment online and how to save money on utility bills in our post.
How to Save Money on Utility Bills
The amount we spend each month on utility services is rather considerable. For instance, the US national average natural gas, electricity, water supply, and sewer service cost up to $300 per month. And that's not to mention additional bill payments for cell and landline phone service, Internet, streaming services, and waste removal.
Monthly expenses for utility services largely depend on the size of the property, the type of heating and conditioning system you use, and even the climate zone you live in. However, there are some tried-and-true ways to reduce them without extreme cutting on consumption.
3 Ways to Lower Utility Bills
Easy ways of cutting monthly expenses for home utilities imply understanding billing specifics, using some free apps for paying bills, and participating in community solar programs.
Use Bill Splitting Apps
Bill splitting apps can help you track your bills and divide utility expenses with your roommate or partner. The key benefit is they allow you to schedule recurring payments for different scenarios. For co-residents with unequal personal income, it would be convenient to agree on who pays for what or contribute to utility payments an equal percent of your earnings.
Qualify for Budget Billing for Electricity and Gas 
Service providers can include you in a budget billing plan so you can pay a set amount each month. Therefore, you will be more confident about the bill amount and possible charges. Budget billing is especially helpful for leveling the seasonal fluctuations in natural gas and electricity consumption.
Tenants can usually apply for budget billing after residing in a place for the last 12 or 24 months. The service companies will calculate the average monthly bill cost based on records from this period. But note that average cost might change later, as most providers adjust the figures annually. So carefully learn the contract terms and check the updated rate when you make utility bill payments online. 
Join a Community Solar Project
Enrollment in community solar programs can give you extra benefits, such as additional credit on your monthly electricity bill. Most enrolment schemes nowadays don't include any upfront costs for consumers, unlike rooftop solar panel installation for housing. Here's how it works:
Solar panels provided by the community produce a specific volume of energy that powers the utility power grid.

This volume is then compared to the total electricity usage of a community.

The final bills include a discount of around 10%.
Risks of Overdue Utility Bills
Firstly, it's crucial to understand that late utility payments don't damage your credit score. Those are not reported to credit bureaus.
However, creditors might report to the collection agency to reclaim the funds if a debt is significant. Collection agencies report to credit bureaus on outstanding balances if they remain unsettled for over 90 days after the missed payment date. In such cases, there will be poor consequences for the debtor's credit score.
Long before that, the consumer will face a late payment fine and suspension of service. The fee for a latency of around 10% of the imposed bill is unpleasant though manageable. But having your residence shut off from services is way more uncomfortable. It takes 1-2 business days to restore power or water supply. Plus, you'll be charged a reconnection fee that starts at $15.
To avoid these problems, consider scheduling utility bill payments online as recurring payments.
Running Utility Bill Payment Online

:

Which Service To Choose

Service fees are definitely worth considering when choosing the most advantageous option to pay bills. But you should also evaluate convenience. Do you want to aggregate separate utility payments in one account? Can you set recurring payments with this web or mobile app? Learn more about the main options below.
Online Banking
If you're a bank client, carrying out any utility bill payment online is easy. You only need to add account information and save payment templates to settle bills regularly. The key benefits of such an approach are:
You can schedule transactions

online to pay bills from

any creditor directly from your checking account/debit card.

Both web and mobile apps give access to transaction history and automated payment settings.

You can automate bill payments from a credit card and gain extra cashback of 1% – 5%.
Yet this payment method has its downsides as it won't suit the underbanked people. It also ties you up to the exchange rates of your bank service provider if you need to pay utility bills for the property abroad. One way to go with cross-border bill settlement could be opening an account in foreign currency or choosing a beneficial payment option among digital fintech apps. 
Payment Through Utility Provider's Site
Such an approach is mainly advisable if you want to double-check an accrued amount or prefer paying directly to a provider. If you make utility bill payments online at the provider's site:
You can choose between one-time or recurring payments. 

You can opt for a more convenient payment date depending on your payday.

You get a full overview of your spending, utility consumption, and rates.

You won't overlook any billing errors from your vendors.
Those who want to avoid late payments can sign up for automated payments. But you must remember that it implies sharing your sensitive bank account information with the vendor. Additionally, you will have to maintain a sufficient balance to avoid overdrafts.
Settling Utility Debts via Bill-Paying Apps
Besides 24/7 online accessibility for online bill payment, some apps provide advanced personal finance management. In-app financial dashboards offer comprehensive reports of your earnings, savings, expenditures, and investments. Moreover, unlike online banking solutions, the best apps for paying bills support a broader range of payment methods, including linked bank accounts, debit/credit cards, and mobile wallets.
The main pros of using bill-paying apps are:
Lower service fees

. Mobile services

charge less than $1.5–2 per payment

. However, many of them don't charge any fees for utility payments or carry out particular types of transactions for free, for instance, if you pay from a bank account.

Multiple utility payments in one app.

There's no difficulty in finding the necessary service vendor. You can generate a payment template simply by entering your account number.

Both recurring and one-time payments are supported

. You can schedule auto-pay for a particular day of the month to repay due bills or manage them on your own.

Bill reminders.

A helpful feature if you control household spending on your own.
Despite the benefits of automated transactions and a 360-degree overview of payment history, some bill-paying apps aren't free. You need to pay a monthly subscription to access the full functionality. So you should decide whether to spend an additional $5-7, or maybe it's worth opting for a free application like IPSIPay.
Use IPSIPay to Settle Bills Remotely with Zero Monthly Fees
Get IPSIPay's free account to manage your monthly utility payments and control any recurrent expenses like personal loans and mortgage fees. It allows you to schedule and track payments straight from your mobile device, anytime, anywhere around the globe:
The app is free to use and covers 200+ countries.

You can save numerous recurring bill payments by adding the creditor's bank routing and account number.

There are multiple funding sources for transactions: a mobile wallet, linked debit/credit cards, U.S.checking, or savings bank account.
The app will assist you in repaying utility bills from abroad, so you can support your family members whenever they experience difficulties with their home budget. Sign up for the IPSIPay app for free – go to AppStore or Google Play and download it now!