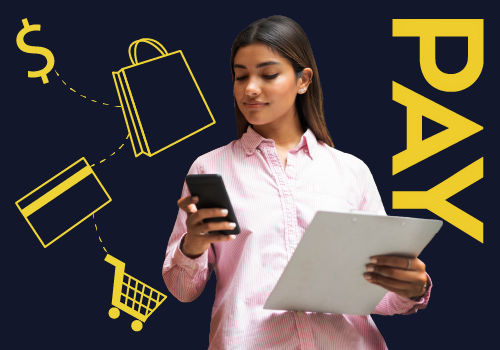 5 Features a Good Personal Finance App Must Have in 2022
This article covers must-have features of digital payment products you can benefit from in 2022.
Table of contents:
Since digital payments came up, they proved to be rather advantageous. Many welcomed them for reducing transaction costs, implementing instant payment processing, and enhancing the safety of operations. Moreover, consumers highly appreciated their transparency. Digital payment systems allow users to easily track transactions and check the service fees in advance.
Presently, personal finance apps are improving in multiple ways at a time. There are so many new features that you can quickly feel lost about what to choose. Do you need to invest in securities right from an app? Or the best mobile finance app is the one with instant money transfers?
Before deciding on what functionality you need, we recommend researching the offer. Discover what top mobile applications can do to make the right choice. This article covers must-have features of digital payment products you can benefit from in 2022.
5 Must-Have Features of Mobile Finance Apps in 2022
Today, personal finance apps look more like multipurpose finance ecosystems. People don't want to switch between multiple applications, each of which requires registration. They look for all-in-one solutions with core financial services. The user should be able to manage paid subscriptions and bills, run p2p transactions, trade assets, and do many other things.
Which of the features are the most critical? Here are the MUST HAVE features that the best mobile finance apps offer in 2022:
Easy Access to All Your Accounts from a Single Place
To manage your available funds, you must have a simple dashboard with the ability to tie up existing checking/savings accounts, bank cards, and deposits. Low rates on money withdrawal between mobile balances and debit cards are a benefit – especially if you're a freelancer or a gig employee.
However, there are also cases when people don't crave to cash out mobile money anytime. On such occasions, it would be great if you could open a savings account right in the app. For now, high-yield savings accounts are available only in online bank apps and some non-banking fintech platforms. But the same feature may appear in mobile payment apps. In particular, Apple plans to integrate its digital wallet with full-fledged online banking.
Contactless Payments
Approximately 51% of the US population uses digital wallets for tap-and-go payments at points of sale. An application on your smartphone allows you to use the phone the same way you would apply a Tap to Pay card. You bring the device close to the card reader (within two to four inches), and the transaction happens automatically. This feature adds permanent peace of mind as you no longer need to worry about physical card loss or theft.
On top of that, most users can now use at-the-table contactless payments at restaurants and cafes. Those are backed up by QR code scanning in the app. Code is typically dynamically generated during checkout, although some merchants can provide ready-made ones. Such a sleek and seamless payment method is mainly for splitting bills.
International Money Transfers
People prefer making cross-border remittances via mobile payment and personal finance apps since these services are available 24/7 and are very easy to use. You can send money to support your family abroad, pay bills, create savings, help a friend, and for many other reasons.
But the best mobile finance app should offer something besides the ability to move money peer-to-peer in a few taps:
A broad selection of payment deposit options

. If you desperately need to send money to your mates and family, it's always better to have multiple payment deposit options. You could even need a

transfer from a credit card

despite its higher cost.

Low fees and competitive exchange rates

. We've

previously

mentioned the advantages of lower service fees and below-average currency exchange markups of mobile

finance apps. The typical transfer fee for moving money between wallet accounts is between 0% and 2%. The average currency conversion margin is around 0.4% – 1%.
Rewards and bonuses. Personal finance web apps and mobile payment platforms can help you save extra dollars on money transfers. Such perks may include adding a bonus to the transferred amount or waiving transaction fees.
Pending and Recurrent Payments
Forming invoices and bills for one-time and recurring payments saves you a lot of time and helps to settle debts by the due dates. Besides managing payment templates, the best mobile finance apps usually provide automated payment scheduling. For instance, in the IPSIPay app, you can settle bills online by using a pre-selected payment option and scheduling the exact date. In the same way, you can set up:
Peer-to-peer money transfers

Funds request from another wallet

Withdrawals to a bank account or debit card

Recharge of mobile balance from a bank account, debit, or credit card.
Virtual Debit Card Management
The best personal finance web app or mobile app must support virtual debit cards in multiple currencies. This feature is greatly beneficial when you travel a lot, frequently order goods from abroad, or receive payroll from a foreign employer. Most modern personal finance apps allow you to link up 3 – 5 virtual cards on average, but they rarely provide a possibility to order one. 
In the case of the IPISPay app, you can request a rechargeable Visa debit card and have:
Separate virtual balance with a $500 maximum amount limit without identity verification.

No maintenance charges and transfer fees for funds withdrawal from a wallet account.

Ability to shop online and offline.

International money transfers to over 200 countries.
3 Additional 'Good-to-Have' Financial App Features to Look For
The above-listed functionality is the foundation of most of the best mobile finance apps. Still, you may benefit from some additional features. They help you manage your income and spending, enable investing, help you save money, and more.
Here are the extra features to look for in a digital payments app:
Built-In currency conversion calculator

. It is often combined with a fee estimation tool as both exchange rate and service charges for international transactions vary. Such an add-on helps to build trust and demonstrate the transparency of service. It also saves you from unexpected expenses.

Trader account

. Many users already play stock markets or intend to start investing. If you are one of them, you should know that some mobile payment platforms can allow you to fund investments and cashout interests conveniently. That's not to mention direct access to analytics and trends.

Advanced digital wallet functionality

.

E-wallets are steadily evolving, taking more and more ground in the mobile p2p payments market. For instance, some already offer to cash out PayPal and Apple Pay balances at cardless ATMs. So little by little mobile wallets are overgrowing their initial capacity of electronic storage for credit and debit cards with a p2p payment feature. Digital wallet apps will likely transform into a multipurpose platform that provides users with direct access to various services like IDs, passes, and documents management; insurance options; investments portfolio; loans, and more.
Generally, the more an app can do, the better. Yet, you should also pay attention to usability and security. Too complex functionality can confuse users and lead to mistakes with financial operations. Besides, you need to check the subscription and maintenance charges. Consider multiple factors–including which features you're most likely to use–to pick the best mobile finance app for your everyday use in 2022 and beyond.
Fast and Simple Personal Finance Management with the IPSIPay App
If you need a comprehensive and secure mobile application for everyday personal use, the IPSIPay app is just right. You can freely access a variety of features to assist you in the everyday management of your earnings, including:
Instant p2p money transfers.

Move money internationally at zero cost between e-wallet accounts. The IPSIPay is available for p2p payments in 200+ countries.

Branded Visa debit card

and an additional companion card you can give away to your spouse or friend. 

US domestic cash withdrawals

for $1.99 and $3.00 for international ones with an IPSI Visa card.

Increase your savings with investment options

. Purchase precious metals and other valuable assets straight from the app.
Check the whole list of IPSIPay financial products and services you can get with a free account. Take advantage of them, and go to Google Play and AppStore to download the IPSIPay app now!