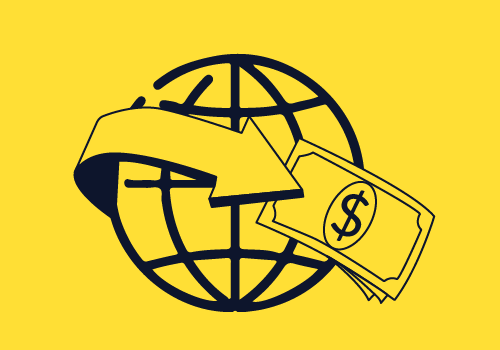 Remittance Payments for International Transactions Explained
This article explains remittances and outlines existing payment methods. You will also learn how to send money abroad and other valuable tips.
Table of contents:
Most people truly appreciate the innovations in the digital finance industry. They provide us with secure, convenient, and speedy personal finance management. Money transfer services are particularly popular. They remove the borders between you and your close ones through personal remittances.
So what is a remittance? This article explains remittances and outlines existing payment methods. You will also learn how to send money abroad and other valuable tips.
Definition of Remittance and Its Global Influence
Remittance is a money transfer from one party to another. The term usually describes money sent by someone working abroad to support their family. Yet you can also use remittance in a broader sense to describe any payment. The main difference from payment (or bank transfer) is that you send money overseas to an individual financial account.
Why is Remittance So Popular?
Worldwide migration makes remittance services very popular. The need to send money internationally continuously grows. About one in nine people in the world consistently receive incoming transfers.
Besides, remittances are moving online. The global impact of the COVID-19 pandemic boosted the demand for digital payments. Quarantine forced people to look for alternatives to visiting banks and cash pickup locations. As a result, they started to favor electronic payment systems and virtual wallet apps. Nowadays, digital payments are popular among 57% of adults in developing economies. More and more people adopt them for cheap instant p2p money transfers, including international ones.
Top Remittance Destinations
The world's top recipient countries for sending money from the US are:
India, with the overall amount received from remitters was $89 billion in 2021

Mexico – above $54 billion

China – $53 billion

Philippines – $37 billion
The growing payments are explained by the low income levels in destination countries. The immigration of workers to the developed regions also takes its toll. But that's not necessarily the case. For instance, China has a relatively small ratio of emigrated workers – less than 1 percent of the entire population. Yet, it's one of the top beneficiaries from incoming remittances in the world.
Benefits of Remittance Payments
There are many practical benefits of sending remittances. The most common uses are:
Consistent financial support

. Your friends or relatives may need financial support to have a decent livelihood. The remitted funds can cover their basic ne

eds or help them pay off mortgage and

tuition fees.

Help your family members in an emergency.

What are remittance payments best used for? Well, there are many unpredictable financial difficulties people might face. But you can handle most emergencies by transferring some cash.

Low exchange rate.

There's a disadvantageous foreign exchange rate in the recipient's country? Then send your beneficiary cash so they won't need to purchase it at exchange kiosks. However, you should pay attention to

double currency conversion

applied during most bank transfers.

Remote bill payments

. You can send your family a specific amount monthly to help them pay bills

. Yet, if you want to

track and settle bills

remotely, you can use a web service or mobile payment application. Today, many mobile remittance providers allow you to pay utility bills abroad.
Ability to make a gift. Even if you're away from your family and kids, you can make them a present on holiday. Make a transaction to provide them extra money for a long-wanted purchase.
Remittance Methods
You are free to choose between banking and non-banking money transfer methods. The banking ones transfer money through personal online banking accounts or a bank teller. With non-banking transfers, you send money via a third-party company that doesn't maintain bank accounts directly. Many remittance providers and mobile apps support such transfers.
Bank Wire
Wiring funds internationally to foreign bank accounts has drawbacks. Payment processing is slow, and fees are high ($35-50). On average, money arrives in the recipient's account in 2-3 days, but transaction processing might take up to 5 days. The term largely depends on the destination area and financial institution you send funds to. Also, the more intermediary banks participate in the transfer, the longer it takes.
Pros:
Funds go directly to checking & savings accounts. It's convenient for recurring banking operations like paying a mortgage or personal loan.
Cons:
Long-term payment processing

Disadvantageous for frequent transactions of small amounts

The recipient must be bank-served
Sending a Money Order
People like money order companies like Western Union and MoneyGram for their flexibility. These remittance providers offer multiple payments and delivery options. Besides conventional transfers between bank accounts, they provide quick funds delivery. The money arrives in less than 5-10 minutes if you send them to a debit card or cash pickup location.
Pros:
Various payment and delivery options

You can select one of many services with competitive exchange rates

Fast payment processing 
Cons:
A limit per person/per day can vary depending on the destination area and delivery method.

Limits for sending and receiving transfers in cash are smaller compared to digital transactions to debit cards, credit cards, and bank accounts.
Moving Money Between Credit/Debit Cards
Cardholders usually opt for internet banking apps or online money transfers to send money directly between debit/credit cards. But you can also use them to fund a transfer at a money order service's website or agent location.
P2P Transfers
Users appreciate direct peer-to-peer transactions between mobile wallets as they are instant. More importantly, the p2p apps charge less than banks and non-bank remittance providers. The average service fee is 0.5% – 1.75%. But some services like IPSIPay complete p2p mobile money transfers for free.
Pros:
24/7 low-cost global remit

tances.

You only need to enter the amount and the recipient

by email or phone number to confirm a transaction.

You can send up to $10,000 p2p per single transaction.
Cons:
Note that each company has a set number of options for money transfers. Thus, it can limit your flexibility in remittance service use. So be sure to research several providers before making the final choice. You should also compare fees for cross-border transactions depending on the type of payment.
What Do You Need to Make a Remittance?
Be ready to provide financial details to the money transfer provider. You need to share:
Government-issued ID to verify the sender's identity

Recipient's full name, address, and contact phone number

Recipient's IBAN number (if you remit funds to the individual's account)

Recipient's bank name, address, and SWIFT/BIC code
When a money transfer company confirms the payment, the sender gets a receipt with that information. It also includes fees, approximate transfer completion time, and customer support contacts.
Sending money through a bank or money transfer company is complicated. It requires many additional details. That's why many users opt for mobile money-sending apps as a more convenient alternative. Payment apps store all essential bank information in an encrypted form and automatically request it to send a transfer.
IPSIPay: Multiple Remittance Options in a Single App  
Use IPSIPay for free and convenient international remittances. The IPSIPay app provides comprehensive features for:
Instant p2p transactions between digital wallet account for zero fee

Low rates for cross-border transfers from debit/credit cards

A convenient way to send money to foreign bank accounts
Along with the payments explained above, IPSIPay app offers you cheap top-ups for your e-wallet balance and zero-cost withdrawals to branded Visa debit cards. Check other digital finance features you can get with IPSIPay. Download it from Google Play and AppStore and sign up for free today!