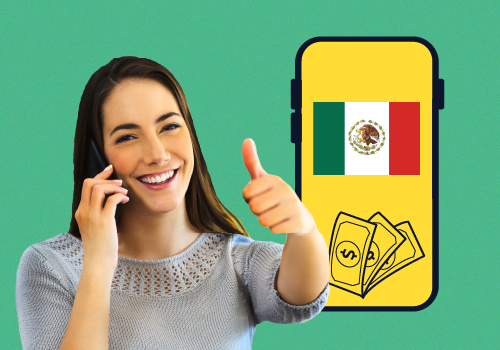 How Can I Send Money to Mexico from the US? Here's All You Need To Know
Personal remittances have been the main source of income for many Mexican households for the last decade.
Table of contents:
Personal remittances have been the main source of income for many Mexican households for the last decade. Unsurprisingly, about 97–98% of the total remittances come from the US.
Apart from amounts wired through banks and cash pickup locations, immigrant workers send a massive share of their earnings online. Hence, the popularity of money-sending p2p mobile apps is growing. They provide cheap instant transactions and are always accessible regardless of your location. 
So which way of sending money to Mexico from the United States is best? Today's article will introduce the key factors you should consider when choosing a cross-border remittance service.
Which States Send Money to Mexico the Most Often?
A large share of outgoing US-to-Mexico transfers come from particular areas. The main reasons are employment possibilities and, of course, the lower cost of living compared to the rest of the country. 
For example, funds are frequently sent from a particular US state to the corresponding Mexican one:
Alabama – Quintana Roo

Kansas – Durango

Nebraska – Campeche
Remittance corridors mean that those areas will likely have developed money transfer services and competitive rates. For instance, local banks can waive transfer fees if you pay in foreign currency. In particular, Citi Bank, Chase, Wells Fargo, and Capital One 360 don't charge you for the outgoing remittances in Mexican pesos.
What Matters When You Send Money to Mexico
There are many different ways of cross-border transfers to Mexico to choose from. To select the most suitable one for you, you should first think about what matters right now and also consider the long-term perspective. Here are the primary factors to take into account:
How Frequently Do You Need to Send Money?
Some weeks or months of the year have become true hot seasons for US-to-Mexico remittances. But aside from holidays and peak periods in seasonal jobs, you may need to provide a livelihood for a large family. It requires more regular transactions, but the amount usually stays within $300–$1000 per single transaction. If you need to replenish the family budget quickly, online money transfer services are your best choice as they're speedy and allow for an unlimited number of such smaller-scale transactions per month. 
How Much Do You Plan to Send?
Sending money through money transfer services is always subject to transaction limits. The typical transfer limit for individual transactions in digital wallet apps and online remittance services is $10,000 per person/day/month. However, some online providers have specific limitations, for example:
In-app transactions and debit card transfers have lower limits than sending money over the counter at the nearest agent locations.

Inconsistent limits for receiving money in Mexican cash pickup locations. For example, the one-time maximum for receiving cash through Western Union ranges between 5,000 MXN and 18,000 MXN.

You may be able to increase personal limits after additional identity verification. Mostly it's enough to provide your full name, physical address, and SSN/ITIN number, but some services might require you to send a scan of a government-issued ID: US or Mexican driver's license, Consular ID card, etc.
The thing is that some apps are better designed for micro-transactions and work best for sending $200 – $300. Therefore, we recommend you study FAQ sections and ask customer support about the set limits. Find out whether you can send the necessary amount and which way for funding transfer is more advantageous for you.
How Fast Do You Need to Send Money to Mexico?
The need for additional funds can be abrupt or unplanned. It could be emergency medical aid or due mortgage payments. In such cases, people usually prefer to request mobile money from their close ones. Transfers between e-wallet accounts take several seconds, so they're very suitable for such cases.
Alternatively, you may send money straight to the recipient's debit card via online banking. If both of you are unbanked for some reason or simply prefer cash, money order services can be your choice. With these two ways of sending money to Mexico, you might expect funds to be delivered in 5-10 minutes.
Lastly, you can remit funds to the person's checking or savings bank account if they prefer to manage finances in their online banking platform. Such payment takes 2 – 5 business days, depending on the speed of clearing operations in correspondent and intermediary banks.
How Does the Recipient Plan to Use or Withdraw the Money?
Additionally, you should consider the purpose of your transactions. Communicate with your recipient to find out how they would like to receive money. It may be complicated for them to deal with money order companies or banks. Therefore, you may opt for an online money transfer provider.
Here are some most common reasons to send money to Mexico from the US:
1. Sending to Cover Your Dependant's Everyday Spending
Sending money via a digital wallet app is the best option to cover your spouse and family members' everyday expenses:
It is cheaper because of lower exchange rates and transfer fees than those at conventional financial institutions.

Wallet apps are accepted in convenience stores for contactless payments and e-commerce websites.

Some mobile payment platforms issue physical debit cards allowing users to cash out their virtual balance at ATMs.
However, when selecting a mobile fintech app, you should find out whether they are supported in Mexico. For instance, the Apple Cash p2p transfer feature is unavailable beyond the USA.
2. Sending Money to Settle Bills
Paying bills online via a mobile app is a growing trend. The key reasons why you should consider paying your utility or other bills this way are:
You'll be able to streamline your payments and track the transaction history without dealing with printed bills.

Apps charge less to settle bills than other online intermediaries. The in-app fee per payment is $1.5 – $2 compared to $2.95 – $3.0 for the alternative options.

You'll never be late with payments if you schedule the transactions.
3. One-Time Purchase
Social commerce is booming in Mexico, and many customers prefer to buy from the merchants they find via Facebook and Instagram. As a fast, reliable, and secure method to pay for such a purchase, both customers and sellers favor mobile money.
Besides, a one-time purchase can be a gift to your loved ones. Therefore, if you wish to contribute to their purchase, you better discuss how to make it happen.
4. Paying Down Loans
Those who aim to support their family by paying down mortgage fees, college, and car loans have several options. Most Mexican development companies offer mortgages with a sizable down payment of 30% – 50%. So if you plan to pay it, you should pick the service with the highest one-time transaction limits and lowest rates. In this case, the best way would be to transfer money straight to a lender's correspondent Mexican bank account. 
Conversely, if some of your family members need to pay down monthly fees for tuition or consumer loan, you can move funds to their savings/checking account.
FAQs About Sending Money to Mexico
This section covers some most common questions and concerns about sending money to Mexico from the US.
What are the Requirements for Sending Money from a Bank Account?
The sender must be bank-served. Check our previous article explaining how non-citizen or temporary citizens can obtain a US bank account.
How to Send Money Between Debit Cards?
You could use online banking if you're a cardholder of a US bank debit card. If you plan to fund the transfer from a virtual debit card, you might do it with minimal fees via a wallet app.
Why Do Transfers Paid with a Credit Card Cost More?
There's an additional markup of about 3% for funding international and domestic transfers with credit cards. It consists of a Visa/MasterCards network fee, the currency exchange margin, and the issuing bank fee. Unfortunately, there's no way remittance providers can affect these charges, but there are some types of travel credit cards with no fees for foreign transactions.
Get All the Ways to Send Money to Mexico from the US with a Single IPSIPay App
If you're looking for a money-sending app that is best suited for US-to-Mexico transfers, IPSIPay will meet your needs perfectly. The IPSIPay mobile app is available for iOS and Android, and offers:
Instant and free of charge p2p money transfers.

Personal prepaid debit Visa cards to withdraw the mobile balance. Users can order the debit cards for themselves and their recipients across the border to offload funds from the e-wallet account at zero cost.

Additional cross-border money transfer options. IPSIPay provides low-cost transactions to Mexican bank accounts, debit/credit cards, and rechargeable virtual cards.

Multiple ways to top up e-wallet balance. Users can upload cash from their US bank accounts and debit cards for only a $1 fee.
A new user has a $500 limit for a mobile account and branded IPSI debit card account. The limit for single outgoing transfers is also $500. To have an extended amount limit of $20,000, confirm your identity with SSN/ITIN number check at no time.
Join IPSIPay today – download it to your iPhone or Android device for no installation fee!