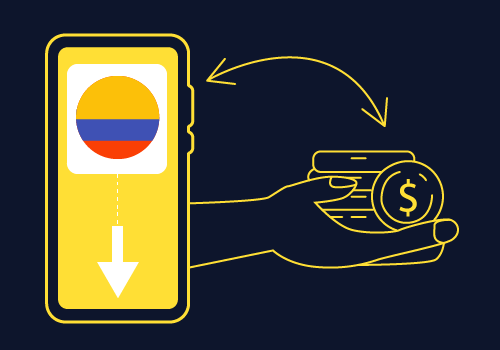 How to Send Money to Colombia From the USA: Methods and Issues to Consider
Find out more about US-to-Colombia international transfer options and how to avoid high fees when you send money abroad.
Table of contents:
International remittances allow people to give each other a helping hand. That's the prime reason why many Colombian foreign nationals and immigrants use money transfer services. It's the connection to their loved ones that matters most. They can send money home when their family needs financial support.
But how to send money to Colombia from the USA conveniently? We have some advice for you to consider. You will learn how to transfer money to Colombia inexpensively and without a fuss. Excited? Let's start then!
Why Do Colombian Americans Send Money Back Home?
Colombia is an emerging economy. The state's healthcare and quality education aren't as accessible as in developed countries. Finding a good job may also be challenging. In September 2022, UNDP placed Colombia 88th in the global Human Development chart. It's a way better rank than Guatemala and Nicaragua, but the country still falls behind highly developed Southern American states such as Chile and Argentina.
Therefore, many families of immigrant breadwinners depend on consistent additional funding. And a large number of these Colombians move to the US to earn money. At some point, almost each of them will need to clarify how to send money to Colombia from the USA.
How Many Colombian Immigrants Are in the US?
Colombians account for almost 2% of the US foreign-born population. According to the latest survey by Census Bureau, New York, New Jersey, and Miami have the largest communities of Colombian Americans. 
Most of these people consistently transfer money to Colombia. Along with conventional bank transfers, Colombian breadwinners opt for online card-to-card transfers and p2p payment apps. The way people prefer to send money internationally largely depends on the transferred amount and cash delivery method.
Top Reasons Why People Send Money to Colombia
Colombian immigrants usually remit funds back home to help their loved ones handle tough times. Financial support can be crucial to managing credit card debts, sick leave, maternity leave, or an emergency. For each case, there's the best way to send money to Colombia, considering the delivery method, cost-efficiency, and time.
Household Bills Settlement
Paying off rental and utility bills on time is a rule of thumb. If your relatives need to manage household debts, we advise sending money directly to a credit or debit card. Whether a family member repays bills online or via payment kiosks, card payments will work best.
Consumer Loan and Mortgage Management
On-due mortgage and loan payments are the right way to maintain a healthy credit score. Since these are bank services, loading funds directly to the recipient's bank account would be better. About 85% of adults in Colombia are bank-served, so bank wires are the most advisable for such occasions.
Daily Spending
Some families depend on additional funds for everyday shopping at grocery or food markets. So you should decide how to send money to Colombia from the USA, depending on their preferred payment method.
The problem is some regions lack POS terminals. The best way out is to send the required amount to one of the cash pickup locations. Conversely, suppose there's no trouble with contactless payments at the destination. In that case, you can transfer money to Colombia via a payment app. It's cheap and convenient, and the recipient can spend the transferred sum immediately.
Emergencies
If your loved ones are in trouble, don't waste another minute and send money online right away with instant p2p transactions. Alternatively, you can transfer money to Colombia through online remittance services. It might cost you a bit more, but it pays off with the fast delivery: cash arrives at the pickup spot in a couple of minutes.
4 Issues with Sending Money to Colombia to Consider
Generally, licensed providers ensure sufficient personal and payment data security. Moreover, your consumer rights are protected by US and international money transfer regulations.
However, more is needed to have a smooth and untroubled remittance experience. Research the user's feedback and look into the fee policy of particular services. You may detect some of the hidden drawbacks listed below.
Here are the most common US-to-Colombia money transfer issues and how to deal with them.
1.
Speed Issues
Transfers can be too slow when wiring funds between bank accounts. It depends on several factors: 
Bank cutoff times

Difference between time zones

Is it a single currency transfer or multiple currency one
Altogether it might stretch payment processing time up to 5 business days instead of 2 – 3 days. What to do about it? Firstly, we suggest you remit funds directly to a person's debit card. It takes no more than 0.5 – 1 h. Secondly, you may send the required amount instantly within the p2p payment systems. But mind that your recipient must be able to withdraw the transfer to a debit card or checking account.
2. Bureaucracy & Procedural Formalities
Offline remittance agents and bank tellers require many details about you and the recipient. Moreover, the banks charge clients and non-clients for international wires unequally. So you pay more if you're unbanked or send funds not through your original bank.
Conversely, sending money via online and mobile platforms is super easy. For instance, the IPSIPay app requires you to pass a one-time identity verification. Once you provide an SSN/ITIN/TIN, you'll get 24/7 access to cross-border and domestic transactions. To transfer funds wallet-to-wallet, you only need to assign the addressee with their phone number or in-system nickname.
3. Too Big Currency Conversion Margin
There are several personal finance life hacks to save on currency conversions during a transfer. Check our previous posts explaining how to get the best exchange rates. Also, see what benefits you can derive from using a multi-currency account. These should help you cut expenses or even avoid currency exchange fees altogether.
4. Transfer Fees & Limits
Money order companies are the least favorable option if you send large amounts of cash. For instance, Western Union sets a limit of $7,500 for wiring money to Colombian banks and $6,000 for a single cash-out at the pickup location. Thus, it would be better to send over $10,000 through banks and online banking products.
Remember to take into account transfer fees and associated fees. Trusted money transfer companies display total charges before you confirm the transaction. Previously, we overviewed several types of remittance services and named approximate fees they impose.
Send Money Abroad at Favorable Rates via IPSIPay App
Send money to Colombia from the USA in multiple ways from a single app. Try IPSIPayⓇ to transfer funds directly to overseas bank deposit accounts, debit/credit cards, or mobile wallet accounts.
IPSIPay app offers:
Zero-cost instant p2p payments between authorized users.

Immediate mobile money withdrawal to IPSI branded

Visa debit cards

. You can order a personal and additional companion card for a one-time $2.50 fee.

Low-cost

international wire transfers

powered by MCN and Sigue with exchange rates lower than mid-market.
You can also conveniently manage recurring payments and track everyday expenses straight in the app. Join IPSIPay for hassle-free and affordable digital money transfers today! The application is available for FREE at Google Play and AppStore.