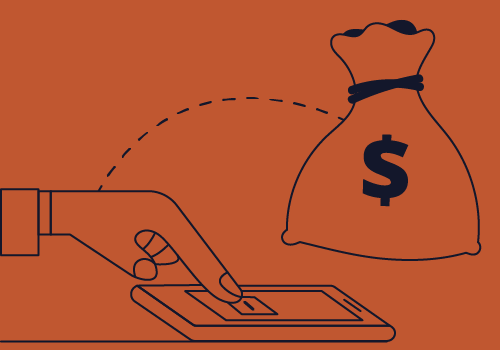 US-to-Costa Rica Remittances: Choosing the Cheapest International Money Transfer Option
Send and receive electronic funds transfer worldwide with moderate fees and in short terms. Read our overview article with a selection of tried-and-true online money transfer options.
Table of contents:
Many Costa Rican families have relatives in the US who earn money to provide for their dear ones back home. US-to-Costa Rica money transfers provide locals with massive financial support throughout the years. Yet such transfers may be challenging for underbanked immigrants.
Today we want to recommend tested and approved ways to send money to Costa Rica from the US at a low cost. These are worth considering whether you're an expat, an immigrant adjusting to life in the States, or a regular traveler.
Why Do People in Costa Rica Need US remittances?
The volume of US-to-Costa Rica money transfers has been permanently growing for the last 30 years. By the end of Q2 2021, employment-based immigrants and short-term employees sent about $142.07 million to their family members. 
Bank transfers primarily support the most disadvantaged Costa Ricans. Many local families struggle to get by without funding from their breadwinners working abroad.
Commonly people send money to Costa Rica to:
Settle utility bills and rent debt

. Nowadays, customers can

pay for utilities and rent abroad

remotely. Check our previous post to learn how to settle bills online inexpensively.  

Repay social service

s. Social programs in Costa Rica are pretty scarce. Consequently, international money transfers might be crucial for paying tuition fees or medical treatment.

Pay down credit card debts

. Debt management is crucial for cardholders to obtain a

decent credit score

. Therefore, you'll immensely assist your relative or friend by making a US-to-Costa Rica money transfer to their credit card.

Deposit funds in savings accounts.

Many Costa Rican Americans send cash to their dependents' retirement accounts or emergency funds. Check the provider's transfer fees to choose the cheapest international money transfer possible.
3 Major Ways to Send Money to Costa Rica Online
Most customers send money internationally via online and mobile remittance platforms as it's convenient and cost-efficient. Such an approach benefits both bank-served and underbanked people. The first ones obtain top-notch privacy and can keep most of their sensitive data undisclosed. The second ones gain 24/7 access to low-cost alternative transfer methods without needing to open and maintain a bank account.
Let's review some of the most common ways to send money from the US to Costa Rica:
1. Mobile Payment Apps / P2P Apps
In Costa Rica, millennials and Gen Zs usually opt for mobile fintech apps as a preferable remittance method. They provide the cheapest international money transfers thanks to low fees (0% to 2%) and currency conversion margins (0.4% – 1%). Apart from it, P2P apps have some additional benefits:
Instant remittances by phone number/email

. You and the recipient don't go through complicated bank details verification. P2P apps request only the information needed to make a transfer.

Convenient personal finance management

. Users can have several payment methods in one app. It allows you to fund transfers from a wallet account, credit/debit card, or available bank account.

POS payments support

. Your payee can spend received funds right away for checkouts at malls and convenience stores.
Go to our previous article to learn more about the advanced features of personal finance apps.
2. Remittance Companies
Global money transfer providers offer many payment and delivery options, including offline services at agent locations. Therefore, if you and your payee prefer cash, you can send money to Costa Rica's cash pickup location. About two hundred locations from several lead money transfer companies are available in the country.
Other advantages of such money transfer services:
Accessible both offline and online

. Top remittance companies have their desktop sites and mobile apps. Therefore, you can launch a US-to-Costa Rica money transfer 24/7 and track it anytime from your laptop or mobile device.

Cash arrives at the pickup location within minutes.

Typically, a payee can get their money within 5-15 minutes.

Newcomers can get a discount

. People can have a bonus to the transfer amount or a fee reduction the first time they use the service.
However, you should mind that even the same provider may charge different transfers unequally. So patiently check the fees using fee estimators at the vendor's website before sending money to Costa Rica. Another downside of this remittance method is that cash pickup limits are always smaller than bank transfer ones.
3. Bank Wires
Bank wires are a practical way to maintain sufficient balance in your or your loved one's bank accounts. They are recommended if you put savings over spending or want to accumulate larger sums for expensive purchases and loans.
On top of that, wiring money through banks is beneficial due to the following features:
Larger transaction limits.

Most US banks set a limit of $10,000 per day/month for outgoing international transfers. So if you plan to send someone a pile of cash, choose the bank wire method.

Optional fee waiver

. Some banks may significantly reduce transaction fees or waive them altogether. For instance, Chase doesn't charge a transfer fee for US-to-Costa Rica money transfers made in Costa Rican colon if the amount exceeds $5,000.

Ability to cancel transfers and get a refund

. As we've mentioned in our

international money transfer regulations

overview, each client can cancel a remittance within 30 minutes. But we recommend you clarify refund terms in case of a wrong transfer with the bank teller or customer service.
However, keep in mind that the processing of bank transfers is much slower than the other transfer options. It might take up to five business days before the money arrives in the designated account. So you definitely shouldn't wire the sum through the bank in case of urgency.
What to Consider about US-to-Costa Rica Online Money Transfers
Here are some extra tips that will help you send money to Costa Rica quickly and with minimum fees:
Look into fee policy and terms of use of payment apps

. Most top-listed mobile fintech apps are available in Costa Rica, but some aren't. Make sure your selection meets the recipient's needs, and they'll get money without trouble.

Choose a company with reasonable transfer limits

. Depending on the circumstances, you may need an extended limit per single transaction. For instance, there may be an emergency when your payee must repay a large fine or penalty.

Use online comparison tools for remittance offers

. Such tools will give you an essential insight into their exchange rate markups and help save money. It's a convenient way to compare several remittance options.

Check if there are rewards and bonuses

. There's no one-size-fits-all solution in the money transfer industry. But you always have a fair chance of finding the one with valuable extras.
Move Money From the US to Costa Rica Instantly with the IPSIPay App
Send money from the US to recipients abroad simply and securely via the IPSIPay mobile payment app:
Its user-friendly interface allows you to run outgoing remittances in just a few taps. 

With zero-cost instant transactions between wallet accounts, you can respond to transfer requests straight away.

Order yourself and your recipients a

reloadable Visa debit card

to cash out mobile money with no problem.
IPSIPayⓇ broadens the limits of conventional P2P payment apps and offers you a wide range of financial services in one app. You can leverage all of them for FREE – download the app from AppStore or Google Play.