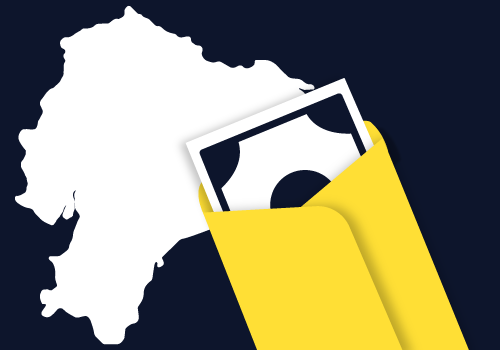 How to Send Money to Ecuador Instantly and Cost-Effectively
Learn what international remittance options work best for sending money from the US to Ecuador. Find the comparison of all available money transfer options in our article.
Table of contents:
Ecuadorians deal with incoming remittances from abroad as often as Costa Ricans and Columbians. Sad but true: most local households need money transfers to cover their monthly spending.
However, the low accessibility of bank branches and sky-high transfer fees are recurring problems for locals. That's why many immigrant workers and their families opt for alternative banking and money transfer apps. Today, we'll discuss how to use these services to simplify the entire remittance process for both the sender and the money transfer recipient.
Why Do People Send Money to Ecuador from the US?
The job vacancy rate (JVR) in Ecuador is consistently low. Consequently, the unemployment rate remains high – the national statistics estimated it at 40%-41% for 2020-2021. As a result, thousands of Ecuadorian workers leave their homes to seek employment abroad.
Foreign-employed adults are a stable income source for their families back home. Here is why Ecuadorian households need remittances:
To pay for utilities and rental fees

. The average cost of utilities and housing is around $330 for a single-living person. At the same time, the average wage stands at $467. So a timely international transfer would greatly alleviate a renter's financial burden.

To settle credit card debt and pay down personal loans

. Local families mainly rely on their breadwinners when it comes to debt management. Money transfers allow them to maintain a

high credit score

, solid proof of their creditworthiness.

To pay for healthcare.

Ecuador's government-funded healthcare really falls behind private services. Luckily, working emigrants stay in touch with their relatives and fund their medical expenses whenever needed.

To cover holiday expenses.

State holiday celebrations, birthdays, and vacations traditionally add an extra burden to family budgets. It's common for relatives abroad to send money to Ecuador for the family members to purchase their dream gift in local stores.

To make a bank deposit.

Some consumers prefer depositing received transfers to earn some interest on the money. This way, they build a financial cushion in case of an employment gap or unexpected expenses.
How Big is the Current Inflow of Remittances to Ecuador?
According to the Central Bank of Ecuador, incoming personal remittances totaled $2.26 billion in the first half of 2022. Compared to Q1 and Q2 of 2021, the remittance inflow increased by 5.15% and 6.67% in the same periods.
What are the Largest Communities of Ecuadorian Americans?
The latest report from the Migrants & Refugees website says that the United States is the #1 destination for most Ecuadorians. About 44% of all emigrants move to the States to start their careers and stay for good.
According to data from Statista, the total Ecuadorian-origin population in the US accounted for 812.84 thousand people. Most economically active Ecuadorian Americans reside in New York, New Jersey, and Florida states.
What are the Biggest Remittance Сorridors to Ecuador?
Most money transfers to Ecuador run through the three largest remittance corridors.
1. United States Сorridor
Walmart2World is one of the most common remittance ways for US-to-Ecuador money transfers. But it's far from the cheapest as the company charges a considerable 2%–4% fee. On top of that, the nearest cash pickup location might be out of the recipient's reach. 
2. Spanish Сorridor
The Spanish Ecuadorian community is second only to the American. Short-term employees frequently send money to Ecuador via both bank and non-banking providers, including alternative banking platforms.
3. Italian Сorridor
The bank wires dominate for Italy-to-Ecuador money transfer direction. However, the transaction might take up to 5 business days. So quite naturally, more immigrant wage workers give up bank transfers in favor of instant transfers via
money transfer apps
.
For the last couple of years, Ecuadorians have been trusting mobile money products way more often when sending money back home. 
While many South Americans face multiple issues when they try to receive their  cross-border money transfers, Ecuadorians usually don't have such problems. Local consumers have eagerly adopted mobile money-sending apps to send and receive US-to-Ecuador money transfers. P2p payments allow them to avoid rip-off bank fees and time waste.
On top of that, such mobile apps usually support contactless payments, allowing recipients to use the money almost immediately after the transfer.
4 Issues with Sending Money to Ecuador via Traditional Banking Remittance Methods 
So why are Ecuadorians switching from banking remittance methods and cash-outs?
Lack of Accessible Bank Branches
Although the financial inclusion level in Ecuador is around 51%, many regions lack accessible bank branches. So before remitting funds to the recipient's bank account in Ecuador, double-check with them if it's convenient. We'd recommend this delivery method in the following cases:
When the recipient needs money to manage loan payments.

When they need to top-up a savings account. 

When they want to build an emergency fund.
Conversely, if the recipient needs a small sum of money for everyday spending, you better send them money to a debit or credit card. Previously, we explained how card-to-card payments work and how to run them at the best rate.
The Over-Complicated Bank Wire Procedure
Whenever you send money to Ecuador through a bank teller, there are plenty of formalities. The payment form must clearly state the following:
Your details and recipient's details: full names, billing addresses, contacts, etc.

Recipient's bank name and specific branch address.

The

SWIFT code

and BIC code.
Specifying and verifying these details is already quite tedious. On top of that, recipients must confirm their identity with a government-issued ID each time they receive funds in person. The same is true for over-the-counter remittances such as Walmart2World mentioned above.
Both sender and recipient will immensely benefit from switching to instant p2p transactions. Those deliver you from repetitive checks and time-consuming formalities. On top of that, p2p transfers work best with frequent transactions below $200-$300.
Sky-High Fees for Bank Wires
As a matter of fact, there's no interbank currency conversion when wiring USD from American financial institutions to Ecuador. Since 2000 Ecuador has adopted the United States dollar as a national currency instead of the Ecuadorian sucre.
However, the high cost of US-to-Ecuador bank wires bothers most senders. Bank wires might cost you up to $40-$50. Therefore, they're completely impractical for regular transfers of small sums of money.
You can look for more affordable money transfer services to save an extra dollar. Compare the money transfer app and other remittance methods' fees here.
Troublesome Check Cashing
Money orders and personal checks are definitely not an option for sending funds to Ecuador. Firstly, it might take more than three weeks for correspondent banks to clear checks. Secondly, as we've already mentioned, it's usually a far way for customers to travel to the branch.
That's why cash withdrawals at ATMs seem the most reasonable way out. The great thing is that mobile remittance apps can help you with that too. For instance, you can get your relative a companion Visa card from IPSIPayⓇ. A companion card doesn't require monthly fees or minimum balance requirements. It allows your family to receive money at no cost and cash out at any ATM for only $3.00.
Choose Simple and Secure Remittances to Ecuador with IPSIPay Mobile App
Instant cross-border transactions free you from unnecessary headaches and worries. And this is what IPSIPay is all about. It was designed to meet the needs of unbanked consumers and bank clients dissatisfied with conventional banking services.
On top of that, IPSIPay offers a bunch of supplemental financial services. They include:
Pending payments instant settlement.

Expense tracking.

Buying and selling precious metals within the app.

And many more.
The app is free for you to join. Download it from the AppStore or Google Play and proceed with a simple sign-up to get all the national and international financial services you might need.