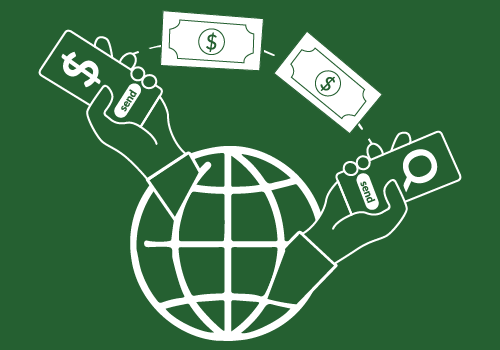 How to Send Money to Guatemala Online: 3 Proven and Cheap Ways
Find out how to send money to Guatemala from the US at a low cost to support your family or for any other reason.
Table of contents:
Immigration from Guatemala to the United States has fully recovered after the pandemic. People come to the US to find work and build better careers. Many Guatemalan breadwinners financially support their families across the border, pay bills remotely, and send money home for other needs.
Yet, newcomers often lack easy ways to send money to Guatemala. If you're also troubled with the same issue, we suggest three tried-and-true ways to transfer money from the US described below.
Overview of the US to Guatemala Money Transfers
In 2020, Guatemala was second to Mexico among destination countries for US outgoing remittances. It received $11.2 billion in total.
Throughout 2022 remittance flows have been fluctuating insignificantly. On average, the monthly rate is around $1,5 – $1,5 billion. It proves that a significant share of Guatemalans depends on foreign funds. Without such remittances, their lives would be much more complicated due to the lack of money.
When May You Need to Send Money to Guatemala?
Most individuals transfer funds to cover the basic needs of immigrants' relatives back home. However, the circumstances might differ from one case to another. You may need to send money to Guatemala to:
Repay the home utility bills

. Immigrants may need to

pay monthly bills for utilities

consumed by their families back home. Managing utility debts through mobile payment apps is an easy way to set recurring payments and pay bills on due.

Pay consumer loans and mortgages

. In such cases, people prefer to wire the money straight to the creditor's bank account. But you can also delegate such payments to your family member and top-up their checking account or credit card.

Provide financial support in case of an emergency

. Health or financial issues happen to everyone. Instant money transfers to Guatemala are a great way to support your friend or relative.

Deposit funds to your savings account.

Many people trust their Guatemalan national banks and prioritize saving over spending. So scheduling recurring money transfers to a saving account can let you form a financial cushion or personal retirement fund.
Before transferring money, you should mind the local specifics of Guatemala's financial services. As of 2022, about 64% percent of the country's adult population remains unbanked. Consequently, most recipients get money through mobile transactions, cash pickup locations, and money orders. 
An online money transfer from the USA to Guatemala gets particularly popular among all social and age groups. They offer convenience and flexible fees with low rates. Most importantly, they don't require people to visit financial institutions to send or receive money physically.
3 Ways to Send Money Online to Guatemala
Let's compare the three most inexpensive and accessible online money transfer services. Remember, they aren't universal for all US-Guatemala transfers. Thus, we will specify why you should choose one instead of the other.
P2P Payment
Peer-to-peer (P2P) payments allow you to send and receive funds using an app with a linked bank account or card. The payment processing is very quick. On average, they charge much less for moving money between mobile accounts than US banks and money order companies. The typical fee is 0% to 2%, but some services, including the IPSIPay app, are free.
Online Remittance Services
Online remittances are available in desktop and mobile apps. The greatest advantage of online money transfers from the USA to Guatemala through these services is that your recipient can cash out the transfer easily. For instance, Western Union got 2,700 cash pickup locations in Guatemala.
However, WU customers can get no more than $1,000 in cash at Guatemala locations. Moreover, single transaction limits vary from one agent location to another. Hence, you may need another option for large and regular transfers.
Bank Wire to Savings/Checking Account
With the worldwide spread of interbank payments, wiring money online is no big deal. However, sending money to Guatemala from a US domestic account might cost up to $35-50. Not to mention that you and your payee must be bank clients. The good side of bank wires is that unlike P2P payments and transfers via remittance companies, they aren't limited to $10,000 per transaction.
Let's summarize the pros and cons of the mentioned methods in the table below:
P2P Payment App

Online Remittance Service

Bank Wire

Pros

Instant international transfers

No need to provide the sender's or the recipient's bank details; P2P transactions require only a phone number

Multiple top-up options (bank account, debit/credit card)

Lower transaction and currency conversion fees

Mobile apps support contactless payments

A broad selection of payment and delivery methods, including cash pickup

Money arrives at the designated agent location in 10-15 minutes

Favorable bonuses and discounts as a part of the reward program

Competitive service fees

No amount limits for international transfers

Banks might waive fees if you fund the transfer in Guatemalan quetzal instead of USD

Bank wires can be canceled if funds haven't been credited to the recipient's account

Cons

Some apps aren't supported in Guatemala

Maximum amount limited to $10,000 per transfer/per day with some exceptions*

Low limits for cash pickups

Inconsistent fees depending on the chosen payment/delivery method

The recipient must have a bank account in Guatemala

Fees vary from $35 to $50 on average

Long transfer clearing and processing 

Advisable Use

Recommended for daily microtransactions. A payee can collect sufficient sums before withdrawal or spend small amounts on online shopping and contactless payments.

Best when a person can't use digital funds and prefers cash.

You may also recharge someone's debit card or make a SWIFT payment.

Advised for making direct deposits to savings/checking bank accounts. The recipient can use the 

funds for standard banking operations: paying down loans, mortgages, etc.
*Verified IPSIPay's users can maintain up to $20,000 in their mobile balance and send the same amount in one piece.
5 Points to Consider About Online Money Transfer from USA to Guatemala
Mind several things when you plan an online money transfer from the USA to Guatemala. They are crucial to remit funds affordably, quickly, and without safety risks.
Payment processing time.

If you prioritize speed, you should send money to Guatemala via a P2P app. Occasionally, a paid express transfer via a remittance company may also be an option.

Service fees.

The provider informs you of the fees applied before you confirm payment. If there's something unclear about the fee policy, ask the customer support representative or look into the FAQ section for more details. It will save you from unexpected charges.

Exchange rate.

The lower the exchange rates, the more you save on international transfers. Go to our previous blog article to learn helpful tips on shopping

for the best exchange rate

.

Payment and delivery options.

You may need to send money between debit cards, make a bank transfer, or complete other financial operations. So it's essential to know what payment and delivery options each provider can offer.

Payment Security.

Check financial data and privacy protection information in the Terms of Use and Privacy Policy sections of the chosen remittance service. You must ensure the selected company gathers only the necessary information and processes it according to the best security practices.
Online Money Transfer from the USA to Guatemala with IPSIPayⓇ
The IPSIPay app ensures simple and secure access to global remittances for unbanked and underserved people. With instant transactions to mobile accounts, you can request or send money whenever there's an urgency. IPSIPayⓇ provides:
Zero fees for P2P payments and funds withdrawal to a branded

Visa debit card

Quick mobile balance top-ups from physical/virtual bank cards and savings/checking accounts

Low fees for US domestic and international cash withdrawals ATMs: $1.95 and $3.00, correspondingly

Simple setup of scheduled utility and subscription payments
Get the IPSIPay app now! Go to AppStore or GooglePlay to install it for free on your smartphone!