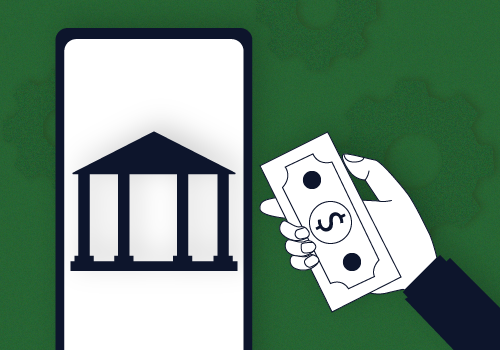 Top 6 Integrations to Look for in a Personal Finance App
Discover the best banking app integrations to get the most out of your personal finance mobile app.
Table of contents:
The financial services market is moving online. With convenient app features, customers can send money, pay bills, invest funds, order credit cards, and complete many actions from their smartphones. But that's not all. Many apps support third-party integrations that provide advanced features on top of what you already have. They can boost security, enable stock trading, or estimate transaction fees more accurately.
In this article, we're reviewing another side of payment apps and digital banking platforms. Discover the best banking app integrations to get the most out of your personal finance mobile app.
What is a Digital Finance App? How Does it Differ from a Digital Banking Platform?
A digital finance app is a mobile application that allows users to manage their finances on the go. It usually supports quick payments, P2P transactions, bill settlement, and personal digital accounting operations. 
In contrast to digital finance apps, a digital banking platform allows users to remotely manage funds available at the bank accounts only.
Thus, digital banking platforms and digital finance applications are designed with different approaches. Online banking software requires users to be bank-served. Therefore, unbanked people won't be able to use them and should prefer apps.
Digital finance apps offer an entirely different customer experience. They substitute the traditional ways for payments, paying bills, transferring money, investing, lending and borrowing. The popularity of digital finance apps also largely stems from rich integration capabilities. They are easily connected with third-party solutions to offer additional services users may need.
Digital banking platform vs. Digital finance app
Digital banking platform
Digital finance app
Free to use

Yes

Mostly available for free. However, budgeting and bill-splitting apps may have paid premium features.

Domestic and international money transfers

Users can fund the transfer from checking or savings accounts, debit or credit cards.

Banks often use money order companies as intermediaries in cross-border remittances. Consequently, it leads to higher transaction costs.

Apart from bank accounts and card balances, money-sending apps support

instant p2p transfers

.

Peer-to-peer transactions are faster and exclude intermediaries. So the average transfer fee is significantly lower: about 0% – 2%.

Online Bill Payments

Both allow you to automate recurring

utility bill payments

and set reminders to stay on schedule with monthly settlements. Still, budget apps may represent your spending stats more comprehensively. Some of them offer saving tips and plans for you to succeed with financial goals.

Ability to open high-yield saving accounts

Yes

Unavailable

Credit Score Monitoring

Yes

Available in particular types of budgeting apps
As you can see, non-banking fintech products provide an alternative to conventional finance management by banks. Users get much more flexibility and personal control of their assets.
6 Personal Finance App Integrations to Look for in a Digital Finance App
These integrations improve the overall performance of applications by upgrading particular features. Some help you make an informed decision about investment or a better payment option. Others secure your data from unauthorized access as managing personal finances on the go needs strong privacy protection.
Multi-Factor Authentication (MFA)
To strengthen the protection of users' accounts, developers integrate multi-factor verification. The best banking apps, money-sending software, and digital wallets support biometric scans for secure login. That's reasonably the most reliable way to access a personal account as you don't need to remember login credentials, and nobody can use them on your behalf.
On top of it, most fintech app users are familiar with one-time passwords (OTP). You can receive them by e-mail or SMS message. OTPs increase safety for in-app operations as the system can request an OTP code to confirm account details changing or digital payments.
The MFA doesn't only protect users by minimizing the risks of identity theft and fraud. It also complies with the Single Sign-On industry trend, reducing the risk of data loss due to password misplacement.
AI-Based Solutions for Customer Support, Budgeting, and Investing
When customers face trouble associated with app use, they expect a prompt response from service providers. To reduce support response time, the product teams of the best banking apps implement AI-driven chatbots. These chatbots can respond to requests faster due to automation. Moreover, they are really effective in gathering preliminary information before addressing your problem to a human agent.
Budgeting and investing apps have AI integrations, too. For instance, the Smart Savings feature is a key to data-based budgeting. Smart algorithms track personal spending to offer personalized savings plans. This technology can even make automatic drafts from linked financial accounts to a separate balance. 
AI investment advisors facilitate coherent data-driven prompts for newcomers to play the stock market more efficiently. They have proven worthwhile as they save you a bunch of time by processing vast volumes of analytics data. They provide users personalized suggestions depending on their current financial situation and goals. AI engines can already handle such tasks as diversifying investments, retirement planning, and tax-loss harvesting, and they continue to improve.
Integrated Stock Trading Tool
Usually, only specialized finance apps have a full-fledged investor account. It includes illustrative tables and trends for stock quotes monitoring, analytics tool, or integrated AI financial coaching prompts. 
Still, some personal finance apps also support investing and may give you access to many other types of financial assets. For instance, with IPSIPay, you can conveniently monitor the precious metal market and repeatedly sell or buy gold and silver. This way, you'll get a good solid investment highly valued worldwide.
Real-Time Currency Exchange Monitoring
We've mentioned this feature as one of the key features for cross-border money transfer and bill-splitting apps. But it can also be integrated into personal finance apps. For example, it helps when you need to decide whether it would be cheaper to exchange cash in a departure or destination country during travel. Thus, if you often exchange money, always choose an app that is transparent about its currency exchange rates.
Money Transfer Fee Estimator
Practically every money transfer service provider has built-in fee estimators to comply with regulatory requirements. For you as a user, it is crucial as you'll be able to sort out how vendors charge transactions. It will help you decide which payment method is the cheapest and compare rates with competitors' offers.
Integration with Popular Digital Payment Services
It's hard to imagine comprehensive personal finance management without digital payment services linked to the user's account. You can use your PayPal, Google Pay, and Venmo wallets to repay receipts or send money without toggling to payment apps. Modern money-sending apps like IPSIPay, personal finance platforms, and apps for shared expenses offer you such integrated payments.
IPSIPay App for Сonvenient Digital Finance Management
IPSIPay utilizes a variety of helpful solutions to provide you with an all-in-one digital finance management app. In addition to the secure two-factor authentication for signing in and personalized settings, you also get:
Built-in investment tool to trade precious metals.

Automation of recurring payments to settle bills and invoices on the due date.

Getting your PayPal and Venmo accounts linked to your digital wallet for instant recharge of balance.
On top of that, you can benefit from free-of-charge cash withdrawals to branded IPSIPay Visa debit cards. Apart from debit cards for personal use, you can order a companion card to financially support your friends and family through international remittances. IPSI Visa cards are accepted at retail stores and ATMs worldwide.
Sign up to IPSIPay today for streamlined, quick, and convenient mobile finance management without installation fees and paid subscription. Get the app from Google Play and AppStore.