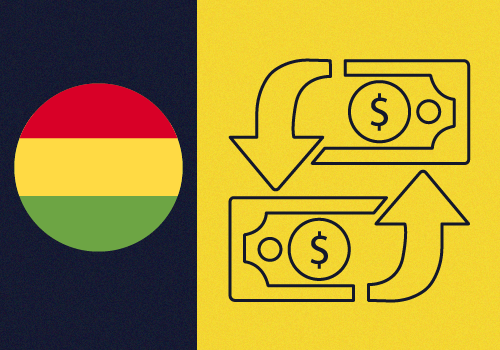 How to Transfer Money Abroad: US-to-Bolivia Remittance Services
Let's clarify how US-to-Bolivia money transfers are charged and processed. Go to our blog post for helpful international payment tips.
Table of contents:
For the last decade, the economic partnership between the US and Bolivia reached an all-time high. In 2021, the trade value of goods shipped between the two countries was around $1,05 billion. Naturally, it increases the need for US-to-Bolivia money transfers.
Yet immigrant workers remain the main category of people who need to send money to Bolivia. They work hard to support their families but don't always have a good method to transfer funds. Financial services providers may have high charges, request a bunch of official documents, or take too much time to send funds.
So if you're new to international bank transfers and online remittances, this blog post will help you choose the best method.
How to Transfer Money From the US to Bolivia?
If you choose a specific way to send money to Bolivia, you must know its advantages and limitations. Here are the main remittance methods to consider:
Bank Transfers/Bank Wires
Although wiring money internationally takes much longer than other remittance methods, it's still reasonable. Customers mainly opt for a wire transfer as it allows them to:
Send more than $10,000 at a time

Get a fee waiver (in case a client has a high-yield savings account or fund transaction in foreign currency)
Still, sending USD to Bolivia through banks isn't the best option. The main disadvantages are:
Low exchange rate

Higher service charges compared to online services

Unavailability for unbanked groups
Transfer to a Cash Pickup Location
Recipients often have more trust in cash. If so, you can send money to the nearest cash pickup location. Those are located at malls, gas stations, and convenience stores. Therefore, getting your payment in Bolivia will be easy.
Pros: 
A sender can deposit funds online or offline

Multiple payment options (credit/debit card, bank account, digital wallet, cash-in-hand)

Competitive exchange rates
Cons:
Inconsistent fees. Fees and service charges greatly vary depending on a chosen payment type, delivery method, and destination area.

Low cash receiving limits.  For instance, Western Union agents give out only $7,500 abroad.

Identity verification is needed. You must provide a government-issued ID when you send or receive funds at an agent location.
Card-to-Сard Transfers
Sending money card-to-card stands out with the convenience and fast payment processing. You can run transactions via an online banking app or a third-party web service. The last ones can offer you a better exchange rate than your bank.
Pros:
Accessible 24/7 and practical for urgent transfers

Providers charge about 0.5% – 2% of the entire amount

Convenient for cashless payments
Cons:
A single transaction cannot exceed $2,000 – $3,000

You can face overdraft fees if the transferred amount exceeds the available balance
P2P payments
Confirming international transfer in a couple of taps – what could be handier? Bolivians choose peer-to-peer money-sending apps because they allow them to manage personal finances on the go. But most importantly, they surpass other remittance services due to the lower service fees.
Pros:
Tiny transfer fees of 0.5% – 1.75%

The lowest currency exchange margin (about 0.4% – 0.7%)

Easy-to-add variety of money sources (cards, bank accounts)

Payment apps are accepted at POS terminals and cardless ATMs
Cons:
Not every P2P mobile app support transfers to Bolivia

You need to be connected to Wi-Fi or mobile internet.
Each method might work for your US-to-Columbia remittance. The best option would be to find a mutually beneficial solution that will suit your and the recipient's needs.
When Do Bolivians Use Money Transfers Services?
Persistent economic instability makes a living in Bolivia financially challenging. Many families put the costly purchases off and cannot manage existing debts. So the US-employed wage workers send money to Bolivia to help their relatives remain afloat.
It might be the case of:
Covering tuition costs.

The Bolivian higher education system lacks free student scholarships. Even if a person wins the scholarship, it might not cover associated expenses like transportation. So, many enrollees depend on remittances sent from abroad.

Settling utility bills.

Bolivians mostly pay for consumed utilities through local banks and online banking sites. Unfortunately, the country doesn't support payments with

IBAN

. So settling a gas or electricity bill from a US bank account is not an option.

Funding the monthly mortgage payments.

Send money internationally if some of your friends or relatives struggle with mortgage payments. Timely debt settlement will help them build a

healthy credit score.

Providing emergency aid.

An unexpected need for extra cash might happen in case of a pipe leak, car accident, or other troubles. You can instantly transfer money abroad via a PayPal account or similar service.

Depositing cash in a savings account.

Transfer money directly to a savings account to build an impressive bank deposit for your beneficiary.
Remember that each remittance case requires a suitable payment option and delivery method. Check our past overview of the most relevant ways to send money to Mexico. Those work nearly the same when you transfer USD to Bolivia.
4 Common Issues with Sending Money to Bolivia
You can easily choose the money transfer service that meets your demands. However, to send money to Bolivia at the best rate, you need to know the mid-market quotes. On top of that, you should account for convenience and accessibility. See, some American providers may simply not cover the destination area.
Here are the four issues related to US-to-Bolivia remittances. 
1. Disadvantageous Service Fees
If you send $1,000 between bank accounts, the fee gap between different remittance services may be as follows:
Wire transfer from the United States to Bolivia costs around $25-55.

MoneyGram and Western Union charge $15 to $25 for cross-border transaction

Online money transfer services charge around $5-10. 
Note that the above-listed options don't include hidden exchange rate fees charged by intermediary banks. Those can add a currency exchange margin of $30-35 for converting United States dollars to Boliviano.
Try P2P apps instead of the mentioned cross-border transfer methods. It would be much cheaper to send USD to Bolivia due to the small transfer fee and exchange rate markup. 
2. Slow Transfer Processing
In an emergency, recipients want to receive money as fast as possible. If so, we won't recommend you wire money bank-to-bank. At best, It might take two business days. At worst – up to 5 days.
Instead, you should try two alternative options:
A direct card-to-card transfer as we described lately (sum arrives in 15-30 min)

Sending money peer-to-peer via mobile fintech app (sum arrives almost immediately)
You should account for cash advance fees when you fund transactions with a credit card. So ask a card issuer's customer support about fees applied before any cross-border payments.
3. Bureaucratic Obstacles
Transferring funds through the bank teller or credit union is tedious and slow. You'll get the idea if you check our past article explaining how SWIFT payments work.
That's why most users prefer online products to send money to Bolivia. For instance, you can sign up for IPSIPayⓇ and pass one-time identity verification with SSN/ITIN/TIN. The document verification will take up to 24 hours. After that, you can link any available bank account or debit/credit card to fund international transactions.
4. Transaction Cancelation & Refund
It's crucial to know your consumer rights in case of money transfer scams or misdirected remittances. Previously, we explained how to manage such problems in our international money transfer regulations overview.
IPSIPayⓇ: Remit Money to Bolivia Stress-Free 24/7
IPSIPayⓇ provides complete control over your personal finances straight from your smartphone. Sign up today to recharge your mobile account balance and send or receive money worldwide. 
Here are the exclusive benefits of the IPSIPay app use:
The app covers more than 200 countries around the globe.

You can become a verified user of the IPSIPay app even if you're unbanked. Just confirm your legal name, US billing address, and SSN/ITIN/TIN numbers.

Set 'Scheduled Transactions' to remit funds and pay bills regularly.

Order branded Visa card and an additional companion card to withdraw mobile money for a $1 fee.
IPSI is available for no installation and monthly charges – download it from the AppStore or Google Play now!