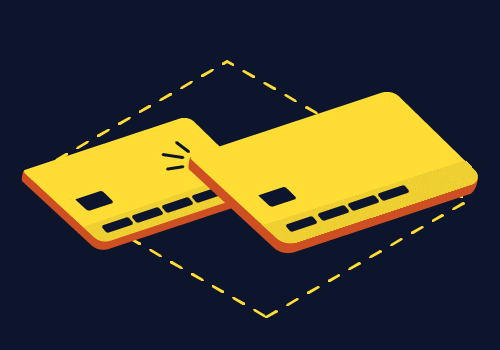 How to Transfer Money from a Credit Card to a Debit Card at Best Rates?
Today's guide on money transfers between credit and debit cards provides tips on transferring funds from a credit card while spending less.
Table of contents:
The benefits of using a credit card in daily life are unquestionable. They allow you to buy now and pay later. You can also use credit funds for sending money domestically and internationally. That said, there are some shortcomings to it. Such transactions have higher service fees and high interest rates on the withdrawn amount.
Today's guide on money transfers between credit and debit cards provides tips on transferring funds from a credit card while spending less.
Is It a Good Idea to Transfer Money From a Credit Card?
Life is unexpected. Especially for those supporting their family members financially while living and working in the USA as an immigrant. Sometimes, a transaction from a credit card may be the only option if you can't transfer money in any other way. However, you need to be aware of numerous nuances and hidden pitfalls that might occur.
Previously, we've mentioned additional network fees in our overview of outgoing remittance cases. These are a margin that each credit/debit card network charges according to their current interbank currency conversion rate. Apart from that, you should be ready for:
Paying off the higher interest rate for a cash advance

. Withdrawal of cash or using credit funds for international transactions is pricey.

Additional fees

. For example, for money withdrawals at ATMs or cashing out credit cards through bank tellers. Each operation might cost between 3% – 5% of the total.

Less advantageous exchange rates

. If you don't have access to an online remittance service, the only way out would be to run a transfer through an agent location or local bank branch. But as we've noted in our comparison of

money transfer companies

, you might lose up to 5% – 7% because of a higher exchange rate margin.
Thus, weighing the pros and cons of multiple options for transferring money from a credit card to a debit card is essential. Let's explore how you can reduce the downsides of these methods and avoid unwanted expenses.
How to Send Money from a Сredit Сard to a Debit Card
At a glance, the simplest and least expensive payment method for sending funds between credit and debit cards is online money transfer services. On the other hand, it's also reasonable to move money peer-to-peer via digital wallet apps if the recipient uses digital currency.
Still, you shouldn't rule out other options, such as a cash advance. It could be a sound decision if you urgently need to top up a checking or savings account.
Use of a Credit Card Cash Advance
A cash advance is any funds withdrawn against your line of credit besides purchasing the actual goods. These are situations when:
You withdraw money from a credit balance at ATMs

Cash-out credit balance in person at the bank's local branch

Fill out convenience checks provided by the credit card issuer in mailing.
Before getting a cash advance in one of these ways, consider your next step. If you plan to send money in person at a money order company's location, you can rely on cash only – the tellers won't accept the card for payment deposit. Conversely, convenience checks will be handy for wiring money directly to the recipient's bank account.
Things to Consider Before Using Credit Card Cash Advance
The card issuer can deduct fees when you receive a cash advance or include them in the credit card bill. It depends on their terms of use. But regardless, additional interests will be applied to the borrowed amount starting from the date you withdraw it. Unlike online purchases with a credit card, you won't get a 3-week grace period with no interest.
You must also take into account:
Annual percentage rate (APR)

. Cash advance has a significantly larger interest rate compared to using your credit card balance for regular purchases. It stands at 24% – 27% on average. So you'd better calculate the exact amount you'll have to deposit to settle the new credit card debt

before

withdrawing cash advance.

Cash advance limits

. The preset limit for cash advances is always lower than the one established for your credit line. It's typically 20% – 30% of the actual credit limit.

ATM transaction fee

. Cashing out credit cards at ATMs, you also pay cash advance fees of around 3% – 5%. Foreign transactions will cost almost the same.
Pro tip: When transferring cash to a debit card from abroad, there is an option to avoid huge ATM fees. You can order a travel credit card that offers more flexibility and advantageous service rates for foreign transactions, including cash withdrawal.
Wiring Money from Your Credit Card
Both online and offline bank wires allow you to top up the recipient's debit card. Basically, all money transfer providers support transactions from credit cards to debit cards and personal bank accounts.
The key difference is that wiring money from one card to another is easier and faster than cash advances. You can transfer funds at any moment from a desktop or mobile app and track the status of a transaction. However, the credit card network charges usually equal cash advance fees: about 3% – 4% of the transferred amount.
Note that total charges for international remittances might significantly differ from one provider to another. It mostly depends on exchange rates, so you should check them before choosing how to transfer money.
Using a Payment App
Peer-to-peer payment apps or digital wallet apps are the best choices in terms of convenience and cost. In our previous article, we've outlined the most distinct advantages of virtual wallet apps for cross-border transfers. But the same is true for domestic use.
How beneficial is funding peer-to-peer transactions via a digital wallet app? In fact, it totally depends on the digital wallet you use and the conditions your service company offers. Most US banks and financial institutions consider p2p transactions as cash advances from late 2020. Consequently, they have the same fees and high interest rates. However, your service provider could offer welcome bonuses after you spend a certain amount from your recently opened credit line or special seasonal discounts.
Also, be sure to ask your card issuer about fees, cash advance limits, and additional interest applied for this type of transfer.
So When to Take Cash Advance for Money Transfer?
Despite being more expensive, this method can still be suitable for:
Settling due bills

while abroad. The need to pay urgent debts or medical bills can make you send money in any way accessible.

Helping out your loved ones with finances. Especially if they request direct transfer to a debit card for further electronic payment.

Winning points in a reward program. Some travel cards offer cash-backs and mile rewards.
How Does Transferring Money from a Credit Card Affect Your Credit Score?
Although cash advances for money transfers can increase your credit card debt, they don't affect your credit score if you do everything right. You must:
Pay off debts to improve credit line history

. Settle the debts monthly to prove yourself as a reliable borrower.
Keep credit utilization ratio at 30% or higher

. In other words, the credit funds available for you to use anytime should be at least 30% of the total limit.
Limit your request for the new credits.

Avoid hard inquiries for new credit lines in a short period (less than a few months or so).
Transfer Money from a Credit Card with the IPSIPay App
If you need to make digital transactions between credit and debit cards, consider the IPSIPay app. We offer a 3% flat-rate fee for uploading credit funds to mobile wallet accounts and zero cost for withdrawals to branded Visa debit cards.
Run transactions from/to 200+ countries and cash out your money at any ATM around the globe. Each withdrawal costs $1.95 for US domestic and $3 for international use.
Join IPSIPay now for free – download it from the AppStore or Google Play.