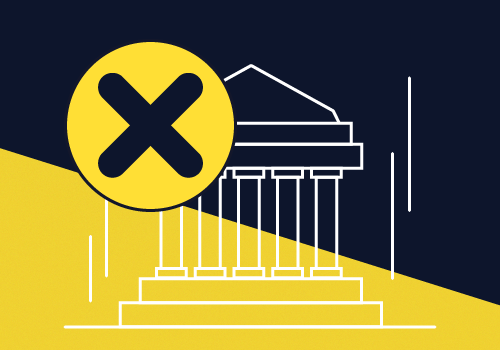 Being Unbanked and Underbanked in the US: What Are the Disadvantages and How to Mitigate Them?
Most unbanked individuals state that they don't earn enough to meet minimum balance requirements and account maintenance charges. Regarding employment-based immigrants, the common obstacle is their ineligibility for service at a bank or credit union due to the absence of SSN.
Table of contents:
In general, the percentage of unbanked households in America isn't that high. In 2020 Federal Deposit Insurance Corporation (FDIC) reported that 5.4% of the entire population don't own any checking or savings accounts. However, there's a much more discouraging statistic for the Black and Hispanic residents as the percentage of unbanked people among them is around 12% – 13.7%.
In their independent study of 2020, Faber and Friedline pointed out the unfavorable costs of banking services in the areas inhabited by minority groups. That's surely the prime constraint for them to obtain a bank account. Most unbanked individuals state that they don't earn enough to meet minimum balance requirements and account maintenance charges. Regarding employment-based immigrants, the common obstacle is their ineligibility for service at a bank or credit union due to the absence of SSN.
To help unbanked individuals support themselves and their families, we offer some tips on non-banking online services. Read this article to discover how online and mobile fintech solutions can back you up with paying bills on due, transferring funds, and carrying out online purchases – all without an active bank account.
What Does It Mean to Be Unbanked?
The status of "unbanked" means that people either don't use or don't have a checking or savings account at their disposal. So basically, there could be circumstances demotivating them from dealing with traditional financial institutions apart from legal restrictions. Such could be a lack of trust in mainstream financial services or their disconnection from the particular demands of consumers.
Global Unbanked Review
A significant share of the world's unbanked population lives in low or mid-income countries. In contrast to developed countries, the low financial inclusion in developing ones mainly stems from the poor quality and representation of bank service infrastructure. Such are, for instance, Sub-Saharan African republics like Burkina Faso, Benin, and others. In Asia, Afghanistan, Bhutan, Bangladesh, and some other states also have the lowest representation of banking institutions.
Unquestionably, the low average income of households in developing countries also accounts for one of the reasons people go without bank accounts and deposits. Inner financial crises also undermine the stability of local financial institutions. What's worse, too many times, people's deposits weren't reimbursed from the deposit insurance fund.
Conversely, the states with a minimal rate of unbanked people have an impressive average income of households and perform economic stability throughout the decades. It is easier for their citizens to grow their savings and subsequently invest extra profits in different assets through the banks. According to Statista, Norway, Sweden, Finland, Netherlands, and Denmark had the lowest rate of unbanked people in Europe in 2021. Canada, in its turn, shows the best statistics in North America.
Why People Become Unbanked
Poor financial literacy is rarely a case for people's reluctance to deal with banks or credit unions. Neither accessibility of bank branches should be considered as a reason for low financial inclusion: there's an ability to open bank accounts in most US trusted institutions completely online. Most likely, adults cannot afford or avoid bank services because of:
The urge for payroll

. It's typical for employees with low or volatile earnings to opt for check cashing at non-banking institutions despite the higher service markup. In such a way, they can get cash at once and won't have to wait for a bank clearing of a paycheck.

Insufficient income for bank account maintenance

. Sometimes, it could be tough for individuals to keep a minimum balance on their checking accounts. Additionally, bank-issued debit cards are subject to a monthly maintenance fee of $10 – $15.

Lack of trust in banking institutions

. It's a common policy for banks to offer subprime mortgages to borrowers with poor credit history. Therefore, applicants with low rankings or no credit history are simply excluded from favorable loan services or can't expect to open a decent credit line. So they eventually turn their backs on banks in response to such mistreatment.
Apart from those mentioned above, there are specific hindrances for immigrants when applying for a bank account opening. You may follow our previous post, where we've given a detailed guideline on what SSN and ITIN numbers are needed for and how you can become a bank client with ITIN only.
Why is Being Unbanked a Problem?
Although the unbanked population groups can rely on payday loans and cash-checking services to go without credit cards and checking accounts, getting by in such a way is much more costly. Alternative financial services (AFC) such as short-term loans can supply customers with immediate cash. But eventually, they hit already low family budgets with additional debt. That's not to mention strict settlement terms and enormous fees, as payday loan services usually charge around $10 – $15 for every $100 borrowed.
Unfortunately, staying unbanked means that individuals cannot leverage the credit line or get a high-interest savings account. And that puts them in front of numerous challenges from a short and long-term perspective:
It's impossible to get a mortgage or car loan for those who are credit-invisible. 

You would struggle with paying off medical bills as you don't have actual health insurance.

You can't open the college enrolment deposit or retirement deposit.

It is harder to control your spending and save money for a financial cushion.
To conclude, applying for a bank account opening would be prudent from a long-term perspective. Even though you can rely on cash checks and money orders from your supporters, you'll need to find a way to maintain, manage and grow your savings. Obtaining a savings account will immensely strengthen your financial safety and make creditors consider you a trusted borrower.
Unbanked vs. Underbanked
When somebody is referred to as "underbanked," it typically means that the individual does have a savings/checking account but prefers AFC to cover the random overspending. As a common practice, underbanked people may use physical or virtual prepaid debit cards if they wish to avoid overdraft fees or have an alternative to a bank-issued card for online purchases.
On most occasions, underbanked people might be used to relying on money transfers or quick loans as a way to help them get by. Alternatively, they see no point in using credit cards or participating in savings deposit programs. It might be explained by the lack of trust in banking services or exorbitant service fees.
Conversely, mobile remittance services and digital wallet apps can offer a more consumer-friendly fee policy and simplified finance management. Let's look at tangible benefits they may provide to the unbanked and underbanked.
Benefits of Digital Wallet Apps for the Unbanked Population
Virtual wallet apps can serve you in three different ways simultaneously:
It's a secure payment option suitable for contactless POS payments and online purchases. 

It's a convenient alternative to money order companies allowing you to request and send money worldwide instantly and at a minimal cost.

You can accumulate savings and cash them out without ordering a debit card from a bank. Some wallet apps are accepted at cardless ATMs; the others emit their

branded debit cards

for cash withdrawal.
And most importantly, using a mobile wallet will cost you nothing: these apps don't charge installation fees and don't require you to load the initial amount and maintain a minimum balance.
Regarding the benefits of digital wallet use for immigrants, we've already outlined how they can immensely facilitate settling bills from abroad. On top of that, we recommend choosing these products for more accessible and convenient outgoing/incoming remittances. E-wallet apps surpass conventional money order services in many aspects as they are:
undemanding in use

accessible 24/7

do not require a repetitive confirmation of identity when sending/receiving money at cash pickup locations.
Get IPSIPay app to Offset the Downsides of Being Unbanked / Underbanked
IPSIPay is the ultimate mobile payment and international remittance solution designed to suit the needs of both bank-served and unbanked people. You can leverage a mobile wallet account to avoid banks' monthly fees for their deposit and saving accounts. If you already possess the US saving/checking account with the IPSIPay app, you can offload money from the mobile balance for only a 1$ fee in 2-3 business days.
Apart from that, IPSIPay offers:
Instant cross-border money transfers with zero fees

. The mobile application operates

in 200+ countries around the globe

, so you can support your relatives back home or request extra cash at no time.

Prepaid Visa debit card

. IPSIPay's branded Visa cards are accepted worldwide for checkout at retail outlets, online shopping, and cash withdrawal at ATMs. The service fee is only 1$ for the US domestic transaction and $3 for using a debit card abroad.

Virtual card management

. You can add multiple virtual debit cards or order an IPSIPay virtual card to have various payment options handy. Both virtual and physical IPSIPay Visa cards are free of monthly charges. You can offload funds from a wallet account to them with zero cost.

To maintain the sufficient amount at virtual card you can recharge it from your PayPal or Venmo accounts

.

Multiple wallet top-up options

. You can reload your wallet balance with the funds from your bank account or debit/credit card (both virtual and physical). A whole variety of options are available.
Manage your earnings effectively with the IPSIPay app installed from the AppStore or Google Play.