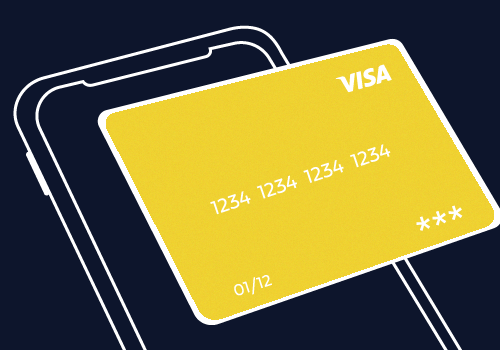 Virtual Debit Card for Personal Use: Digital Cards for the US Immigrants
Foreign nationals coming to the United States undergo a great deal of paperwork before obtaining a US bank account.
Table of contents:
Foreign nationals coming to the United States undergo a great deal of paperwork before obtaining a US bank account. We've already explained how immigrants can apply for a bank account using a social security number (SSN). Of course, you can open a checking account much faster by providing a bank representative with your ITIN instead of an SSN. Yet few financial institutions accept it.
Therefore, we recommend you get a virtual debit card as an alternative. It provides unbanked immigrants access to secure payments and money transfers they can make without dealing with banking institutions.
Learn more about how and when to use virtual debit cards below.
What Is a Virtual Debit Card?
Online debit cards look much like bank-issued plastic ones. They both have a 16-digit account number, expiry date, CVV, and PIN codes for transaction validations. However, the core difference is that an online debit card for immigrants isn't linked to any checking bank account.
Online debit cards for immigrants and other users can serve several purposes. It depends on whether they are reloadable, issued to receive paychecks, or to provide consumer shopping. Also, there are vital differences between open-loop and closed-loop virtual debit cards.
If you own an open-loop card with the Visa logo, you can use it to run transactions anywhere the Visa is accepted. The closed-loop type card is for restricted use at the authorized merchant locations. For instance, if you've ordered an Amazon or Walmart e-gift card, you'll be able to use them for offline and online checkouts within these retail networks.
Reloadable Debit Card for Immigrants
Using a reloadable prepaid debit card for immigrants to pay the salary, the employer or employee needs to follow the rules of the online emitter. Considering that it is a prepaid card, the issuer will require you to load an initial amount of money. Alternatively, the price you pay will be added to your card balance minus the merchant's markup.
Typically there are set limits for card balance and no monthly service fees. Additionally, the emitter may provide zero fees for top-ups and withdrawals at designated contactless ATMs.
Features of Reloadable Prepaid Debit Card for Personal Use
Rechargeable Virtual Debit Card

Balance Top-Up/Withdrawal

You can recharge them through:

Direct deposit from a bank account

Sending money from another debit/credit card

Top-up from mobile wallet account

Amount limits

Average max. balance may significantly vary. The best debit cards for immigrants in the USA typically allow users to keep up to $5,000 – $5,500 on their virtual account.

Supported by digital wallet apps

Yes

Multiple card issue

Most services allow you to get 3 – 5 virtual cards at a time, including those with different currencies.

Payment methods provided

Online payments

In-store contactless payments through mobile wallet apps

Over-the-phone and mail order catalog purchases

Other card-not-present operations

Monthly fees

No
Benefits of a Virtual Debit Card
Robust fraud protection and reduced risks of identity theft make virtual cards a secure payment option. Your primary bank details remain undisclosed. Besides, the online card is immaterial, so it can't get stolen or lost.
Here are some other benefits you can get:
A virtual debit card is produced in a few minutes.

In contrast to a physical one, the online card will be e-mailed to you shortly after you order it. It is a stark contrast to the protracted process of manufacturing and mailing plastic cards, which can take up to 6 – 8 weeks.

Flexible balance requirements and spending limits.

Current bank regulations might require you to maintain a sufficient balance on a debit/credit card. Or perhaps you don't want to exceed the regular spending limits. It is when the online card comes in handy.

Control over your kids' spending.

Don't want your children to overspend your debit card funds? Giving them a virtual card may be an alternative. Moreover, you can provide kids with a closed-loop card that will be accepted only at certain retail outlets.

An alternative option for digital payments.

Most common

digital wallet apps

allow you to store whichever virtual prepaid card you want. Besides checking out at the register, you can freely move money between online cards and other available debit accounts.
What Are Common Use Cases For a Virtual Debit Card?
People usually choose online cards when they can't or are reluctant to use their bank-issued debit cards. It might stem from the concern about whether the payment is safe or not and some other reasons:
1) The online offer looks suspicious to you. Perhaps, you're not sure about subscription to the new paid service and don't wish the merchant to have your usual bank details. Provide them with virtual card information instead.
2) You want to have online savings in foreign currency. It would be much cheaper to open a foreign currency debit card account than make a deposit through a bank. Firstly, the online platforms offer much lower currency conversion rates than most US banking institutions. Secondly, with the virtual card, you won't need to carry cash when you're abroad. It allows you to pay for all purchases and bills digitally.
3) You wish to receive payroll from abroad with minimal fees. As in the previous case, you can benefit from access to accounts in multiple currencies. The low currency exchange markups within your online card service will also help you to save a couple of dollars.
Why Use Online Prepaid Debit Card for the US Immigrants
Besides the above-listed advantages, there are a couple more making this card the best debit card for immigrants in the USA:
Easier to obtain compared to bank-issued cards

. Even if you're not eligible to open a checking account at local banks, you can still have a prepaid debit card. Simply order a virtual debit card online, and you'll be able to run

international money transfers

, purchase goods offline, or pay at online stores at any time.

The ordered card is available on the same day

. Unlike manufactured debit cards that need to be printed and mailed to your physical address, virtual ones will be available in your e-mail inbox within several minutes. Also, they don't require activation through ATMs or online banking, so you can use them right away.

You can maintain multiple currencies

. Online providers allow you to manage card accounts in several currencies at once. That's convenient and cost-effective as it delivers you from hidden conversion rate markups.

Easy to run outgoing remittances online

. Moving money abroad directly between debit cards is unarguably one of the cheapest and fast options. Online

remittance providers

allow you to access a broader range of payment receiving options, including direct deposit bank account, transfer to wallet account, or cash pickup location.
IPSIPay App: All-in-one Mobile Solution for Virtual Cards Management
Are you still searching for the best debit card for immigrants in the USA? Then install IPSIPay, sign up, and get a virtual Visa card at no cost. The app allows you to open a virtual debit account without initial load and use it for free transactions to IPSIPay wallets and physical branded Visa cards.
With IPSIPay virtual cards management, you enjoy:
Easy contactless payments at POS terminals in local stores.

Ability to add up to 5 online debit cards.

Instant money load from digital wallets. In addition to IPSIPay's wallet, you can use PayPal, Google Wallet, Apple Wallet, or Venmo accounts to replenish your virtual card balance.

Zero-cost international remittances. You may support your family abroad with cheap and convenient transfers to their IPSIPay wallets and companion Visa card accounts.

Low-cost cash withdrawals. If you need cash, you can send money to a physical IPSIPay Visa card and cash out at the nearest ATM. There's a flat rate fee of $1.95 for US domestic withdrawals. The foreign cash-out costs $3.00.
The IPSIPay app is available for Android and iOS. Join today to manage your savings and send money with minimum fees.