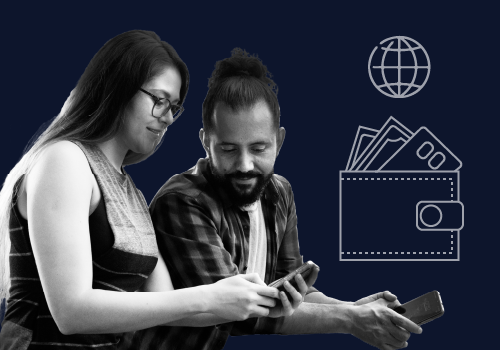 What Is a Digital Wallet and Why You Need One
Mobile apps will likely gradually substitute conventional online and offline retail payment options. The low-cost transaction fees also make them more suitable for frequent peer-to-peer money transfers, especially international ones.
Table of contents:
Convenience and security are the primary advantages of digital payment apps compared to the good old-fashioned credit cards and cash. According to Finder's survey of April 2021, about 150 million Americans have used a digital wallet at least once for offline store checkout or online purchase. It is 36% percent more people compared to 2019.
Mobile apps will likely gradually substitute conventional online and offline retail payment options. The low-cost transaction fees also make them more suitable for frequent peer-to-peer money transfers, especially international ones.
You may benefit in many ways by switching to these genuinely simple and secure fintech products. That's why we suggest you discover more about how these digital payment solutions work.
How Do Wallet Apps Work?
This section covers the most frequently asked questions about how do wallet apps work and their uses. Read on to learn the basics.
What's a Digital Wallet?
E-wallets are designed to store debit or credit card numbers and provide personal finance management straight from your mobile device. Having various accounts connected to one app gives you permanent access to all your funds. So there will be no need to carry bank cards or cash physically.
One more benefit of e-wallet apps is that they allow you to do "tap and go" transactions. The COVID-19 pandemic caused a real boom in contactless payment, so as of January 2021, two-thirds of retailers in America accepted no-touch payments.
To start using an e-wallet app, you should sign in and link your consumer or business card to your account. Some apps like Samsung Pay and Apple Wallet allow you to add cards simply by scanning them with a camera instead of typing details.
How Do I Get a Digital Wallet 
The great thing about e-wallet software is that it is distributed for free, and signing up won't cost you a dime. Apps are available for downloading at mobile app marketplaces, or you can register via Internet sites. On both occasions, it would be easy to set preferences and manage financial operations whenever necessary.
How to Use Digital Wallet Online and Offline
The core functionality of mobile wallet products is similar. The user may utilize them for:
Contactless payments at POS terminals

. Applications connect to in-store card readers through NFC or MST to transmit banking details. First, data is read by payment processors, then channeled through gateways and acquirers to the credit card networks, and finally delivered to the bank. You only have to sign in to carry out the payment.

Online purchases

. The procedure is the same as when shopping offline. The only difference is that you can confirm the deal via browser or smartphone.

Peer-to-peer money transfers

. Mobile payment solutions make it possible to send and receive funds immediately. That makes them a decent alternative to conventional transfer services provided by banks and non-banking services.
There are many more exceptionally convenient and helpful features of digital payment apps that can benefit you in everyday life. To learn more about their functionality, specifics, and limitations, read our previous article about the most popular US e-wallets.
How to Choose a Digital Wallet?
There is no comprehensive mobile payment app to cover all cases. These products aim to meet particular user requests and purposes. Therefore, certain e-wallet apps offer exclusive benefits that appeal to specific groups of users.
For instance, Samsung Pay is compatible with MST technology and allows you to pay at retail point of sale equipped with magnetic stripe card readers. Apple Wallet's digital features stand out for the ability to store boarding passes, event tickets, and even personal IDs. However, we recommend you focus on whether the application you opt for can cover firsthand needs.
Distribution in other countries
Sadly, most of the e-wallet products available in the US are poorly represented abroad or even supported within the States only. Such as Venmo, Google Pay, and Cash App, for instance. If your main objective is to remit funds or receive money on request worldwide, you should consider e-wallets that support global transactions.
Transaction fees
On average, the system might charge from 1.5% to 3.5% for a p2p transfer if you move money wallet-to-wallet. However, services like IPSIPay, Apple Pay, and others won't charge you for sending money directly to another user.
Ability to cash out mobile balance
The cash-out to the linked checking or savings account can cost you around 1%-1.75%. The vast majority of payment apps have a pretty hefty fee for withdrawing money to credit cards and charge approximately 3% per transaction.
ATM withdrawal option
Even though some mobile apps, particularly Apple Pay, are accepted at ATMs, for the most part, payment system providers utilize affiliated debit cards. With MasterCard or Visa-issued cards, you can effortlessly cash out your savings worldwide.
Reliable customer support
The qualified support service would promptly handle it if you ever fail to process the transaction, get issued with identity verification, or suspect fraudulent actions. And conversely, poor customer support might give you lots of headaches and make you look for a more convenient app.
So before digitizing payments with a mobile application, you should ask yourself, "Does my digital wallet provide all the above mentioned?"
Are Mobile Wallets Safe?
Sensitive cardholder data stays encrypted and secure while processing online transactions and contactless payments. Digital fintech vendors take fraud and unauthorized access protection seriously and utilize multiple technologies to ensure safety.
Safety precautions include:
Payment tokenization

. Digital payment systems don't disclose any personal data during transaction processing. Instead, it replaces user credentials with a randomly generated token transmitted to the merchant's payment gateway. 

Two-factor authentication

. Apart from typing in the password, users receive an OTP code via SMS.

Biometric data verification

. With face ID and fingerprint scan available in almost every modern smartphone, your financial apps are secured more than ever.
Pros and Cons of E-Wallets
Let's round up common benefits and shortcomings of e-wallets:
PROS
CONS

Support contactless payment

24/7 access to micro-transactions from any location

You can send money instantly and cheaply to friends and relatives

No maintenance fee included

Moderate fees for in-system transactions and withdrawals to bank accounts

Easy to track spending and transactions

Bonus features (discounts for shopping at local retailers, cashback, etc.)

Not suitable for sending large amounts of money. The daily limit is usually $10,000

Restricted distribution. Some apps run exclusively on particular devices or operative systems. Some aren't widely represented beyond the US

Dependency on devices. Your smartphone or tablet should always be on and running.
IPSIpay App: Swift Digital Payments and Micro-Transactions at No Cost
If you aim for digitizing payments conveniently and obtaining a mobile savings account you can top up whenever you want, the IPSIPay app would work perfectly for you. Combining the virtual account with the branded physical Visa debit card, you'll cover everyday expenses and share earnings with your family abroad anytime. 
What's more, IPSIPay App provides:
Zero-cost instant transfers both to Visa debit card and mobile wallet accounts.

Only 1$ fee for loading/unloading money to/from the US bank savings or checking accounts.

Low flat rates for cash withdrawals from Visa cards. The fee stands at $1.95 for domestic use and $2.50 when cashing out abroad.

Multiple ways to top up the virtual balance (bank account, PayPal, Venmo, Amazon Pay, Apple Pay, etc.).

Precious purchase metals straight from the app.
You can take advantage of the full functionality of the IPSIPay app for free. Install it from AppStore or Google Play and sign up in a minute!