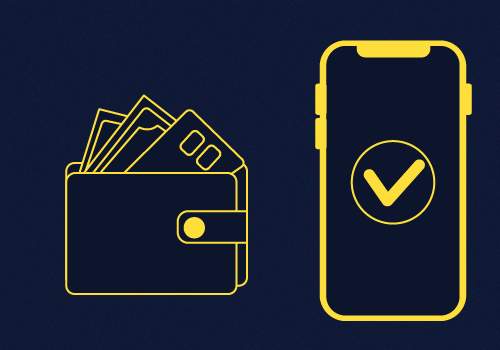 What is a Virtual Wallet App and How to Use It for Sending Money Abroad?
More and more people install virtual wallet apps for Android or iOS due to handy navigation and affordable transaction fees.
Table of contents:
The history of digital wallets started nearly 20 years ago when in 1999, PayPal paved the way for instant peer-to-peer transactions. Today, you can see them in dozens of similar web and mobile applications. More and more people install virtual wallet apps for Android or iOS due to handy navigation and affordable transaction fees.
For that reason, the segment of US-to-Mexico cross-border remittances, for instance, is increasingly going mobile. Sending money via mobile apps is much more convenient than traditional bank transfers that require many documents and have high fees.
If you haven't yet tried this convenient fintech solution, our guide will provide some tips on how a virtual wallet app might work for you.
How to Use Virtual Wallets? Mobile vs. Web Version
The core functionality of e-wallet software basically remains the same in web and mobile versions. The main difference is the access to point-of-sale (POS) payments. The virtual wallet app for Android or iOS virtually substitutes your magnetic stripe and contactless chip cards. It transmits the bank details to the merchant's gateway by NFC connection.
Besides that, you can make P2P transactions, settle bills and pending invoices, connect debit/credit cards, and withdraw money from the wallet account both in mobile and web apps. Even though we recommend mobile solutions as more convenient, the choice is up to you. Learn what options are available, analyze your needs, and pick an app.
Digital Wallets Use on Mobile Platforms
Apart from universal products like PayPal and IPSIPay, there are custom virtual wallet apps for Android (Google Pay) and iOS (Apple Pay). In their early versions, the core differences were related to the hardware features of mobile devices. Initially, Apple Pay used the Touch ID for transaction approval. It made it the best virtual wallet app for iPhone regarding safety measures. But as soon as most Android devices began to support Touch ID and Face ID authentication, this advantage lost its uniqueness.
Considering today's demand for a mobile money-sending service that would be accessible worldwide, it's probably not the best virtual wallet app for iPhone or Android. Instead, we recommend you check whether the chosen product is globally supported. It's a must-have requirement if you expect to send money internationally.
For instance, in May 2022, Google announced that Google Pay would allow users to open virtual debit cards. However, the company's announcement hasn't included any detail about whether this feature will be available beyond the United States. As for sending/receiving money P2P through Apple Pay and Apple Cash, it is still unavailable for other countries except for the USA.
Why Is a Virtual Wallet App Better Than Other Money Transfer Services?
E-wallets have many benefits compared to conventional offline/online money transfer methods. Here are some of them:
No need to enter the sender/recipient's details

. All you have to do is to indicate the recipient by an email or phone number, set the transfer amount, and confirm the transaction.

Fast processing

. The transferred funds arrive at another user's wallet in a few seconds.

24/7 accessibility

. You're no longer limited by a financial institution's operational hours.
Finally, the best virtual wallet app offers a high level of security. Your bank cards' sensitive information remains encrypted during payment processing. The app stores it as a neutral token value. Even if perpetrators intercept the user's details during the transaction, they won't be able to read and use them in any way.
Identity fraud may still happen when you wire money through a bank branch or apply for a money order at the agent's location. The reason is that you reveal your bank account or debit card number in person. But that's not the case for transferring money via virtual wallet apps. They verify the identity of transaction participants using unique encryption keys from the client's device side and the payment system's side.
How to Send Money Abroad via a Virtual Wallet App?
Check out this tutorial for detailed instructions on sending money internationally with a virtual wallet app. Most digital wallet apps offer instant and low-cost cross-border money transfer wallet accounts. Yet there are some other options you may choose.
For instance, users can fund their transactions from a physical or virtual credit/debit card or deposit money from a checking/savings bank account. Transferring cash from your credit card is the most costly option. For instance, PayPal charges you a basic fee of $5 plus 2.9% of the total amount and a fixed fee of $0.3 if you choose to send money to Mexico from the US.
On the other hand, some apps won't charge you over-the-top fees or even waive them for direct P2P transfers. These are ApplePay and IPSIPay, for instance. Moreover, IPSIPay users can take advantage of zero-cost withdrawals to personal physical debit cards and companion cards. Just give a companion card to your beneficiary, and you can top it up from your wallet account at no time.
Mind This When Using a Virtual Wallet App
Apart from the security rules for sending money abroad, there are some basic recommendations when using a virtual wallet app.
Avoid accessing a payment system account from public devices at internet cafes and workplaces. If you do so, enter the operating system with private account credentials, and don't forget to log out afterward.

Leverage two-factor authentication to add one more security layer to your digital wallet. You may also add OTP code confirmation to minimize unauthorized access risks. It's standard advice from the best virtual wallet app security practices many people neglect to follow.

Beware of phishing links. Luckily browsers can notify users of fraudulent links and sites and even block access to them. But it's also essential to know how to recognize phishing emails from a glance.
Why IPSIpay App for the US Outgoing Remittances
Every traveler, immigrant, and lawful temporary resident in the US needs to stay connected with their dearest and nearest back home. So having access to a reliable, cheap, and convenient money-sending app is a must for them. We offer you to leverage IPSIPay's advanced and affordable global remittance options so you can financially support your relatives and friends, pay bills, and complete other transactions. IPSIPay is the best virtual wallet app for its:
Accessibility

. You can run it on your laptop or use a virtual wallet app for Android/iOS on your mobile device. Application is supported in 200 countries, including India, Mexico, China, Philippines, and others.

Zero-cost transfers

. Move money wallet-to-wallet and wallet-to-Visa card at no cost.

Safe online/offline payments

. The recipient can spend money straight after they arrive.

Low fees for ATM withdrawals

. Each cash out at domestic US ATMs costs only $1.95. The international transactions cost $3.00.

Multiple top-up options

. Load mobile wallet from any debit/credit card, US savings, or checking bank account for only a $1 fee.

Personal Visa card

. Order a digital or physical Visa card to send and withdraw funds everywhere Visa works.
Start managing your mobile payments and foreign transactions in a couple of taps with IPSIPay. Go to the AppStore and Google Play to get it instantly to your smartphone!