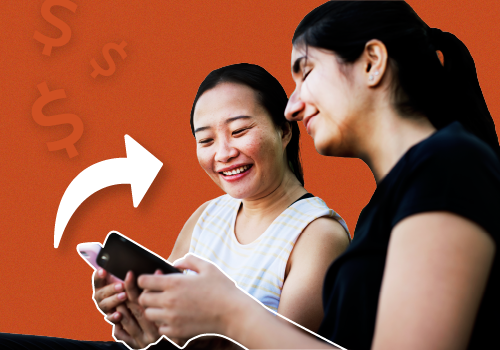 What is a P2P Money Transfer App?
With low-cost fees and lightning-fast processing, p2p payment platforms make people gradually give up conventional money transfer services.
Table of contents:
Peer-to-peer transactions cover the whole world as they are instantly accessible to any smartphone user anytime. With low-cost fees and lightning-fast processing, p2p payment platforms make people gradually give up conventional money transfer services. Such a tendency is much more overwhelming in low and middle-income countries with a higher rate of incoming cross-border remittances. Philippines, Mexico, Columbia, El Salvador, and some other states with emerging economies tend to become the primary directions for cross-border p2p money transfer.
Regarding the international remittances sent by immigrant workers, the p2p apps are reasonably considered the most prompt, reliable, and affordable in use. However, you shouldn't rule them out as a way to make online purchases, pay for utilities online or form a stash for a vacation abroad. Today's article will introduce you to the key features of p2p payment platforms and the advantages you can get from using them daily.
What's a P2P App?
P2P apps are mobile software products for digital payments without cash and physical debit cards. Their distinctive feature is that users can fund money transfers and payments using a virtual wallet account. It adds an additional security level to financial operations as your sensitive bank details aren't transmitted in any form. The payment processor requests the token values to verify the sender and recipient, which are abstract and don't contain information about linked bank accounts.
Basically, it won't be wrong to equal a p2p app to a digital wallet as they provide instant transactions between virtual accounts. We suggest you check one of our prior articles listing the key features of digital wallets and comparing them to other online payment methods.
Benefits of P2P Apps
Regardless of your location and current needs, money transfer apps offer:
Free distribution / installation.

There are no installation charges or paid subscriptions for mobile money transfer apps. Although, there are some optional paid services. For instance, Apple Cash charges a 1.5% fee for instant transfers to US bank accounts.

Tiny transfer fees.

The average cost of personal money transfers is between 0% to 2% of the total amount. It makes p2p apps exceptionally convenient for frequent micro-transactions.

Beneficial exchange rates.

Currency conversion

markup for instant online payments is 5-6 times less than mid-market value. Your transfer deduction would typically be at 0.4% – 1% of its amount.

Availability for the unbanked groups.

If you're ineligible for bank services and can't receive money from direct deposits, you can still accept funds to a mobile account with no problems.
Limitations of P2P Apps
Although sending money via mobile p2p transfer apps is cheaper and faster than requesting a money order or bank wire, it's worth considering their limitations.
You Can't Move Funds Between Different Platforms
For now, there's no solution to moving funds between different types of e-wallets. One way or another, you need to cash out the needed amount to a credit/debit card or linked bank account. Only then you'll be able to reload an e-wallet from another payment system.
Poor Coverage of Some Apps
Unfortunately, the big-name mobile payment providers often dismiss other countries when it comes to instant cash-out transfers. Luckily, plenty of products can meet people's demands and let them transfer money without borders.
Transfer Amount Limits
Typically, users can send up to $10,000 per transfer/per day after quick identity verification. You'll be required to provide your full name, mailing address, date of birth, SSN/ITIN number, or foreign taxpayer identification number. Before giving you an extended transfer limit, payment providers might require you to specify your occupation or send government-issued ID scans for an additional KYC check.
How Do Peer-to-Peer Payments Work?
In order to send money peer-to-peer, a person needs to sign in to the digital wallet app first. In addition to the user's login credentials, you will be required to provide personal data and connect your credit or debit cards. It's also possible to add checking bank account details to fund international transactions from it and withdraw mobile money when needed. As an example of the sign-up procedure, you can check our registration tutorial for the IPSIPay app.
Once you're logged in, you must load the required amount to your account before running a p2p money transfer. If you're using IPSIPay app, for example, you can do it in a couple of quick clicks:
Tap the Load Money icon in the main screen's Quick Links section.

You'll be prompted to select one of the following options:
Upload funds from the previously added bank debit card

Link a new debit/credit card and upload the initial amount

Top up your digital wallet offline at any partner bank with the wire transfer details.

Add an existing bank account to top-up wallet balance (transfer would take 2 – 3 business days).
Since it's your first-time mobile balance top-up, you have no debit cards added. So tap Bank Debit Card to add one as your source of funding.

You'll be prompted to scan the front side of your card to add it to IPSI's account. Additionally, you'll need to designate the Initial Load in USD and fill out your billing address.

Once you have added a debit card to load funds onto your mobile wallet,  IPSIPay launches two microtransactions: withdrawal of $1 from the card account and subsequent refund of the same sum

.  When those transactions reach your card account, you'll need to verify them in the Add Debit Card section. Upon verifying these micro-transactions, you'll be upgrading the maximum load from $5 per day to $500 per day.

Please note that you can maintain up to $20,000 in your mobile balance once you provide your SSN/ITIN number.
When you've completed your digital wallet top-up, you'll be able to run instant transfers to other users with zero fees. To do so, you only need to find the recipient's account by mobile number or nickname, type in the amount you need to send, and confirm the transaction by entering your PIN code.
Things to Consider About Peer-to-Peer Payments
With the consistent expansion of p2p payment apps' geographical coverage, more and more people use them each year. However, if you're new to peer-to-peer payments, you might have some questions about them. Here, we prepared a couple of FAQs to help you out.
Are P2P Payments Safe?
The online platforms providing peer-to-peer payments should be PCI-DSS compliant, which would signify that they maintain users' sensitive data intact and firmly protected. The payment systems substitute the actual banking details with neutral identifiers. In such a way, it eliminates potential security risks during the transaction processing.
Another essential aspect that strengthens the trust in such payment methods is the multiple-level protection you can add to your device. Two-factor authentication and validation through a fingerprint scan will constrain perpetrators from access to your payment app account if they attempt to log in.
Are P2P Payments Taxable?
If you do business as a commercial entity, incoming p2p payments are subject to tax regulations just like any other income. But that's not the case for the personal use of mobile transactions when money is sent to your friends and family. These transfers aren't considered taxable income.
Can I Get Money Back if I Sent It to the Wrong Person?
According to the recent survey held by the Lending Tree, nearly a quarter of p2p payments had been made by mistake. Unfortunately, canceling the mistaken transaction and claiming a refund is impossible without the help of customer support and a goodwill of your transfer recipient. So double-check the recipient's details before initiating the transfer. Also, don't let yourself be taken in by con artists that request money pretending to be your acquaintances in distress.
Run Instant Peer-to-Peer Money Transfer at No Cost with IPSIPay App
Ensure your international money transfers run smoothly and promptly with IPSIPay p2p payment app. It offers diverse options for funding direct peer-to-peer transactions and remarkably beneficial terms:
Send money p2p to/from 200+ countries free of charge.

Find all the possible money transfer destinations here

.

Top up the mobile balance from US bank accounts and debit cards for a 1$ fee only. The same rate is for cashing out mobile accounts.

Make a zero-cost withdrawal from an e-wallet to prepaid Visa debit cards. You can order branded IPSIPay's Visa cards for yourself and your beneficiary abroad to offload money from mobile wallets and withdraw cash at ATMs globally.

Low ATM transaction fees. Each US domestic cash withdrawal is charged only $1. Cashing out Visa cards abroad will cost you only $3.
You may additionally benefit from the in-app investment portfolio where you can purchase precious metals to add valuable assets to the existing savings. Download the IPSIPay app to your Android or iOS device right away for instant and convenient p2p transfers!