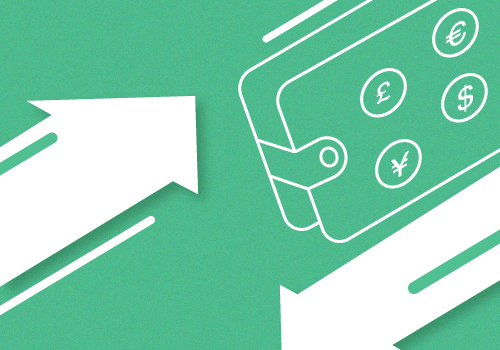 What is a Multi-Currency Wallet and When Do You Need One?
Immigrant workers and international students remit money or receive transfers from abroad regularly. Here, we suggest a way to reduce expenses when paying in foreign currency with a multi-currency wallet. Discover how it works and differs from multi-currency accounts below.
Table of contents:
International transactions have become a part of our–almost daily–financial life. Every time you buy anything from an online store registered abroad, it's an international transaction. Immigrant workers and international students remit money or receive transfers from abroad regularly. Lower payment service fees and currency conversion fees remain critical for such cases.
Here, we suggest a way to reduce expenses when paying in foreign currency with a multi-currency wallet. Discover how it works and differs from multi-currency accounts below.
What is a Multi-Currency Wallet?
A multi-currency (MC) digital wallet is a tool for maintaining separate accounts in different national currencies. Like mono currency accounts, payers use these to fund p2p payments, pay for online purchases, and track payment history.
Multiple currencies are safely stored on separate balances available simultaneously. So whenever a user needs to send or receive a certain amount in a national currency, they can do it immediately.
Why MC Digital Wallets Have Become So Popular
E-commerce is on the rise, and retail and consumer services are digitizing more and more. For that reason, users need payment solutions that can offer better exchange rates or no currency conversion. This is what MC wallets are good for.
MC payment apps have also become more popular due to the fast growth of the international remittance rate. Only in 2021, the volume of remittances from the United States reached 74.6 billion dollars. Immigrant workers send this money mostly to their low-income families back home. Thanks to MC wallets, they manage to avoid high currency exchange fees.
When Do You Need an MC Wallet App?
Our previous article outlined the typical reasons for sending money from the US to Mexico. A digital app with a multi-currency account has practically the same uses.
You can use MC wallet for:
P2p payments with no currency exchange fee

. P2p apps are generally cheaper than bank wires. However, frequent remittances associated with currency exchange lead to sizable total charges. But if you fund a transfer in a currency of a destination country, you'll only have to pay transaction fees.

Easy currency exchange at a beneficial rate.

You can convert currencies on the go. For instance, if you need MXN, you can buy it for USD or vice versa. In-system foreign exchange markups are lower compared to those at US banks.

Pay less for foreign purchases and services

. The wallet app is great for paying offline: you can pay for room booking, subway tickets, etc. Even if you don't travel much, you can use an MC wallet to shop online without extra fees.

Online bill payments

. We strongly recommend you get an MC wallet to help your family abroad to settle bills on time.
How Do Multi-Сurrency Wallets Work?
An MC wallet app has the same functionality as the average digital wallet. Users sign up, verify their identity, and provide their billing address to make money transfers and payments.
The main difference is that users can add and adjust foreign currency accounts. The application also supports an exchange rate calculator. Thanks to it, you'll be aware of the amount you receive from converting one national currency to another.
In-wallet conversions can be an alternative option if you can't recharge the balance another way. But mostly, there shouldn't be any trouble with topping up your wallet balance. You can upload funds from bank savings accounts, debit and credit cards, and virtual debit cards in any currency you choose. Also, the MC wallet app allows you to make money transfers at a remarkably low cost.
What's A Multi-Currency Account?
A multi-currency bank account is a checking account uniting balances in different currencies. Not everyone can get such an advanced account. US banks typically provide them for companies with overseas suppliers and contractors. However, foreign nationals can get an expat bank account with multiple balances for individual use.
This gives them access to such important bank operations as opening savings accounts, mortgages, and small business loans. However, as it was already mentioned, getting such a bank account might be a long and troublesome process – especially compared to the almost instant registration process for a multi-currency wallet. 
How a Multi-Currency Wallet Differs From an MC Account
MC wallet allows you to manage personal finances almost the same way as a multi-currency bank account does. However, they have a couple of significant distinctions:
Convenience and flexibility of a digital wallet.

You can use a wallet app for contactless payment in the USA and abroad.

You're not restricted to single bank services

. Wallets allow you to link a debit card or checking account

from any bank

. Conversely, an online banking app can only offer a set of services supported by the related financial institution. And that means you have to be bank-served.

Access to global payments for the unbanked.

You can sign up for the MC wallet app with your SSN/ITIN number even without an individual US bank account.
Money transfers from an MC wallet are generally cheaper than wiring funds from a bank account. However, users of MC wallets still have to pay opening, overdraft, and monthly fees. Some providers may offer competitive pricing or even no maintenance fees.
Wallet vs. Account: Pros and Cons Compared
Here is a table that contrasts the advantages and disadvantages of both services:
Features
Multi-Currency Wallet
Multi-Currency Account

Available for unbanked/underbanked people

YES

A person needs to be a bank client. The bank can reject your application if you don't have a credit history or active account in a foreign bank.

Users can link credit/debit cards, checking or savings accounts from several banks

YES

NO

Affordability

Generally affordable: low account opening fee and currency conversion markups.

Occasionally, providers might waive maintenance fees.

Service fees are significantly higher. Banks charge monthly maintenance fees that range from $18 to $100+.

Instant P2P payments

YES

NO

Speed of payments processing

Fast*

Slow**

Selection of foreign currencies

Broad selection including national currencies of emerging economies like African countries

Limited selection. Mostly widespread national currencies: USD, EUR, GBP, CNY.

Security of payments and personal data

YES

YES
* international money transfers to foreign bank accounts take 2-3 days on average
** bank wires might take up to five business days depending on the transfer destination and number of correspondent banks involved
Multi-Currency Wallet vs. Account: What to Choose?
Opt for an MC wallet in case you need to:
Convert money into a different currency at no time and have a broad selection of currencies

Receive or send donations and personal remittances from many countries

Use your payment app to make contactless payments abroad

Manage utility bills, pay for subscriptions and services online.
Obtain a multi-currency bank account in case:
You're an expat or dual citizen

You need to maintain or purchase property in different parts of the world.
Both options suit your needs if you're a freelancer working with clients from other countries.
IPSIPayⓇ as Your Most Convenient Payment Measure
Try the IPSIPay app to settle bill payments and send money globally on the go. It charges no installation and monthly fees and offers convenient access to personal finance management worldwide.
IPSIPay app allows you to:
Send or

receive money from 200+ countries

with low currency conversion markup

Transfer funds instantly to the mobile wallets of other users

Pay for online and offline purchases using the app

Offload funds to

Visa debit card

and cash them out at ATMs globally
Sign up for the impressive selection of IPSIPay's fintech products and solutions right now! Download the application from Google Play or AppStore.