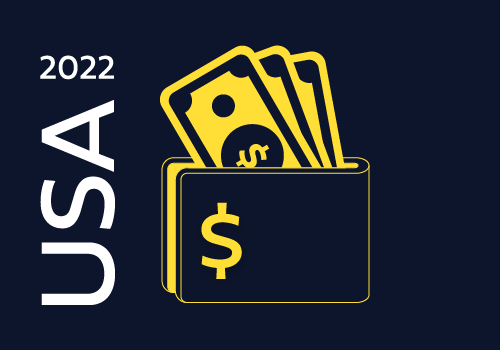 9 Best Digital Wallets in the USA 2022 for National and Foreign Remittances
If you need help choosing the right USA wallet, read our overview for recommendations.
Table of contents:
Hi-end solutions have irrevocably changed the core of managing personal finances. For instance, there's no practical use in wire transactions since you can transfer money to friends simply from your smartphone. As a result, nowadays, most consumers have digital wallets in the USA to easily access online payment methods and complete instant money transfers.
An overwhelming spread of the COVID-19 pandemic also fostered e-commerce sales to surge and take over a more significant share of the retail trade market. According to an annual report by the Census Bureau, digital sales increased by 43% in 2020. Therefore, it is reasonable to suggest that more and more users will forgo traditional payment options like cash-in-hand and credit cards in favor of US digital wallets.
If you need help choosing the right USA wallet, read our overview for recommendations.
Why are Digital Wallets Trendy Now?
The key point in favor of e-wallets is that they provide access to finance management anytime and anywhere. They are consistently available on your phone, and you may apply them for online shopping or in-store checkouts. Moreover, digital wallets in the USA enhance their popularity regarding the spread of in-app one-click payments. For instance, Amazon launched its e-wallet app in 2014 to provide one-click checkout at points-of-sale and gift card management.
On the whole, users endorse e-wallets because of:
Free registration

. Signing up for mobile apps and opening a

US digital wallet

costs you nothing, unlike maintaining a bank account. On average, US banks charge $5 to $15 per month for servicing checking accounts. 

Lowest fees.

Wallet-to-wallet or wallet-to-card transactions are typically charged at 0% to 3% or around 25 – 30 cents.

No bank account bound

. Registering a

digital wallet in the USA

might help you when you're not eligible to be served in a federal reserve bank for some reason.

Security.

Unlike physical wallets, digital ones are impossible to steal or lose. Moreover, the sign-in and operations approval requires OTP confirmation, identity check via fingerprint or face scan, etc.

Instant processing.

All wallet-to-wallet transfers occur instantly. Sending money to credit and debit cards might take up to three business days, depending on an intermediary bank.
Top 9 Digital Wallets in the USA for national and foreign remittances
Before enabling a digital wallet in the USA, you should look into its features carefully. There is no one-size-fits-all solution since each app offers different features and might not be available worldwide. To make it more illustrative, we've outlined the upsides and shortcomings of popular e-wallet apps.
1. IPSIPay
Unlike its counterparts, the IPSIPay app provides much more than regular sending and requesting money by phone. With a complementary physical debit Visa card, you can effortlessly spend money at retail outlets and withdraw cash anywhere.
Pros:
Instant funds transferring to mobile and debit card accounts at no cost

Zero maintenance fee for your primary and companion card

No fee for the Request Funds option

International money transfer available for sending money outside of the US
Cons:
The maximum debit balance limit is $500. The same amount is for daily withdrawal. You can raise the max balance to $20,000 if you go through quick identity verification.
2. Google Pay
Google Pay is suitable for checkouts at retail outlets. Although it is commonly supported by POS systems worldwide, you can remit sums from a digital account with a QR code or Gmail address only to the US phone number owners.
Pros:
Instant and secure purchase at physical stores

Free transfers from debit card to the app and vice versa (1.5% fee for sending money to another user)

Single transaction limits up to $5000 (bank card-to-wallet). The exact amount is designated weekly for sending funds to friends from the contact list
Cons: 
Supports only US domestic transfers

2.9% charge for using a credit card
3. Apple Pay Cash
The latest Apple product facilitates instant money transfers between cardholders. It allows you to request, send, and receive money right from the Messages app.
Pros:
Quite simple in use

Enhances the functionality of Apple Pay

Zero fees for sending and receiving funds in Messages

A quite lavish limit of $10,000 for a single transfer from app balance to the bank account or debit card and the moderate fee of 1.5% (with $0.25 low and $15 most)
Cons:
Supported only on iOS 11.2 or higher

Direct transactions through Messages only for

USA wallet

owners (virtual debit card payments are accepted in 76 countries that support Apple Pay)
4. PayPal
For its supremacy in fast and secure payment processing, PayPal deservedly leads the digital wallets in the USA. It offers versatile and flexible online payment conditions to cover the typical needs of buyers and sellers. However, it falls short of its main competitors for charging insurmountable fees.
Pros:
Cross-platform service (iOS, Android, Windows)

Covers 200 countries and supports 25 currencies

Convenient use, easy to add and manage credit and debit accounts

Rapid transactions through PayPal.me links
Cons:
Processing rate from 1.9% to 3.5%, plus additional 30 cents
5. Venmo
Venmo offers advantageous low-cost rates for peer-to-peer transactions. Mainly you can deploy it to request or lend money to friends, but it is also convenient for buying offline and online.
Pros:
Zero cost for in-system transactions and remittance to debit account

The moderate fee of 1.75% for instant cash-out on Visa/Mastercard

Branded credit card with a 3% cashback reward
Cons:
Weekly peer-to-peer sending limit of $299.99. Identity confirmation might level it up to $4,999.99

3% rate for transferring to a credit card
6. Zelle
Many users prefer Zelle for its affiliation with banks and credit unions. 
Pros:
Free and convenient P2P payments

Takes less than 5 minutes to receive the transfer

Quick confirmation for the recipient by the link in email or text message.
Cons: 
Zelle can process payments only to

digital wallets in the USA

. 
7. Samsung Pay
The branded Samsung app stands out for its original concept of combining NFC and MST technologies. You only need to take a snapshot of membership passes, debit, and gift cards and go straight to contactless payments.
Pros:
Convenient and secure storage for various payment options

Cashback reward of 2% per single purchase

30% off on all Samsung products at participating stores
Cons:
There is no separate savings wallet in Samsung Pay, only card accounts. 

Available in 29 countries only

Compatible only with Samsung Galaxy phones of 2015 and newer.
8. Dwolla
Dwolla is helpful if you need to remit money to a credit union pick-up location, checking, or saving account. This app is also quite robust regarding sensitive data non-disclosure, for it doesn't maintain your bank credentials.
Pros:
Approved by all US banks and credit unions

Secure AHS transactions processing

Cheap and convenient for small businesses with a 0.5% fee for each transfer

Possibility to pay loan debts (verified users only)
Cons:
ACH-only solution

ACH transfer completion time may greatly vary between 1 and 4 business days

Dwolla operates exclusively in the USA
For all their upsides and downsides, most of the popular US digital wallets appear to be targeted for narrow purposes. But if you seek a middle-ground option, the IPSIPay app could be just what you need.   
Why Prefer the IPSIPay Wallet over Alternatives
The IPSIPay app is an immediate and cost-free assistant for shopping online, debit card top-ups, and cash-outs you can leverage worldwide. It is the most innovative of the listed options that includes their best features and more.
IPSIPay delivers you:
FREE mobile Wallet transfers to other users and a

prepaid Visa debit card

.

Physical Visa card for offline checkout with

no monthly maintenance fee

.

Can be used with the majority of other options from the list above, like Amazon, PayPal, ApplePay, and more.

Low-cost $1 fee for loading funds from checking/saving accounts to the mobile wallet.

Only a $1.95 withdrawal fee at the US ATMs or $2.50 for international ATM withdrawal.
Discover all IPSIPay features and sign up to take advantage of them. Download the app from AppStore or Google Play now!